home / Tips & Tricks /
Travel Journal Pages - Holiday Dreaming Until We Can Travel Again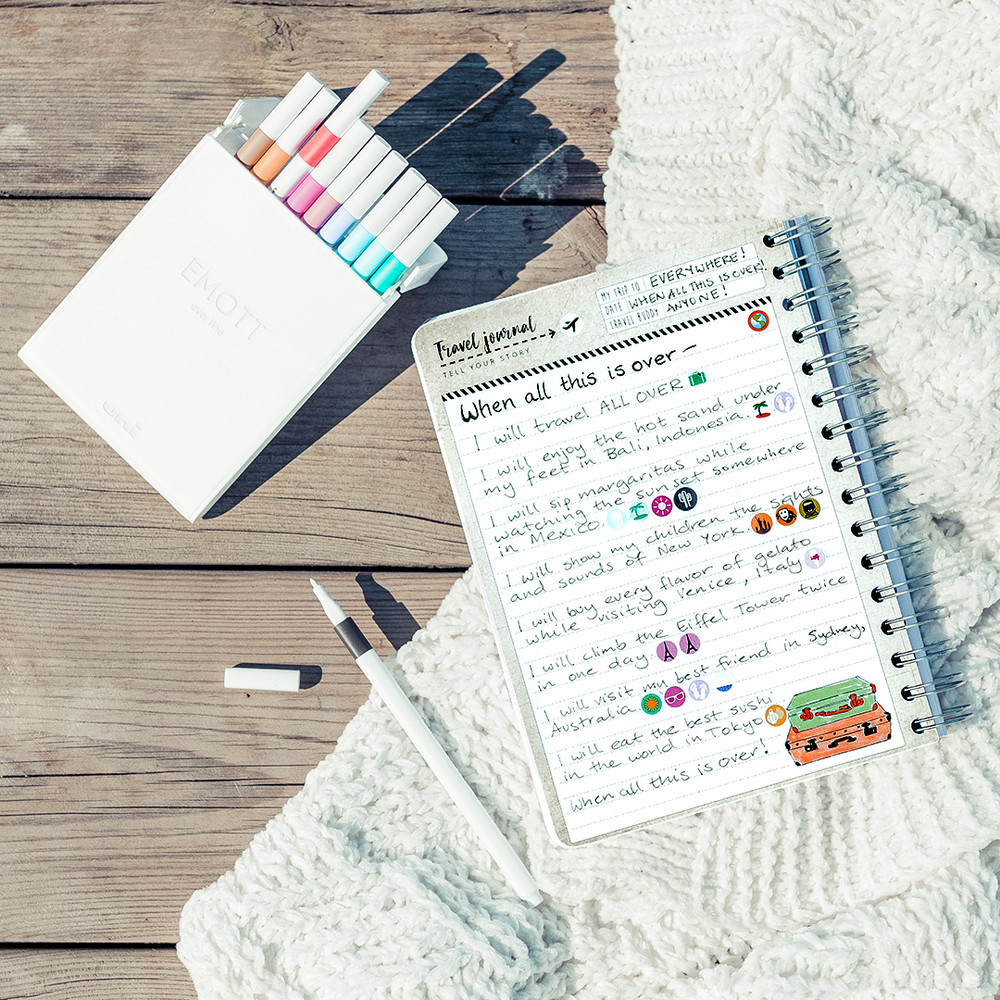 Travel Journal Pages - Holiday Dreaming Until We Can Travel Again
This year, that most nagging of all questions "Are we there yet?", has been replaced with another one: "When can we travel again?". And while we really wish we could answer that question for you, instead we're here to inspire you and to tell you to never stop dreaming, hoping and wishing! Read on to see some fab ways to pen down your dreams and plan an unforgettable trip - from your fave armchair for now, until it's safe to dig up your passport and hop on a plane again.
---
Sometimes, a girl just has to dream. To let her whims and wishes travel freely, without any social restrictions holding her back… Let's dream together, and plan for a brighter tomorrow, with these inspiring Travel Journal back pages!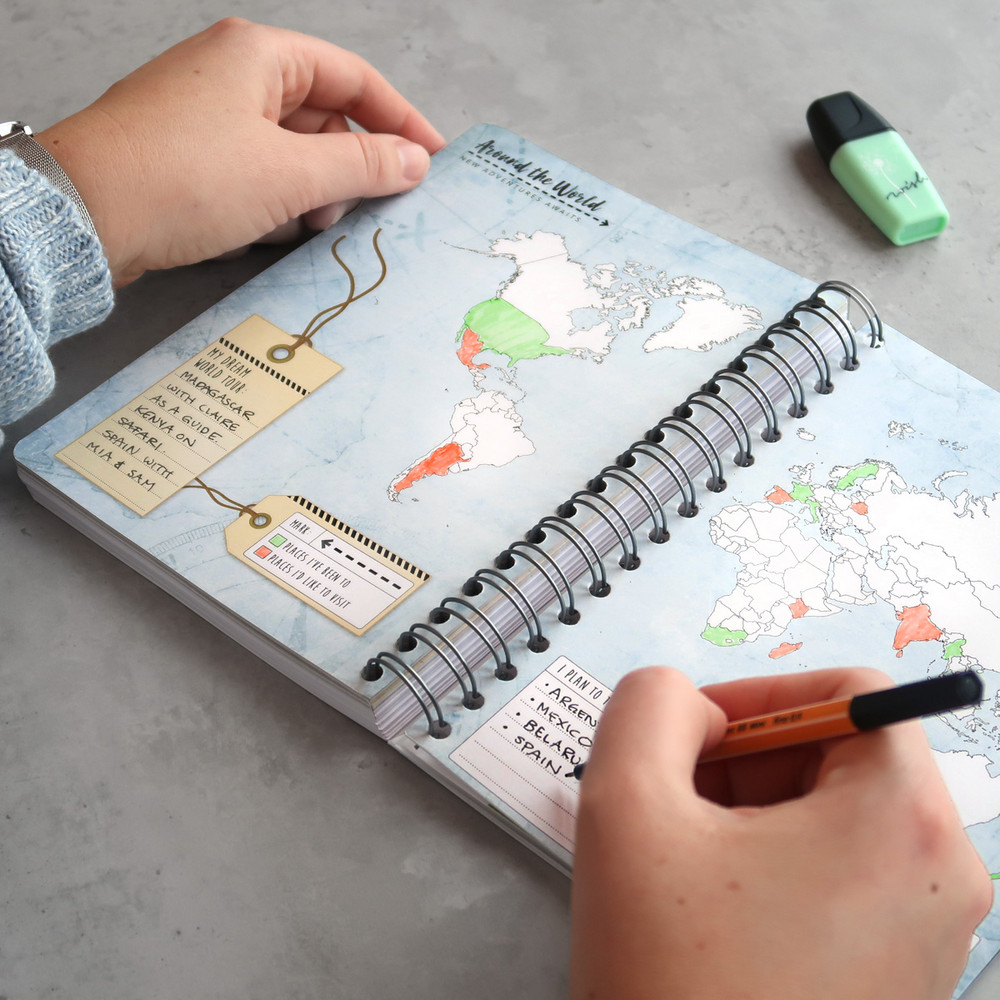 Travel - World Map
Aaah, a map of our world…
a dreamer's blank canvas!
Start by
colouring in the countries
(and states!) you've already visited. Then, move on to your
dream destinations.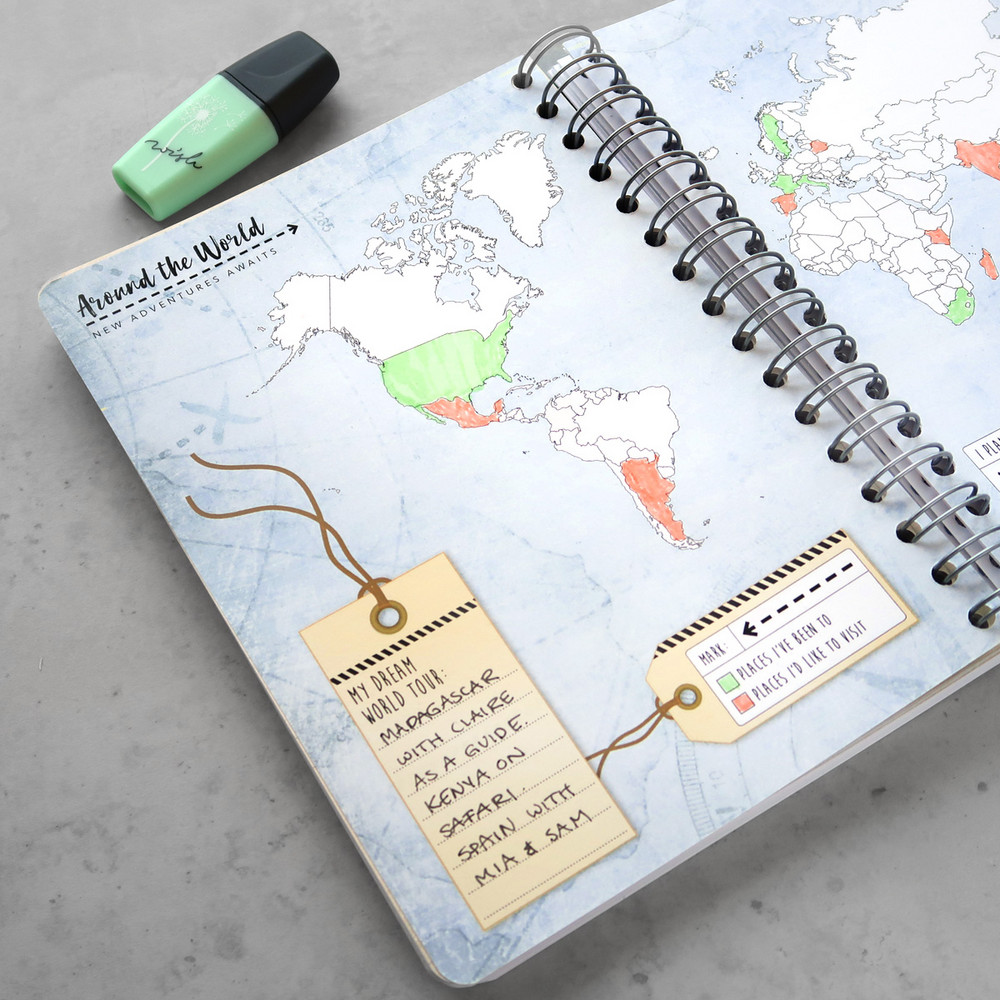 At this stage,
don't worry
about the very real
budget restrictions
most of us have to deal with.
Give yourself permission to dream!
Write down your
dream destination list,
or use another colour on the map to mark what countries you'd like to visit. Maybe even go real wild and track your perfect
around-the-world backpacking trip!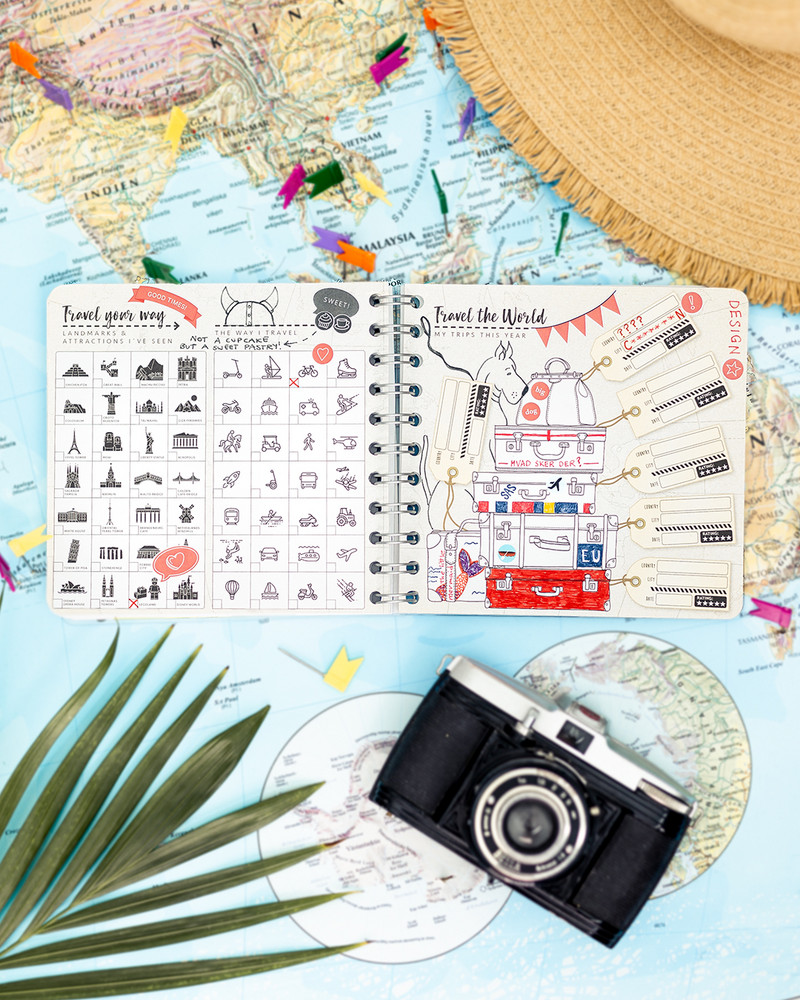 Travel - Landmarks & Trips
This page is for creating the Mother of All Bucket Lists! Choose which of these iconic
landmarks you'd like to see,
and tick off those you've already visited.
It's ok to be super ambitious!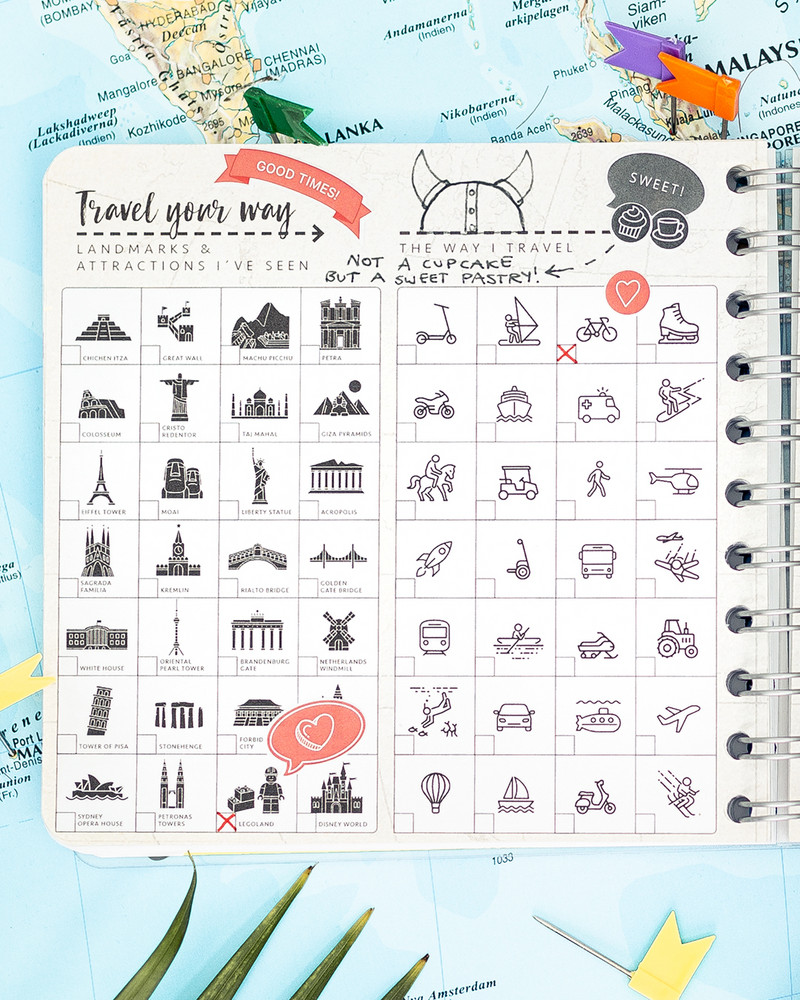 Here's some fun bonus material for this page.
When travelling the world - how do you do it?
On horseback or on foot? Do you prefer a bike or a boat trip? Or is helicopter your preferred method of transportation? ;)
Tick the alternatives that suit you and your style best.
Where would you like to be off to this year? Wouldn't it be lovely to
swing by the grandparents,
take a road trip up the coast, or have a big
city weekend with the girls?
Let this be your very own act of mental rebellion against corona taking over our lives! Color in one suitcase per trip and write your destination on the address tag. One day,
hopefully in the not so distant future,
you will make these trips!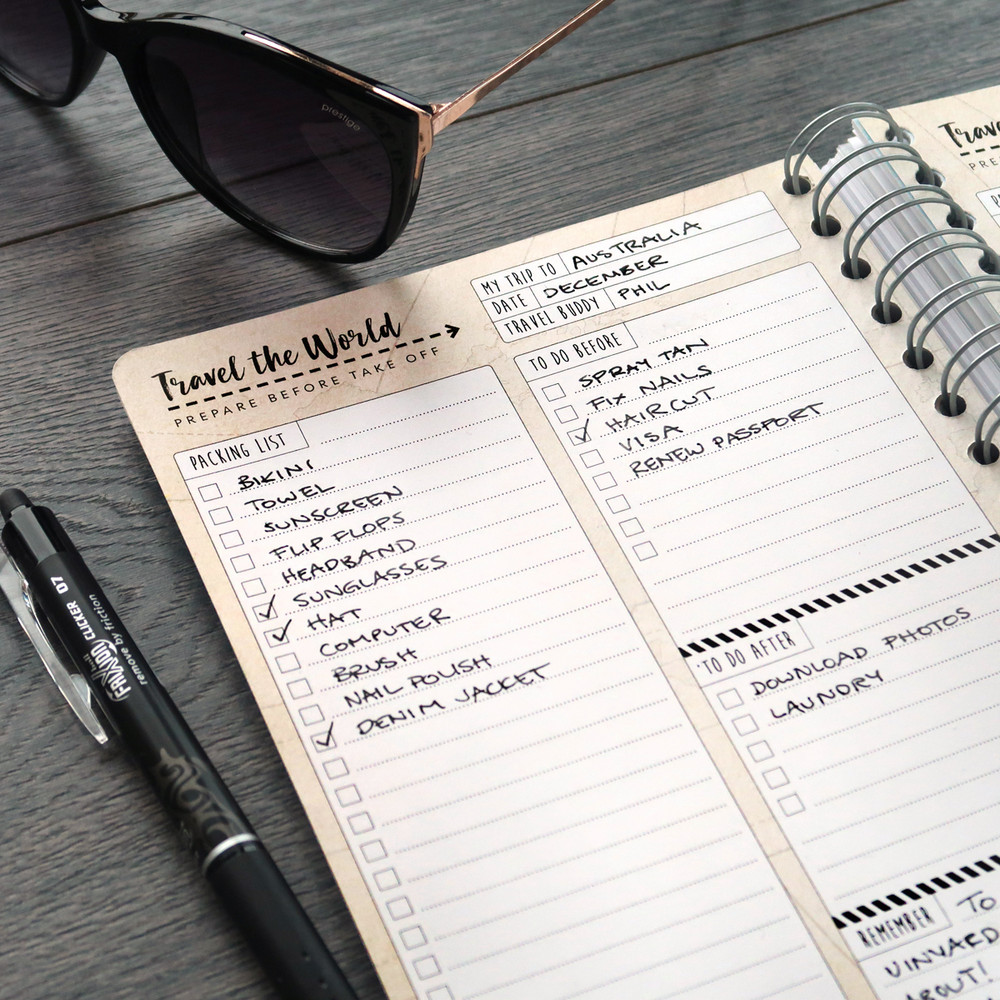 Travel - Prepare
All well-planned trips start with
a packing list.
But in this spread, you'll also find dedicated lists for
things you need to do before take-off
(like asking your neighbor to collect your mail, renewing your passport, checking vaccines etc.), and also for the things
you need to do when you get back
(returning that borrowed suitcase, thanking your neighbor for their help etc.). You can also write down the things you absolutely
mustn't forget
to do during your trip: buy an Eiffel Tower fridge magnet, write a postcard to your nan, and take a selfie in front of the Golden Gate bridge.
Read also: Planning for Paris - Personal Planner Style!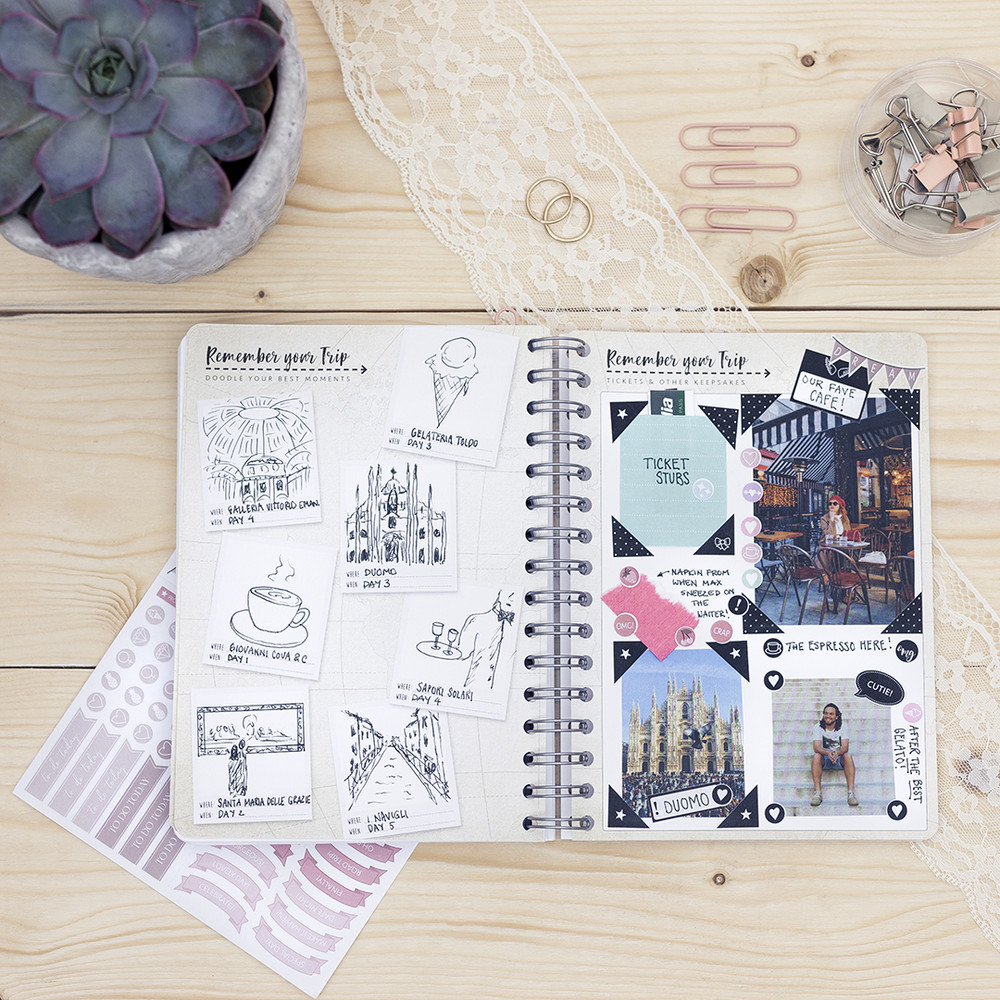 Some trips are meant to be
extra special.
If you've been dreaming and perhaps even started planning your big day, don't stop now!
Keep the dream alive
so that when time is right again, you will be ready.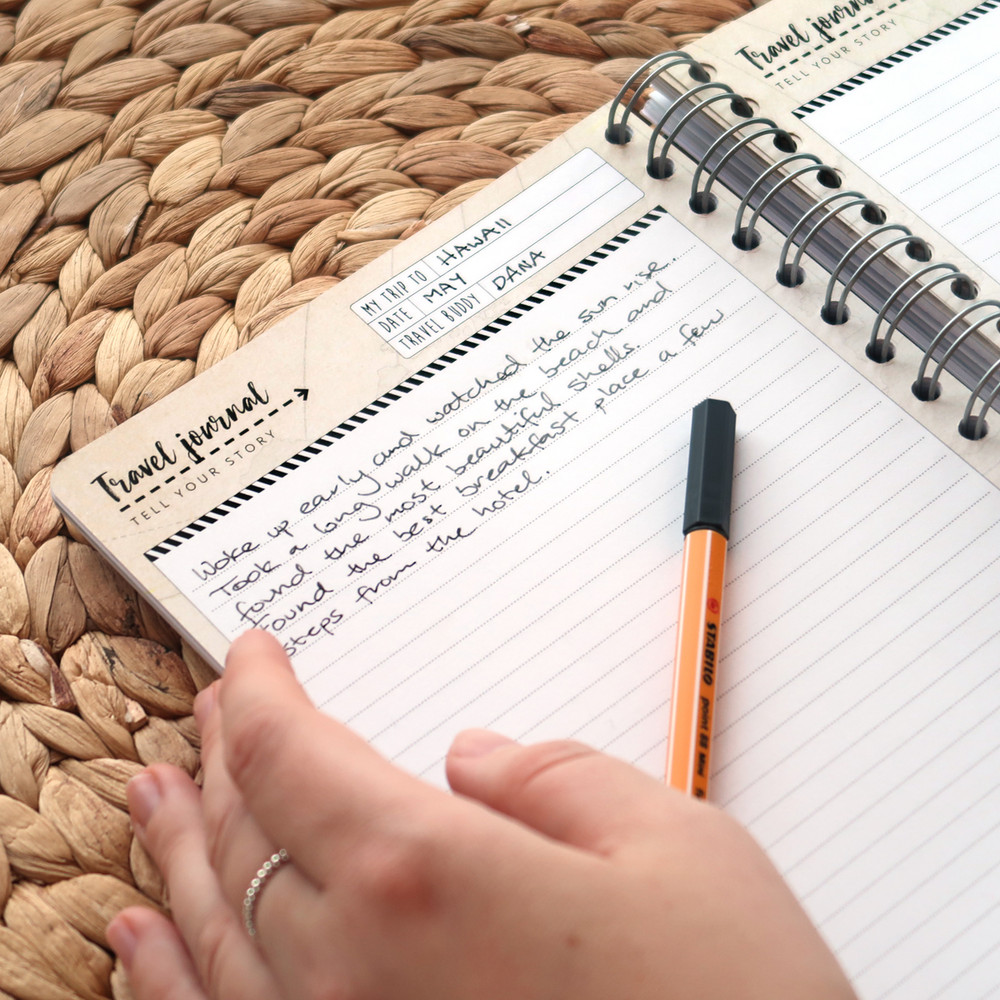 Travel - Journal
Sometimes
the best way to remember a trip is to write it down.
In text, you're better able to recall emotions, scents, tastes - all those little details that a camera is unable to capture. Maybe you want to summarise the entire trip all in one go, or perhaps you write a few phrases every day.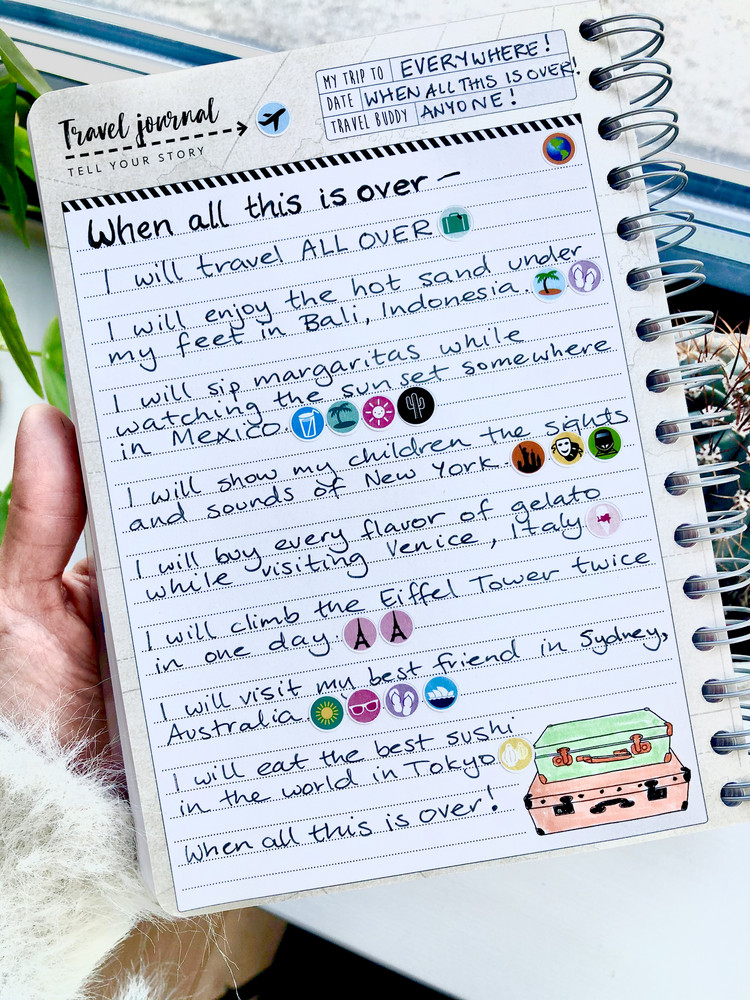 Is conventional journaling not your cup of tea?
Get inspired by our 5 fresh journaling ideas here!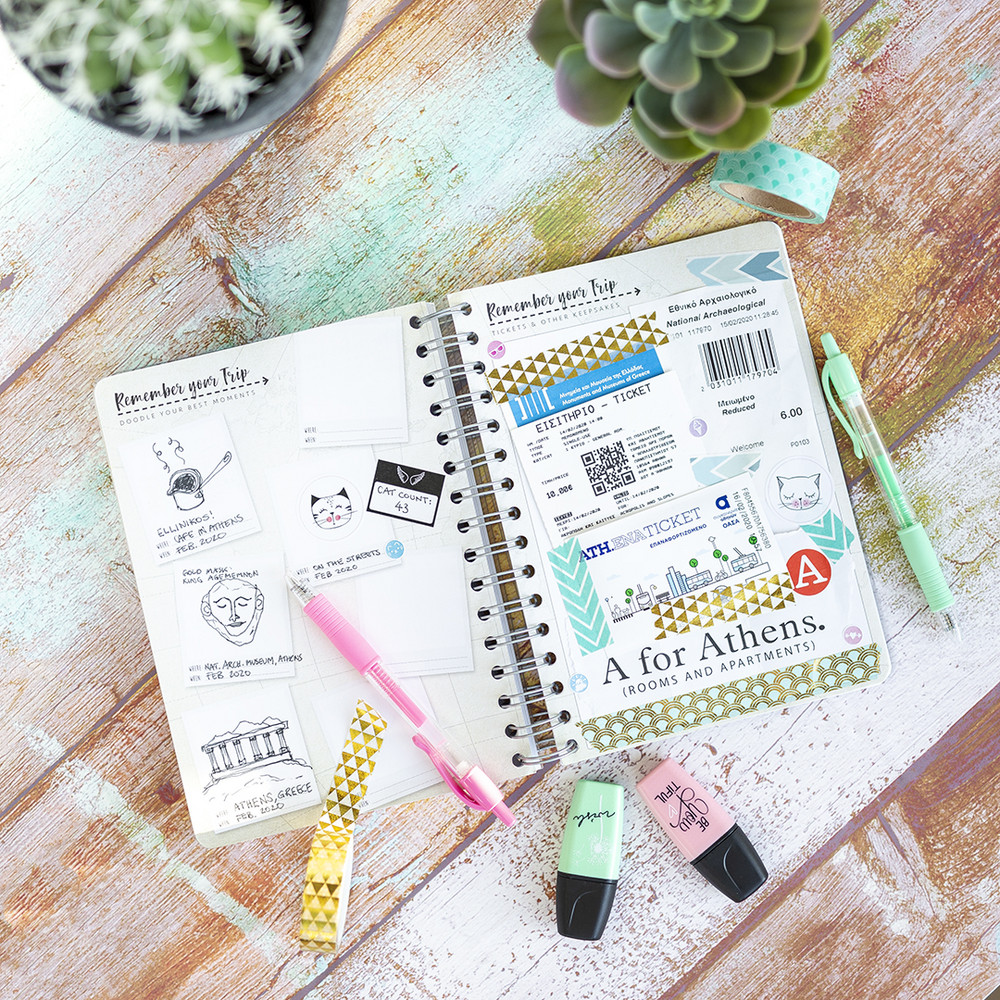 Travel - Memories
Save the most memorable moments of your trip as doodles!
The all-too-small tent you and your friends spent the night in, or the galloping camel you tried to ride, or that weird fruit you dared to taste. Or perhaps even something you forgot to snap a picture of? And sometimes we return home with
pockets full of bits and pieces
we've collected, like paper tickets, receipts, small brochures. Paste them on this page to
remember the sweet little details
from your trip.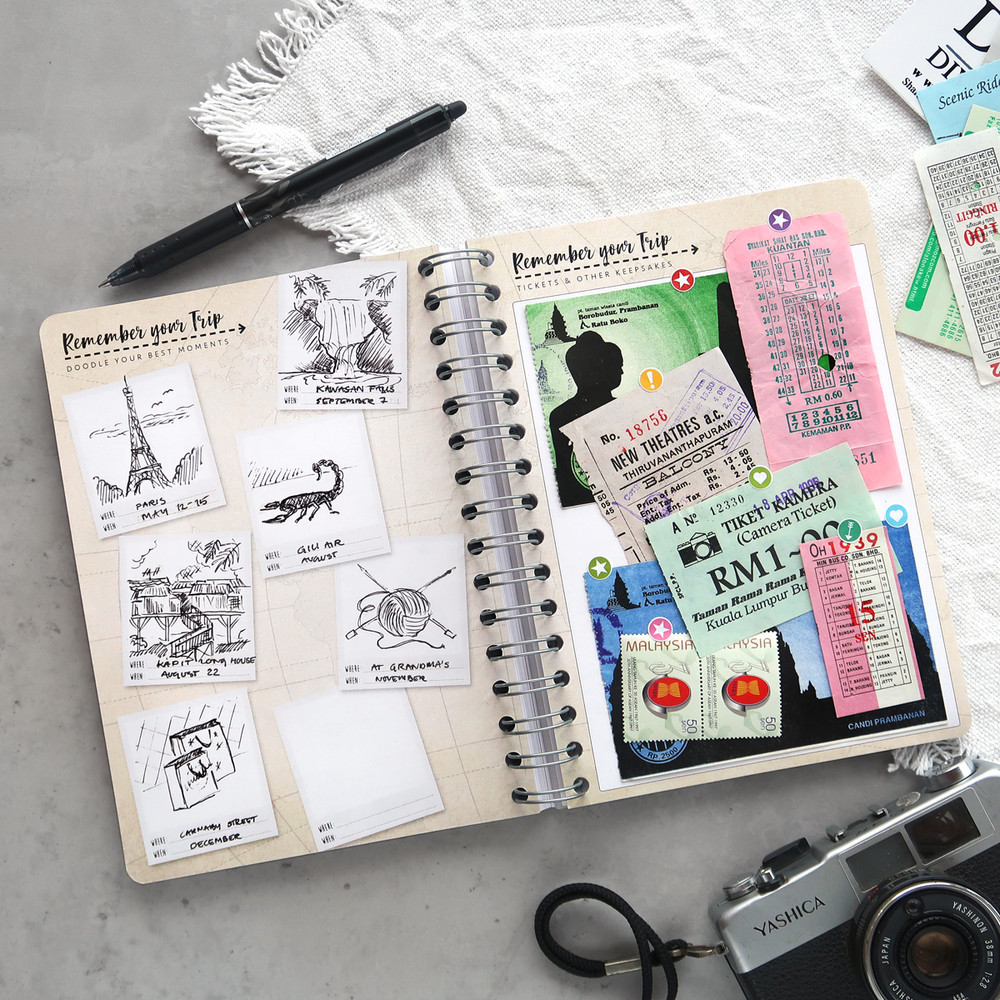 Having said all this...
How are you going to spend the summer?
In the current situation, the answer is, of course,
STAYCATION.
By now, most of us will be tired of hearing the thousand variations of the same
(important!) message:
Stay Home! Stay Safe! Stay Alert! And we get it, so we're staying put.
So what are some fun things you can do to
make summer feel special while staying at home?
Look no further, friend, because we have a
wonderful list of activities right here!
And here, too!
Have fun planning your next adventure!
Free worldwide shipping
Happy customers
Safe payments