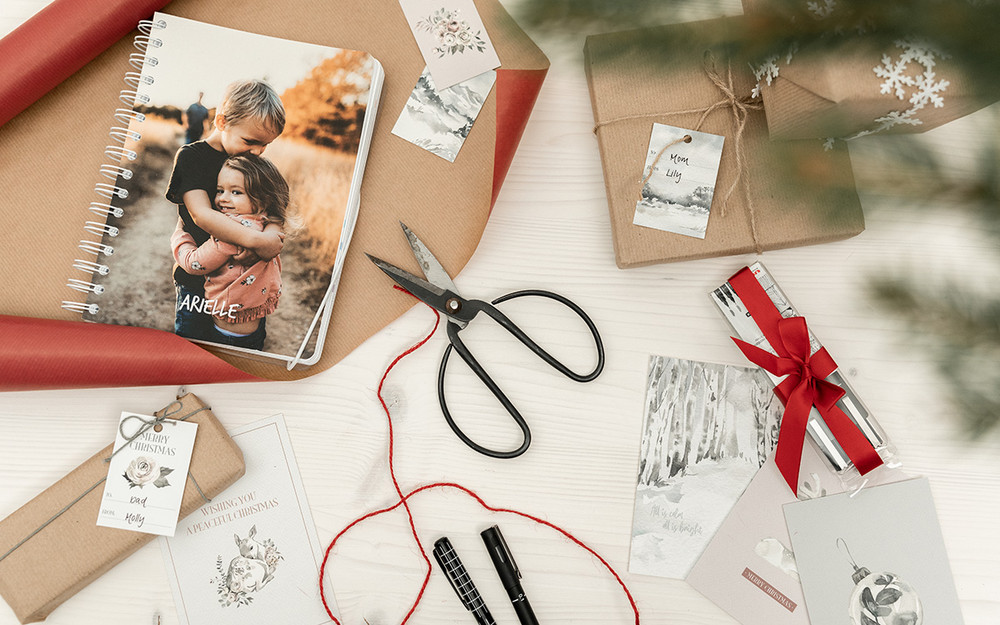 Holiday Gift Guide - What to Wish for This Christmas
Stuck on your Christmas wishlist? Discover our treasure trove of affordable, thoughtful gifts perfect for planners and Secret Santa fun – your one-stop holiday shop!
---
Wondering what to wish for this Christmas? The same question pops up each year, and it's just as tricky to find those thoughtful gift ideas to buy for others. There's often so many gifts to sort out too, right? A gift for mom, one for your sister, another one for your BFF, and maybe even a few goodies for Secret Santa at the office. Phew!

So let us help! To make it a tad simpler for you this year, we're offering some gift ideas on what to wish for, or what to gift. Here's our Holiday Gift Guide, with affordable Christmas presents to give and receive this festive season.



Gift Ideas Under $15
A gift for under $15, is that even possible? Sure is! There's plenty of pretty and practical accessories that fit perfectly into a Christmas stocking – and that won't break the bank. Get one, or two, or three and start stuffing those stockings!
Take a peek at all the gifts under $15, starting with these three favorites:
Small Pencil Case with Elastic - Whether you're a planning pro, a student, or a bit of a scatterbrain, everyone needs a pencil case to keep track of their pens. This little gem is available in pink and green and can be wrapped around your planner.


Stencil Ruler – A ruler with built in stencils isn't just for straight lines. Create beautiful headers or adorable doodles with the help of these stencils.


Sticky Notes – Sticky Notes are nifty sticky pads perfect for jotting down lists, reminders, and ideas. Attach them in your planner or organizer so you can always carry them with you. Here in the beautiful Beautiful Botanicals collection.
VIEW ALL GIFTS UNDER $15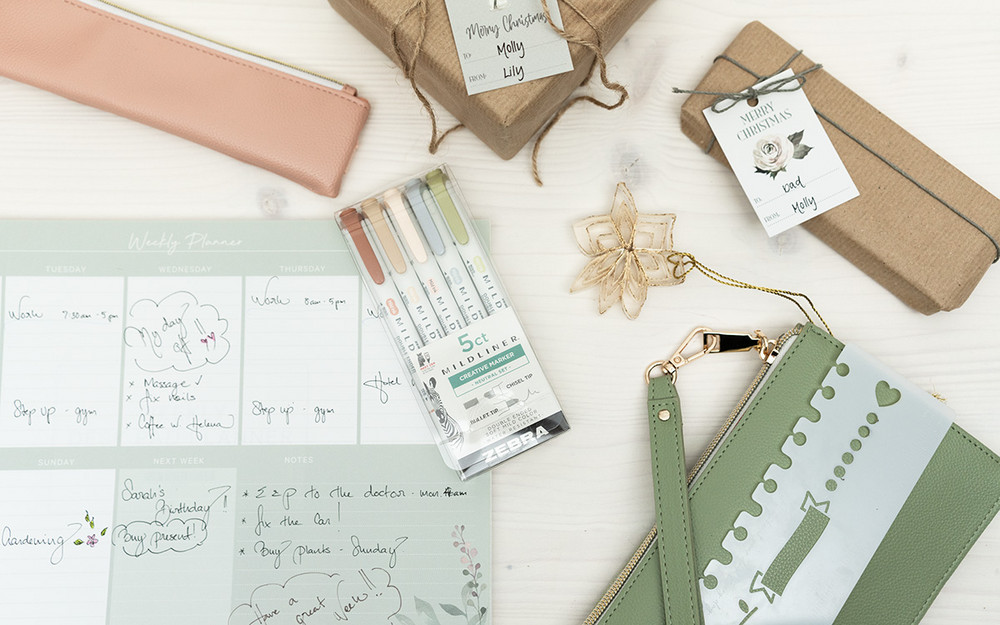 Gift Ideas Under $25
For those on the hunt for gifts under $25, there's a big digital sack of presents to dive into! Here are some gift ideas suitable for different people:
Magnetic Notepad, 2 Pack - We'd dare say a lined, magnetic notepad is a must-have in every home! Available lined or with weekdays, it's magnetic, so you can stick it on the fridge for important notes.


Highlighters Zebra Mildliner Neutrals – A 5 pack of highlighters in harmonious, earthy tones. Perfect for study sketches and bullet journaling.


Desk Pad Planner Bloom Weekly – A desk pad planner is great for families and single-person households alike. Get a brilliant overview of the week and space for little lists & to-dos!
VIEW ALL GIFTS UNDER $25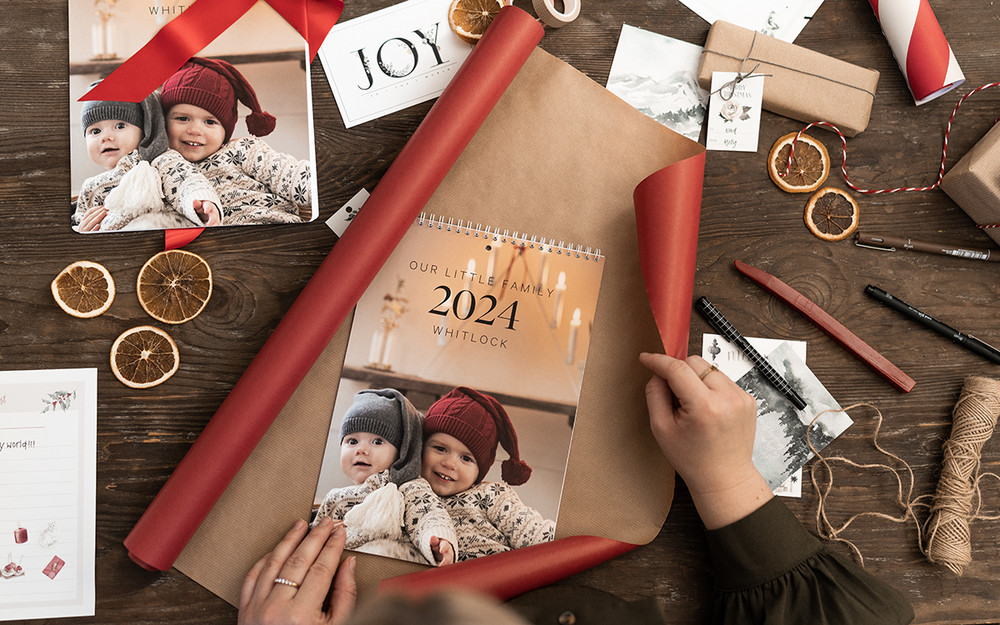 Gift Ideas Under $35
Wishing for some nifty planning accessories for Christmas? Or maybe you want to give the gift of organization to someone else? Either way, you'll find perfect little gifts for $35 that will elevate planning for the coming year to new heights.
Ring Binder for Your Organizer – Wish for a binder in a fresh, gorgeous color or gift one to someone looking to replace their old Filofax cover.


Stickers 10 Pack – Can you ever have too many stickers? We think not! Snag a 10 pack with a variety of designs for under $35.


Photo Calendar – Give the gift of a photo calendar - a more personal gift is hard to come across!
VIEW ALL GIFTS UNDER $35
Take the opportunity to make your gifts extra special with stickers, Christmas tags, and cards from
the Christmas Mood collection
.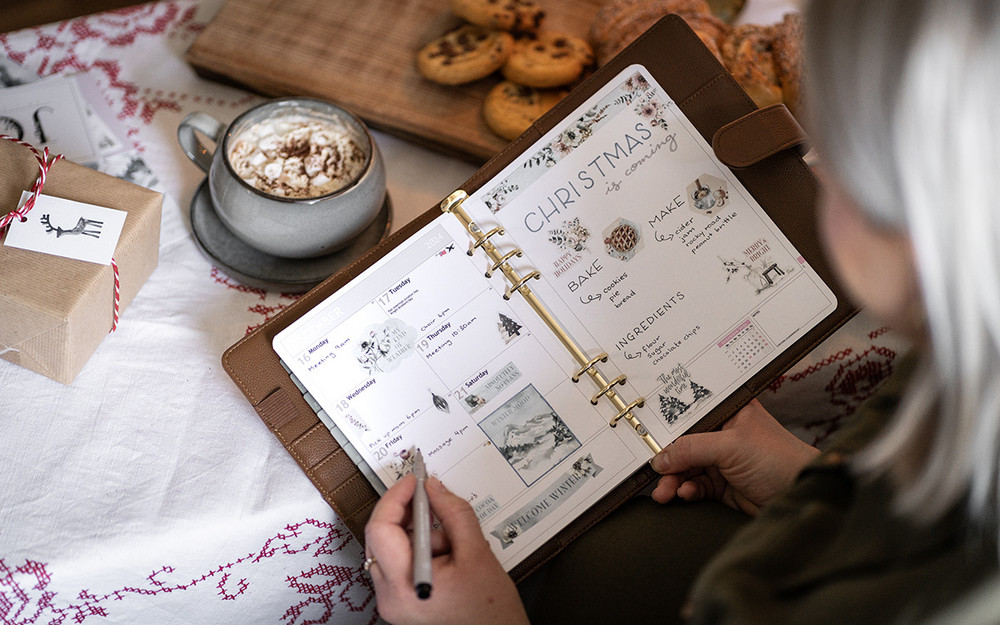 Tips for the Secret Santa Game
Aaah, time for the Secret Santa game again – a tradition that can create a little healthy Christmas rivalry or bubbling laughter. Maybe even a bit of both! It's the game where you "steal" presents from each other, and it's become incredibly popular over recent years. The challenge here is to be quick at nabbing what you want, as well as contributing with gifts that people will actually want!
For the Secret Santa game, the gifts often need to suit people of various ages. 10, 20 or 30 dollars? Usually, you're also looking for more affordable options. If you need gift ideas for the Secret Santa game, you've come to the right place!
GIFT IDEAS FOR EVERY BUDGET
Plan with Me - December 2023
Snow crunches underfoot and the aroma of freshly baked cookies fills the air - December is upon us. Plan the most festive month of the year with us!
The Perfect Present for the One Who Has It All? Time!
Struggling to find the perfect gift for the person who has everything? How about the gift of time - in the shape of a custom planner! Design it yourself or get a gift card.