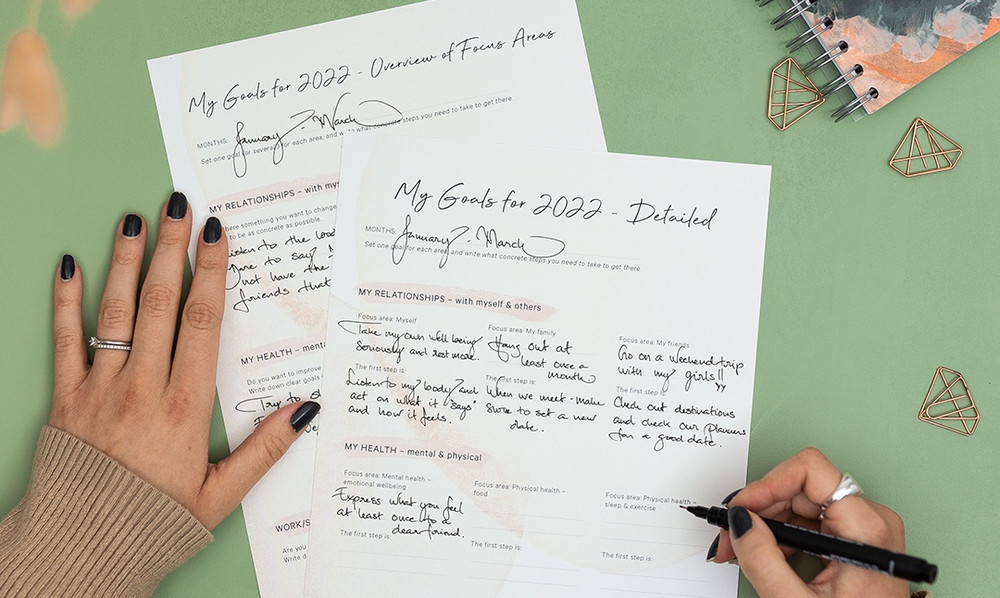 Goal Setting Guide + Worksheet
Learn how to set goals effectively, by dividing life into three different key areas. Printable worksheets included!
---
With every new year or new season comes new opportunities. Let's take the momentum and inspiration that the new year brings, and let's start setting some goals for 2023!

A good approach to goal setting is dividing life into different areas. You can decide on three or ten or thirty life areas you want to work on, all depending on how specific you want to be!

We've settled for three key areas: Relationships, Health, and Work/Studies. These topics are quite wide on purpose, allowing you to go as deep and detailed as you like. We find that sticking to only three areas also helps with clarity and overview.

Keep in mind that when setting goals you can either start, stop or tweak a habit or behaviour. For instance, you might want to start jogging a couple of times a week, but may want to stop getting a takeaway coffee every morning. Or perhaps you're already on your way to creating a healthy habit that only needs a little tweaking: e.g. you're already setting aside a certain amount each month for savings and just want to up it a little more.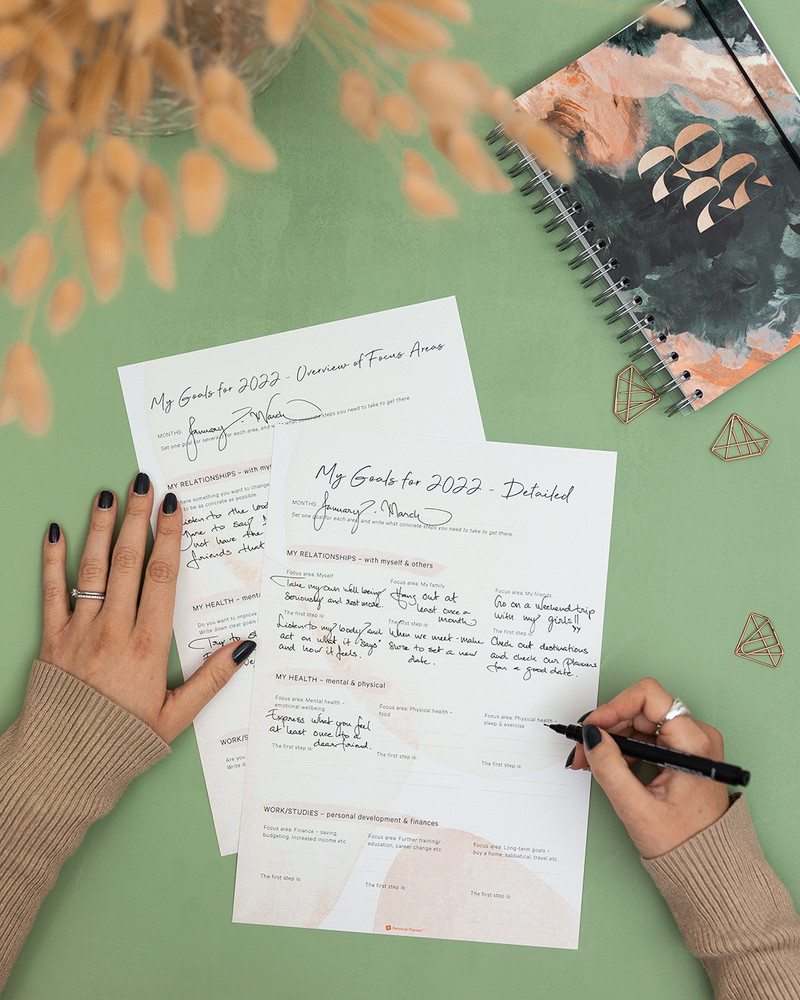 How to Use the Goal Setting Worksheets
We've created two different worksheets for you to pick from: one more detailed, and the other designed as an overview of the same focus areas. You can choose to either set yourself one tangible goal in each area, and concentrate your efforts on that, or you can go a little deeper by setting one goal for each sub-category in the focus area. Take a look at both printables available before deciding which would work best for you!
DOWNLOAD DETAILED WORKSHEET
DOWNLOAD OVERVIEW WORKSHEET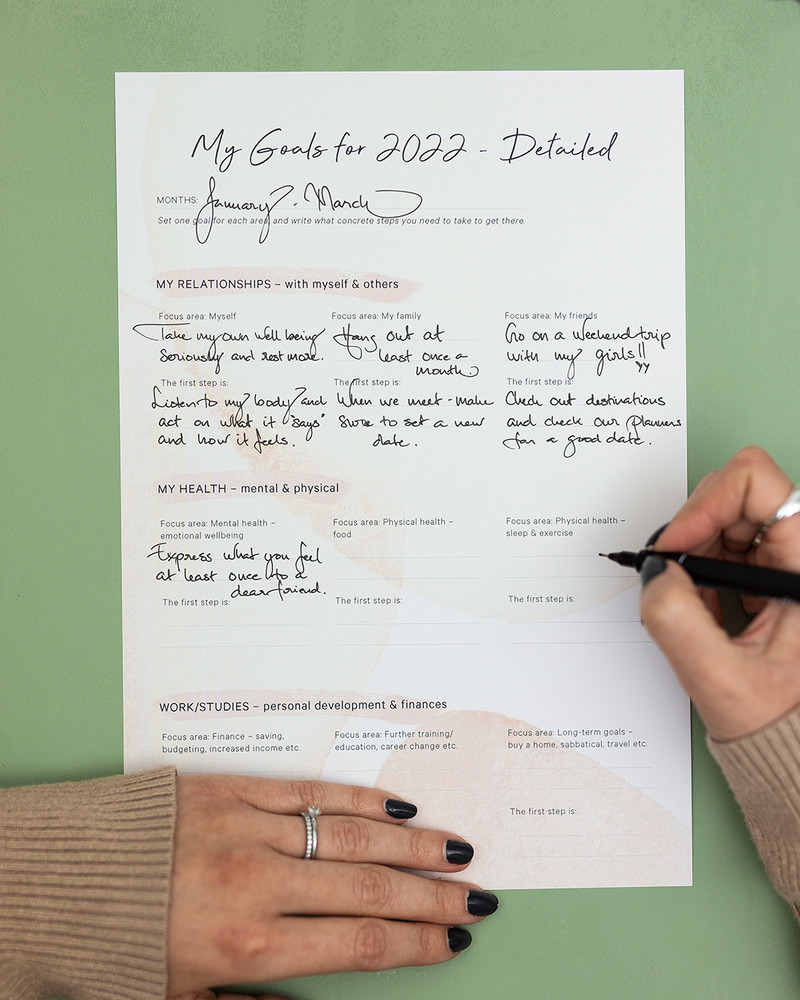 Detailed Worksheet:
If you love setting goals in a range of areas, you'll probably love the detailed template, where you get to set three goals within the three different focus areas. In total, you'll have nine specific goals to work toward.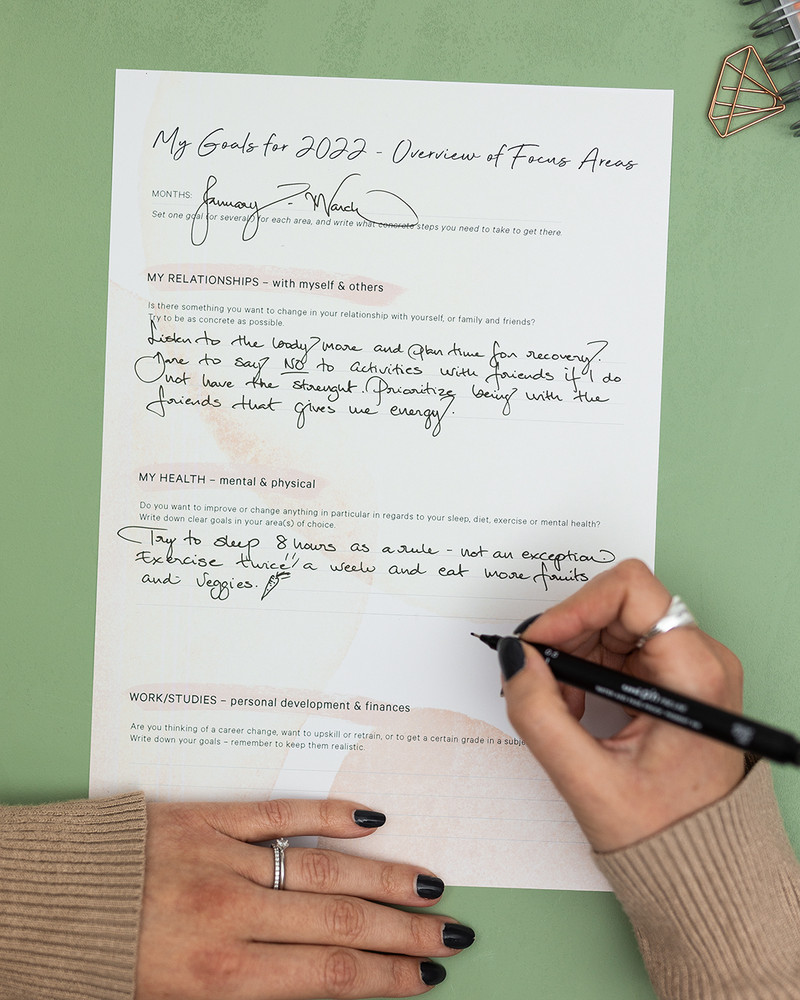 Overview of Focus Areas Worksheet:
If you prefer to work with each focus area as a whole, this is the worksheet for you. This setup will allow you to set one or more goals that relate to the themes covered in each focus area. You will have 3 (or more, if you like) goals to work toward with this template.
Finally, before diving into our first focus area, a note regarding time frame. When designing these templates, we purposefully chose three areas so that we could use one template for each quarter of the year, making it possible to work on one focus area during one month. So instead of setting high-flying New Year's resolutions at the beginning of the year and then forgetting all about them in June (or is it just me?!), we recommend that you work on your goals for three months only, i.e. one quarter of a year, then evaluate. That way you can follow up on your progress more closely, and can concentrate your efforts better. But, as ever, it's up to you to decide, and the templates work just as well for the entire year!
Now, let's dive into the first focus area,
Relationships.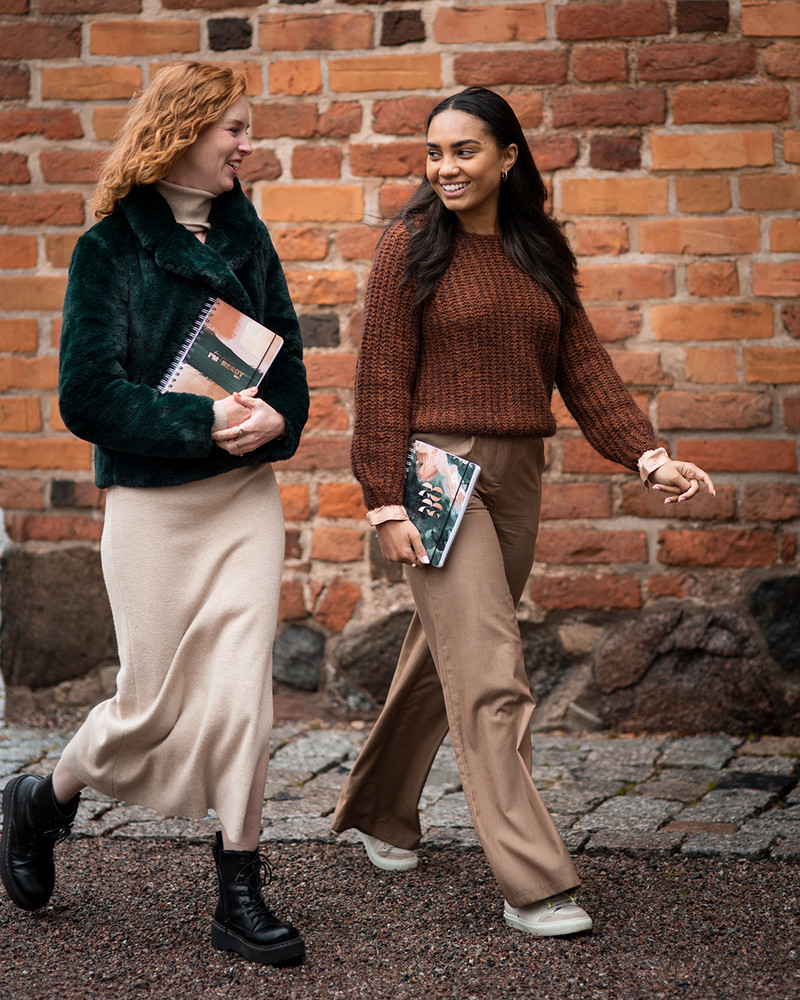 Relationships - with Myself & Others
As you've no doubt heard before, the most important relationship in your life is the one you have with yourself. How can you bring love and positivity into relationships with friends and family if you aren't loving yourself first? Start by checking in with your heart, listening to your needs. Next step is to set a goal: Do you want to start a journaling habit? Do you need to stop all that negative self-chat? Reflecting and then being specific with your goal means you're a lot more likely to reach it, so have a good think!
Other relationships to include in this area are friends and family. Is there any relationship in particular that you want to invest more time in? A parent, a close friend, a new acquaintance, your kid? Or do you have people around you who drag you down and where you need to limit the time spent together? Be specific, writing down who, what and how!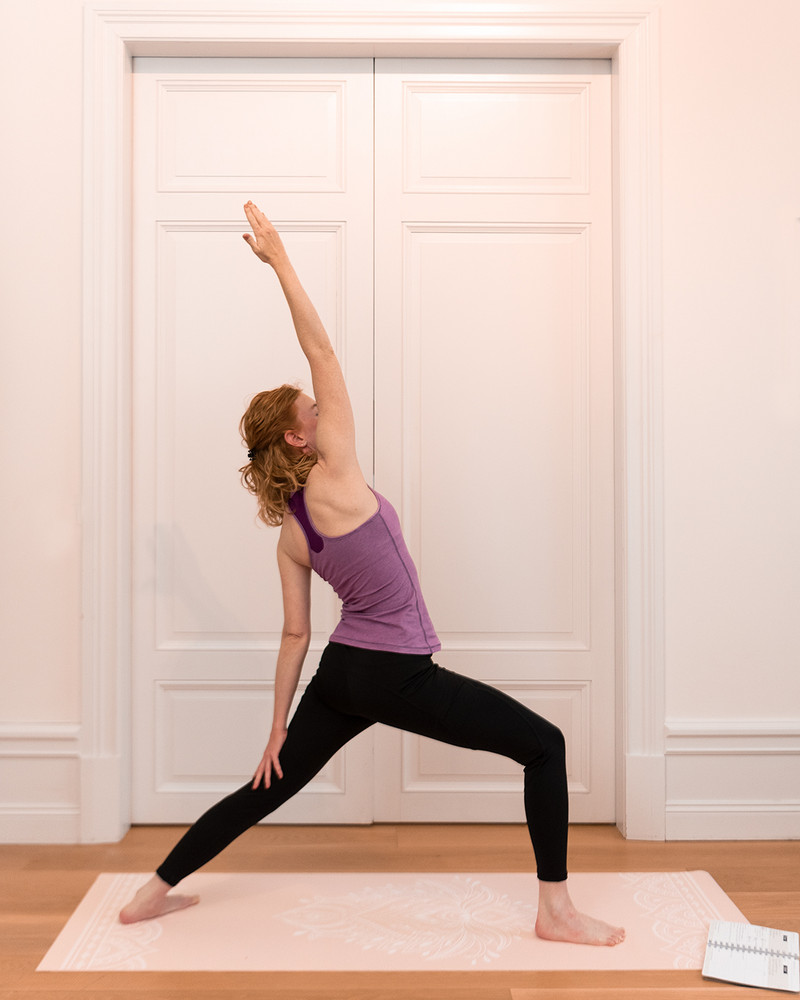 Health - Mental & Physical
We've included both mental and physical wellbeing in the general area of health. A focus on physical health is often a given in many people's New Year's resolutions, but mental health is just as important to tend to, especially since the two are so closely linked together - our body will always and eventually reflect the state of our mind.
Think about your emotional wellbeing. What do you need to feel happy and at peace? What triggers stress in your daily life? Are there any negative habits that you need to scrap? Could you replace them with one good habit instead? Lots of questions here to help you start thinking and reflecting over these issues, as they can often be trickier to pinpoint than, say, sleeping habits!
The next set of sub-categories relate to our physical health and are fairly easy to define and set goals within: food, sleep and exercise. Would you like to do some kind of exercise every day of the week? Or would you rather go for a long run once a week? Think about what kind of movement/exercise you enjoy, and how you can set a clear, realistic goal here.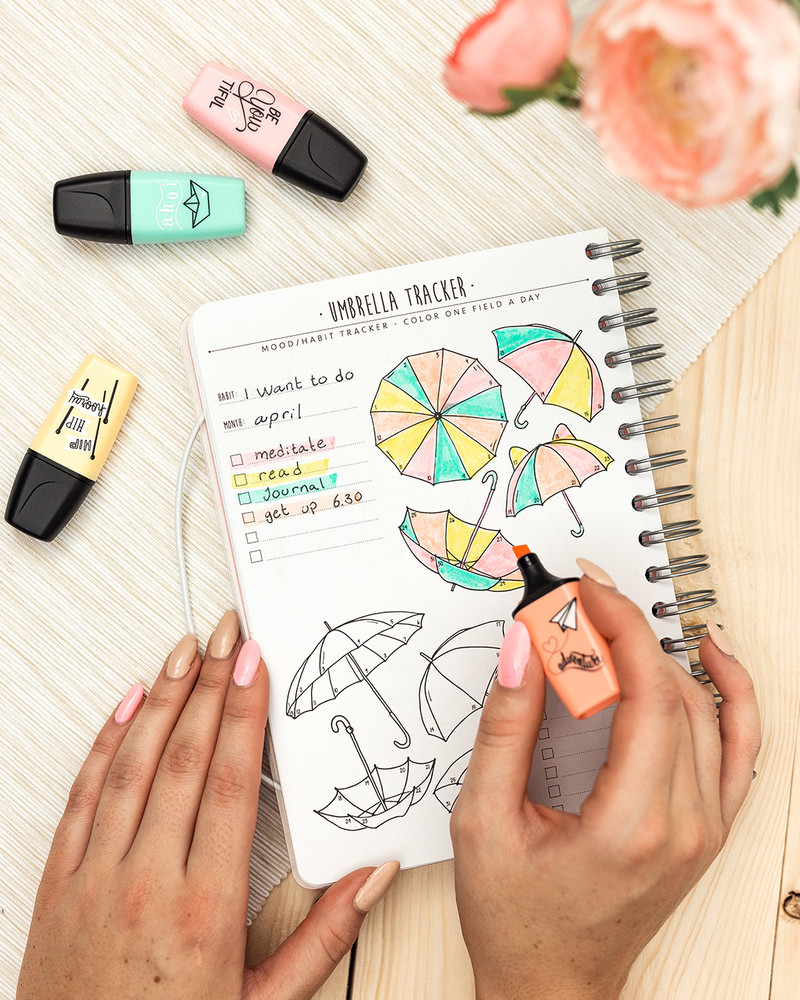 Back Page "Trackers" - Using a habit tracker is a visual and very satisfying tool to see your progress on paper. Track daily, weekly or monthly habits. We have a ton of lovely habit trackers to add to the back pages of your planner.
CREATE A CUSTOMIZED PERSONAL PLANNER NOW
The same goes for food and sleep. Do you want to set yourself a challenge to eat vegetarian food once a week? Eat more fresh fruit? Limit your caffeine intake? And what about sleep? Perhaps you need to aim for 7-8 hours sleep a night. Or maybe you want to get up earlier in the morning to start the day with a moment of mindfulness, a cooked breakfast or combine it with an exercise goal? Up to you.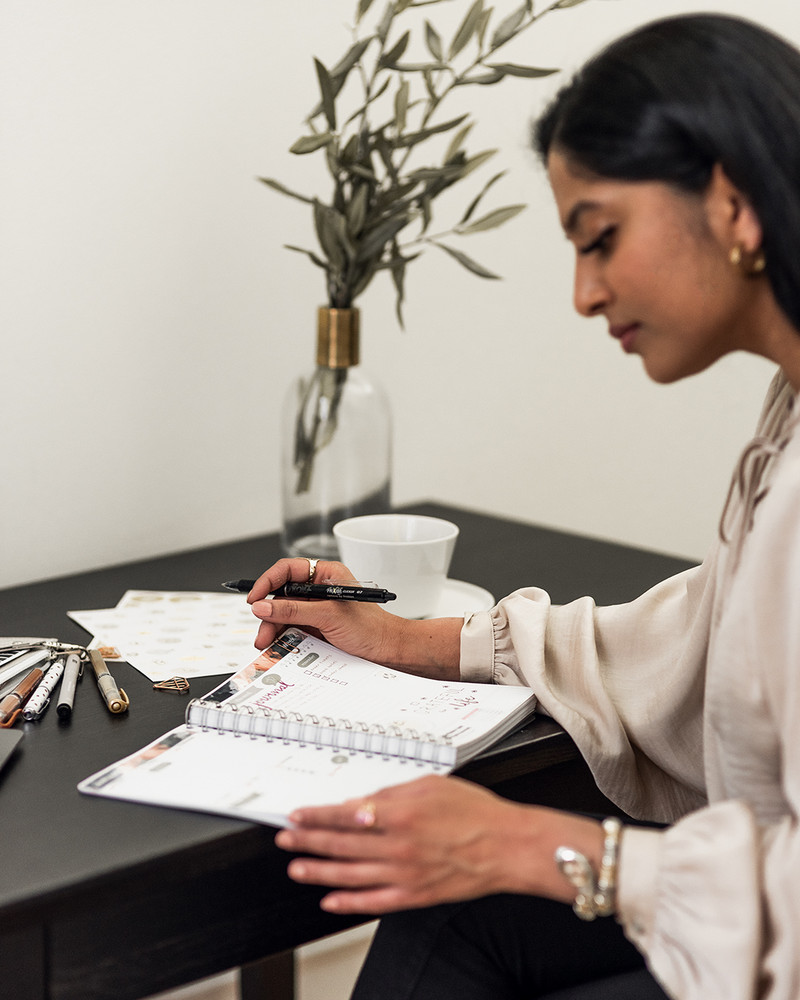 Work/Studies - Personal Development & Finance
The third focus area might be the broadest of the three. Think of it as representing your professional life: whether you're studying or working, you can look at this area as a good place for personal development. Some goals here could include further training, like studying for a new qualification within your profession, or starting on a postgraduate degree.
But it could also be a total career change; perhaps you've been dreaming of doing something completely different with your life for years… Start here by writing down your dream! Then, try to work out what the first step toward reaching it would look like in your situation.
FURTHER READING: Learn how to set goals that matter and that resonate with your heart here.
We've included finance in this focus area, too, as it's so closely connected to income and work. Do you have any finance goals for the next season? This could be anything from committing to creating a budget (and sticking to it!) every month, to reaching for increased income or new income streams in the next year.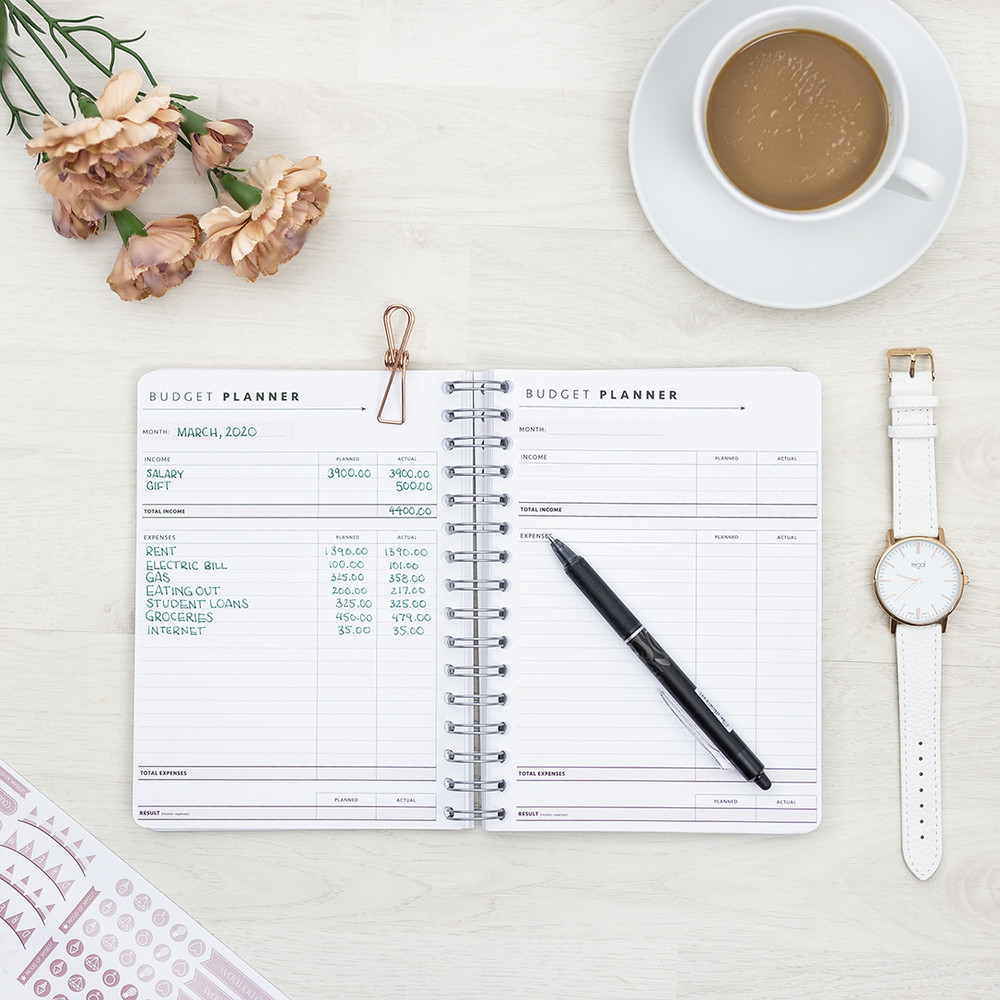 Back Page "Budget Planner" - Create a monthly budget and map out your consumption patterns; this way, you'll become aware of behaviors you want to change!
Lastly, think about what long-term goals you have in this focus area. Do you have a vision of where you want to be, both in relation to your professional life as well as financially, in five years time? Do you want to buy a home, or take some time-out from work/studies and go traveling? Dare to dream, then write it all down!
Remember, you can choose to set just one goal for each focus area, using our General Overview template, or you can choose to set three goals per area, using our Detailed template. What's important is that you're realistic - it's better to set one goal and reach it, than to set three but reach none.
Now just download and print out your preferred worksheet and you'll be well on your way to reaching your goals and dreams for 2022!
DOWNLOAD DETAILED WORKSHEET
DOWNLOAD OVERVIEW WORKSHEET
​​If you haven't already, make sure you download our year reflection printable here too!
FURTHER READING: To learn how to set SMART goals (Specific, Measurable, Attainable, Relevant and Time Bound) click here, where you'll also find a helpful worksheet to print out.
Family Wall Planner Hacks: 4 Ways to Share the Load & Stress Less
Do you have a troop of little humans to coordinate at home? Learn how our family wall planner can help you become an organizational wizard, while keeping your sanity intact!
Free worldwide shipping
Happy customers
Safe payments