home / Tips & Tricks /
Making a Vision Board: How to Visualize Your Dreams and Reach Your Goals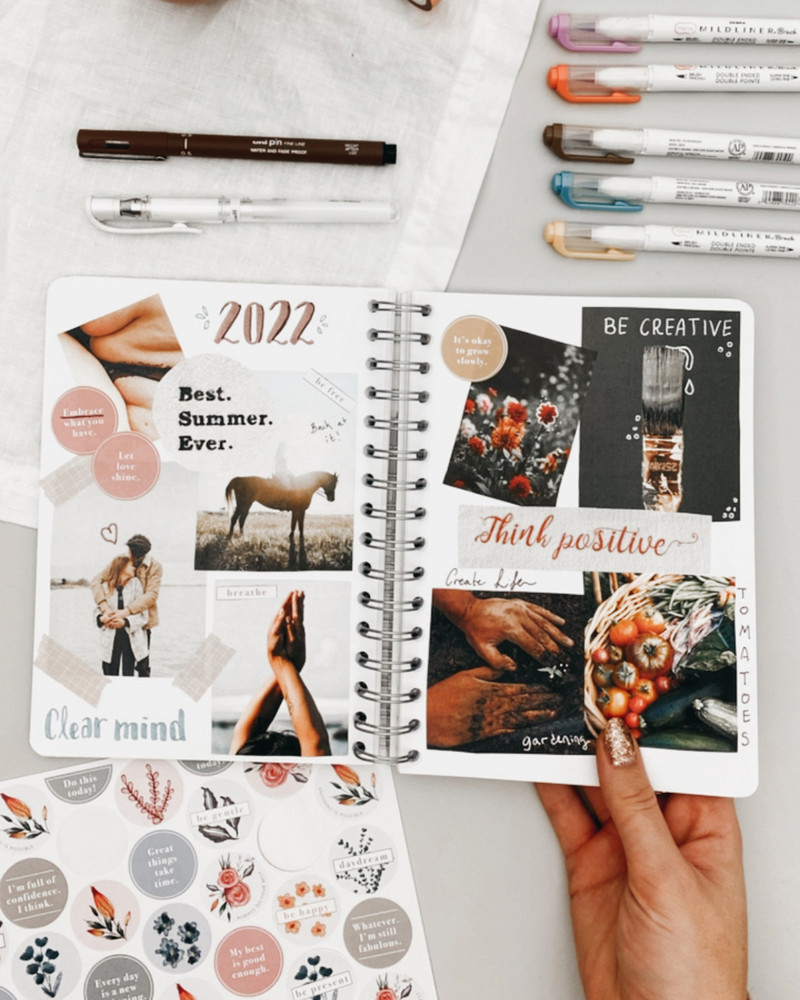 Making a Vision Board: How to Visualize Your Dreams and Reach Your Goals
Do you long to reach your goals this year and make your dream life come true? Try creating a vision board! With the help of German craft queen, @mrsmara, we show you how you can make your own inspiring collage to help you visualize your dreams and wishes. Continue reading, and get started on your journey towards your dream life today!
---
You might have heard about vision boards before and seen some wonderful examples on social media. But the word vision can sometimes feel daunting, like something big and serious, far away from today's reality.

In this article, we take a closer look at what a vision board really is and how it can be used as an inspiring tool to changing your life, one conscious step at the time. So grab a cuppa, sit back, and let's get started on your journey towards your dream life!

What's a vision board?
A vision board is a collage made up of pictures, magazine cuttings, quotes, doodles, photos etc. The point of the board is to help you visualize your dreams and wishes, reminding and inspiring you to reach for them every day.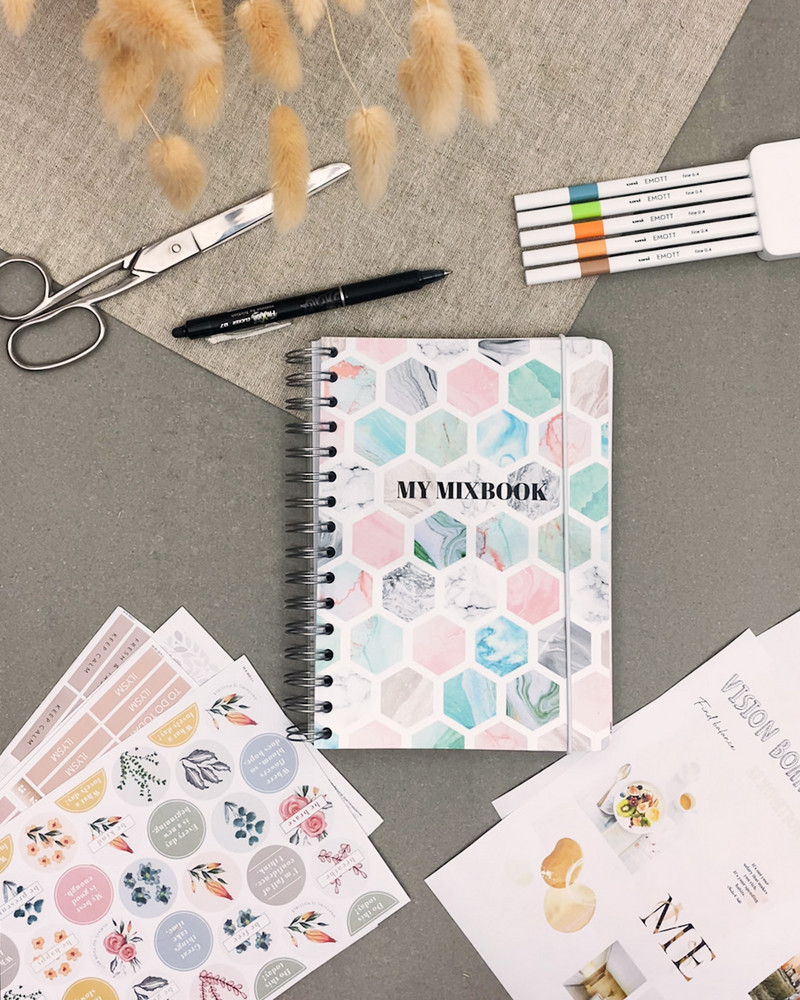 And to inspire you to get started, we've solicited the help of German craft queen and vision board enthusiast, Mara. On her Instagram account, @mrsmara, you'll find a whole heap of fun ideas for cute craft projects, and useful tips to practice self-love and personal development. Mara is a creative person who's always loved to get her hands on different types of crafts as well as painting.

About three years ago, she created her first ever vision board - and was hooked!

- I wanted to start working more on myself, and listened to a bunch of different podcasts and even took help from a personal trainer. I'd reached a point in my life where I was asking myself who I wanted to be and what I wanted from life. This became the starting point of my new life.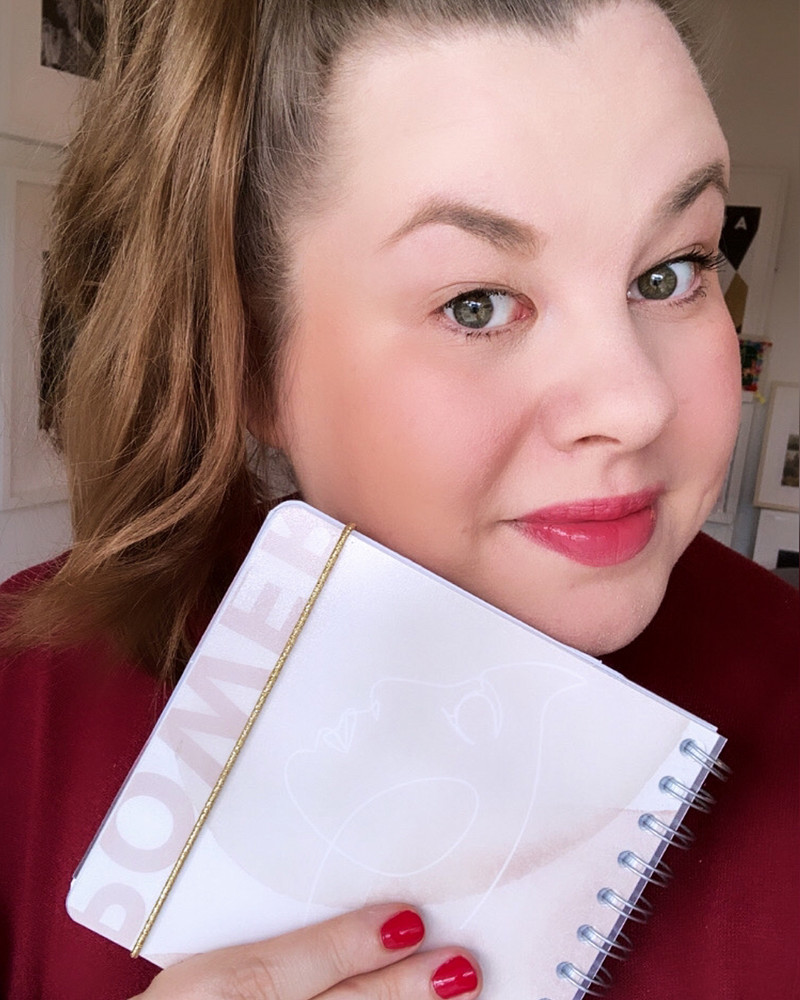 A vision board is a great tool for making a change in your life.

- A vision board will help you turn the ideas you have for your life into reality. In other words, it'll help you to make your dreams come true! What you include in your collage represents what you want to still be part of your life.

- When creating your vision board, you should always start by asking yourself what your dream life looks like. Envisioning that long-term goal is your first step towards change.

But a vision board won't magically grant you a new and better life.

- If you want to win the lottery and create a vision board around that... well, that might not be the right way to go about it, Mara says with a wink. What's important is that you focus on your heart's desire, and have patience! Keep an open mind, and remember that change doesn't happen overnight, she continues.

- Some of the things on my vision board have taken the best part of a year to become reality, and others haven't been fulfilled yet. But instead, other and better things have entered my life.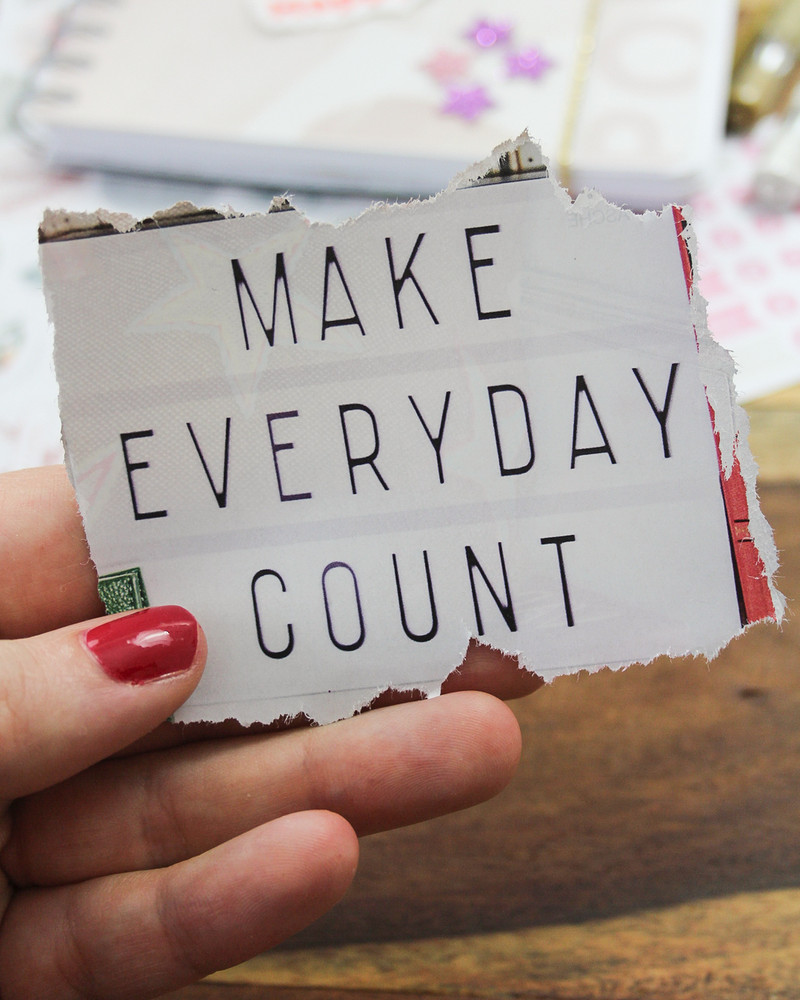 - I guess the important thing is that you don't create a vision board with the hope that things will just magically begin to happen, says Mara. It's the little things you do and work on every day that matter, and will build towards the end result.

With this in mind, a vision board can help you take that crucial first step. Soon you'll notice how new ideas, solutions and opportunities begin to pop up, things you perhaps hadn't thought of at first.

- Since I started creating my vision boards, I've found it easier to follow my plans and reach my goals. When I create, I include only those things I want to keep in my life, and exclude those that no longer serve me. So there's kind of a sorting process involved in amongst the creative work of it, says Mara.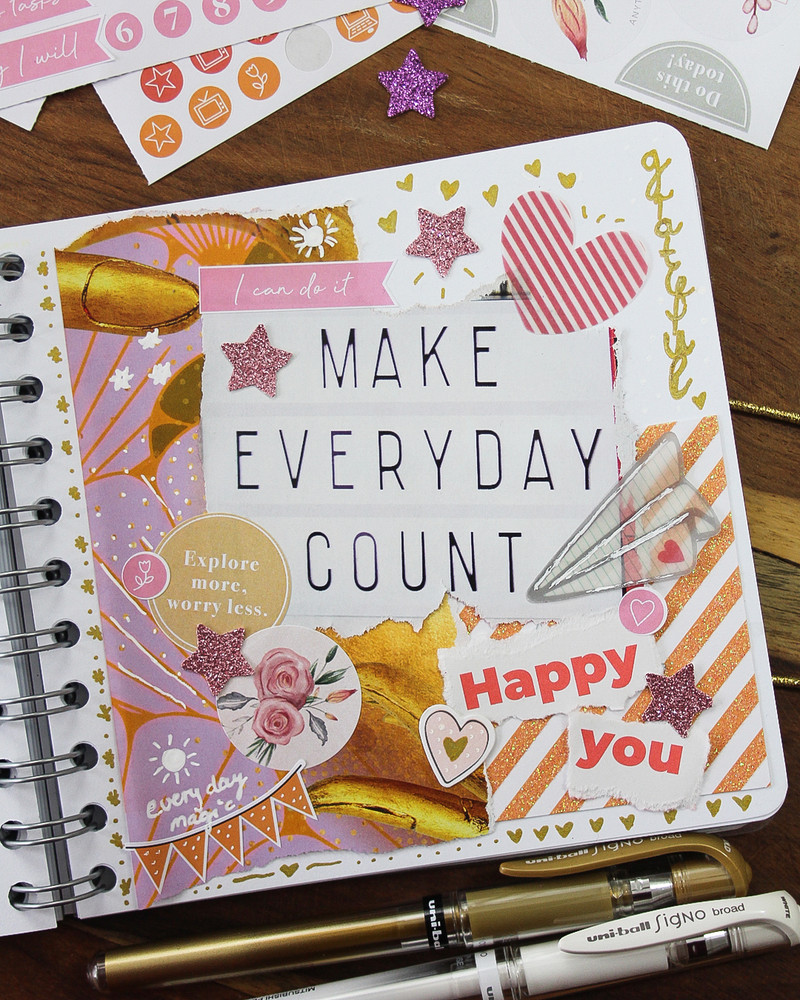 Not only is a vision board a wonderful tool to achieve change in your life, it's also incredibly fun and satisfying!

- I just love the entire creating process, Mara explains enthusiastically. It's a bit like magic, almost like the collage creates itself, and I'm often left wondering how it all happened... Follow your heart and instinct when making your vision board!


Here's how you make a vision board:
1. First, you need to answer a few questions: Who do you want to be? What do you want to feel in your day-to-day? How do you want your life to look?
- First and foremost, it's about who you want to be as a person, and what you need to help you get there. Focus on finding material that harmonizes with your answers, before glueing together the different bits in your vision board,
says Mara.
2. Find pictures,
stickers
and magazine cuttings that go well with your goals and dreams. You can find tons of inspo in newspapers, magazines, postcards and Instagram or Pinterest. Mara's recommendation is to focus on max 5 dreams or wishes for your first vision board.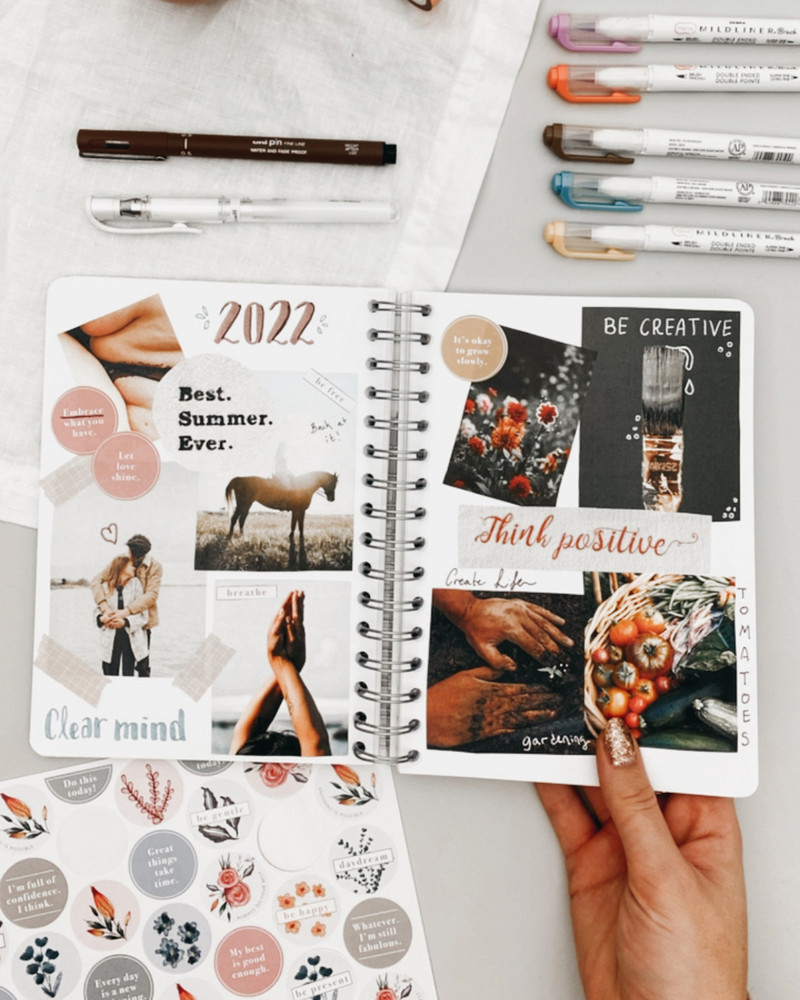 3. Find a good "base" for your collage. You could do like Mara, who creates her vision boards in a custom Mixbook™.
- I designed my Mixbook™ to be a gratefulness journal and I just ADORE it,
Mara says.
I write one thing I'm grateful for each day in my book, and I also have plenty of blank pages for my collages. For this year, I want to create one vision board for every month, and by creating them in my Mixbook™ I can have them all in one place - perfect for flipping through at the end of the year!
CREATE YOUR CUSTOM MIXBOOK™ HERE
4. Glue together your collage on your chosen base, and start pimping your vision board with doodles, quotes and sketches. Mara recommends the shimmering pens Uniball Signo Broad Metallic.
- These pens feel super smooth to write with and will add some gorgeous glamour to your vision board!
I'D LOVE ME SOME PENS!
5. Your vision board is done when you feel ready and happy with it. Place it somewhere where you can see it often to remind yourself of your goals and dreams!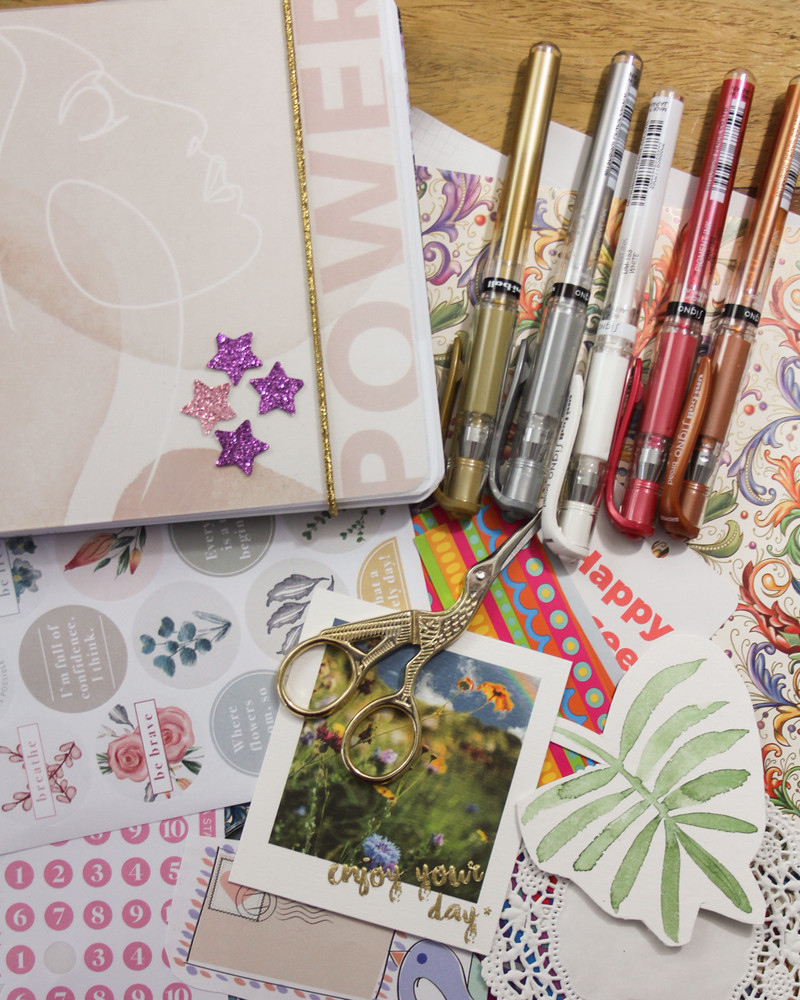 Before unleashing your creativity and start creating,
Mara has a few more tips to share:
•
Don't worry about getting it "right".
You decide what your vision board should look like; the only limit is your imagination!
•
Don't stress
while creating your collage. Sit somewhere calm and create an environment that encourages your creativity. Perhaps your favorite playlist, a cup of tea, or scented candles can get your juices flowing.
•
It's ok if your plans and dreams change over time.
You vision board can change too! Make sure you adapt your vision board to yourself, and not the other way around.
• The best time to start is
NOW!
You don't need to wait for a new year - start making your dreams concrete today!
And lastly, don't forget that
creating should be fun!
Share your vision board with us on Instagram by sending us a DM, or publish your picture tagging #itsprettypersonal. We can't wait to see your beautiful creations!
Psss! Need even more inspo? Here's a few simple tips in how to set goals that matter, or read the story about the family who changed their whole lifestyle to follow their dream.
Illustrator Angelica Lucaci: Creativity & Mental Health
Is there a link between creativity and mental health? Find out in our interview with illustrator Angelica Lucaci (@hejnum), where she talks about her personal experiences of self-criticism, mental health, and our new themed pages - Fill with Patterns - developed in collaboration with her.
Reconnect with Yourself through Journaling - 3 Simple Ways
What are some of the benefits of journaling, and how come this is such a popular self-care tool? Keep reading to learn more about different ways of journaling and how to use your Mixbook™ for this.
Simple Ways to Look After Your Mental Health - Free Printables
With one in every four adults affected by some kind of mental health condition today, it's about time we dropped the stigma and started talking about it instead! We've put together all our available resources into one big article so you can find them easily. Here, you'll learn how you can boost your wellbeing through simple practices like journaling, mindfulness, gratitude, coloring and more. Read on to get inspired, and make sure you download our fun freebies and practical printables, too!
Free worldwide shipping
Happy customers
Safe payments