home / Tips & Tricks /
How to Set Up a Bullet Journal in Your Mixbook™ - A Beginner's Visual Guide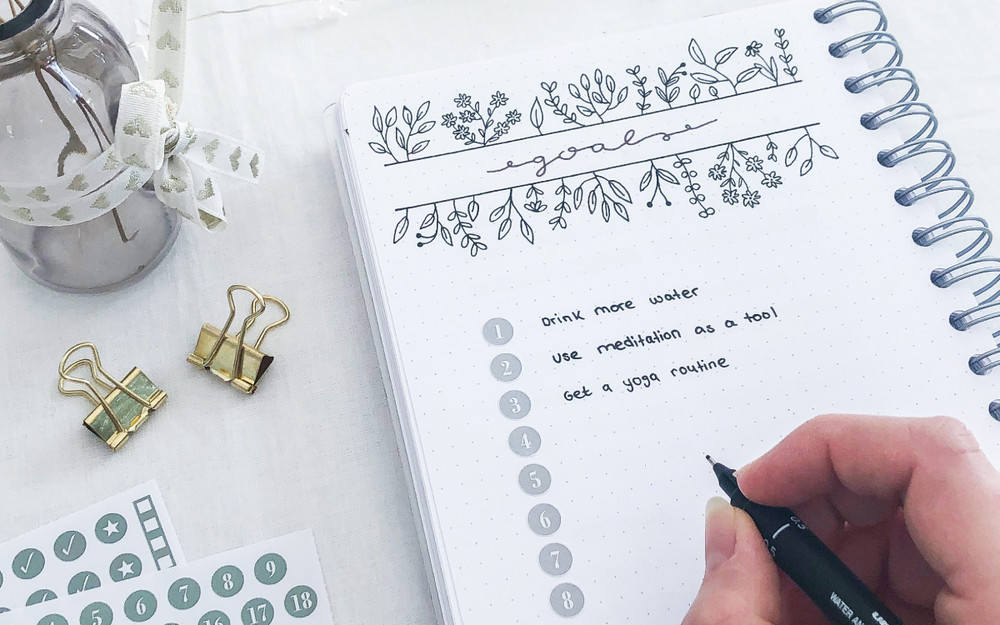 How to Set Up a Bullet Journal in Your Mixbook™ - A Beginner's Visual Guide
Bullet journaling is the ever popular planning system, with unlimited possibilities for customization and creativity. Find out what pages you need for setting up your own bullet journal - both hand drawn as well as predesigned pages - in this simple beginner's guide to bullet journaling.
---
If you're a lover of all things planning and organization, chances are you've already come across the art of bullet journaling. A clever planning and time management system at its core, bullet journaling can be as creative and customized as you need it to be. A little look around on Pinterest and Instagram, and you'll know exactly what we mean!

But a bullet journal doesn't have to be an art journal. The beauty of bujo, as fans of the system call it, is that you decide and personalize everything about it to make it fit your life perfectly.

In this beginner's guide to setting up a bullet journal, we'll show you exactly what pages and templates you need to start you off on your bujo journey - all in a customized Mixbook™. And because we just love working with wonderful people from around the world, we called in the help from our German artist friend and seasoned bullet journaler, Julia Strycek (@somekind.art).

Through clear step-by-step instructions and plenty of lovely pictures, Julia shows us the fundamentals of bullet journaling - in a Mixbook™!

Prefer a bullet journal in a Personal Planner™ instead? Julia tried one here!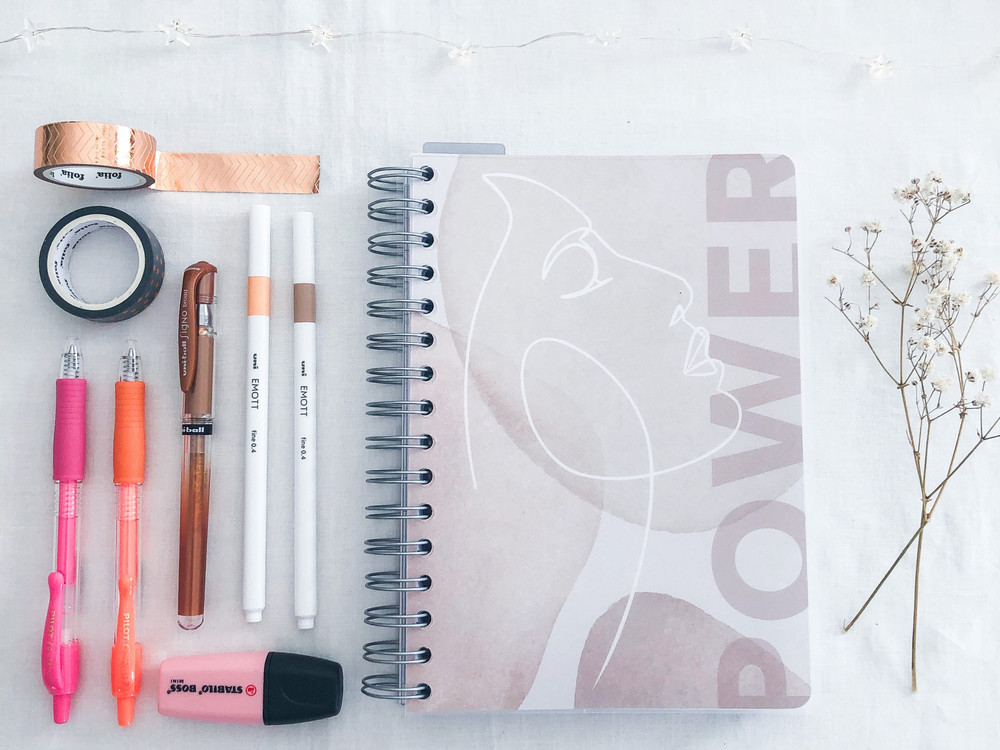 Products used in this picture:
· G2 Neon Pens
· Uni Emott
· Uni Ball Signo Broad, Bronze
· Stabilo Boss Mini Pastel
· Washi Tape

Step 1
The first thing you need to do is to work out what pages YOU want to include in your bullet journal - these pages presented below will follow you during the entire year! Julia will show us exactly which ones she normally uses in her bullet journal, and how you can create your own bujo too.
Future Log
Typically, a bullet journal is divided into years, months and weeks, to give you a clear overview and to help remind you of important events, dates and anniversaries.
"I've created a future log by using the year overview that's available for the Mixbook™. This is a place for me to write down all my important dates that I know of in advance, things like birthdays, work events, holidays and so on. The future log helps me get a clear overview of the entire year and is, without a doubt, one of the most important pages in my bujo," says Julia.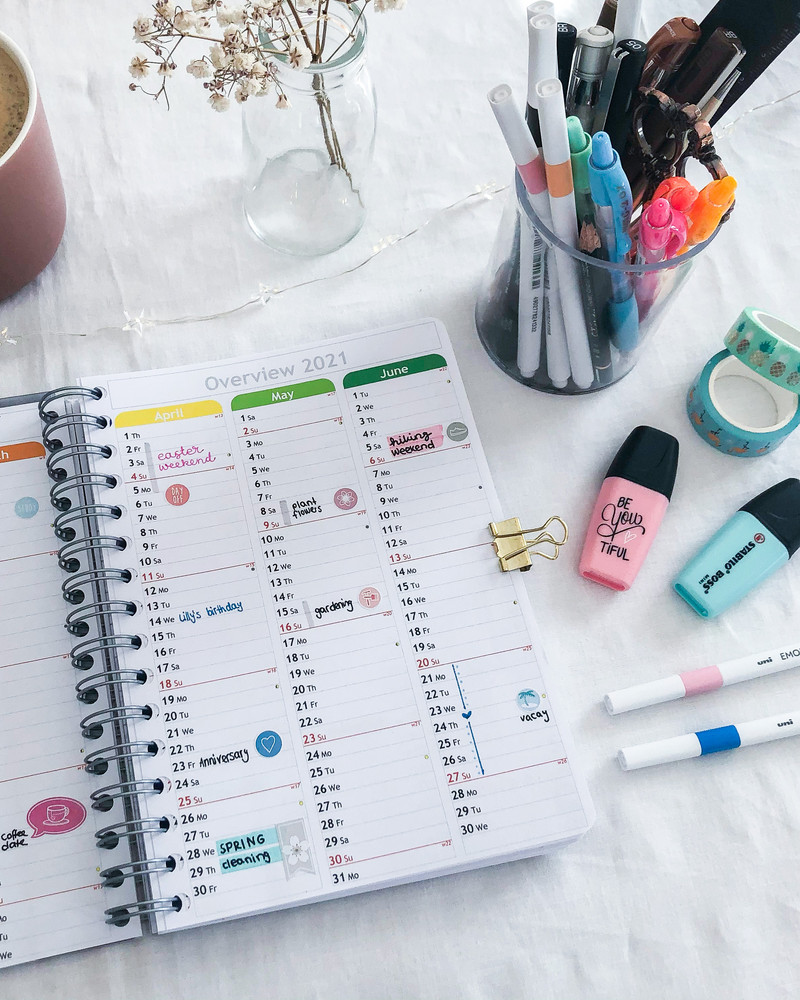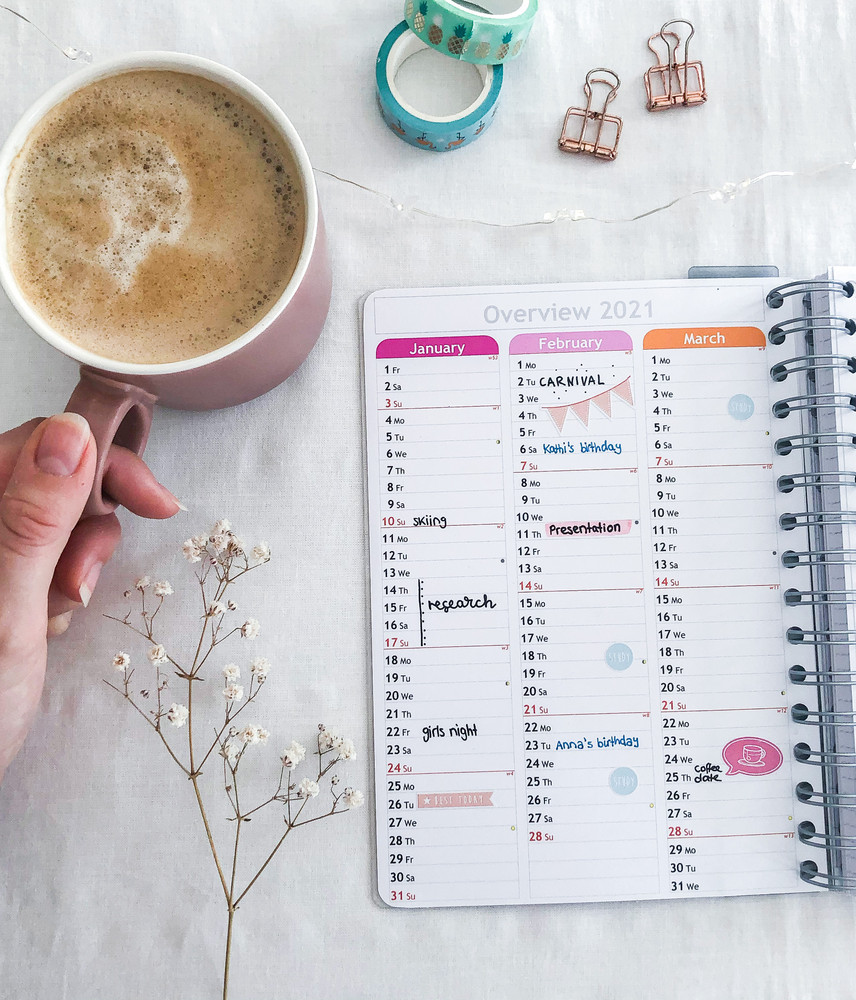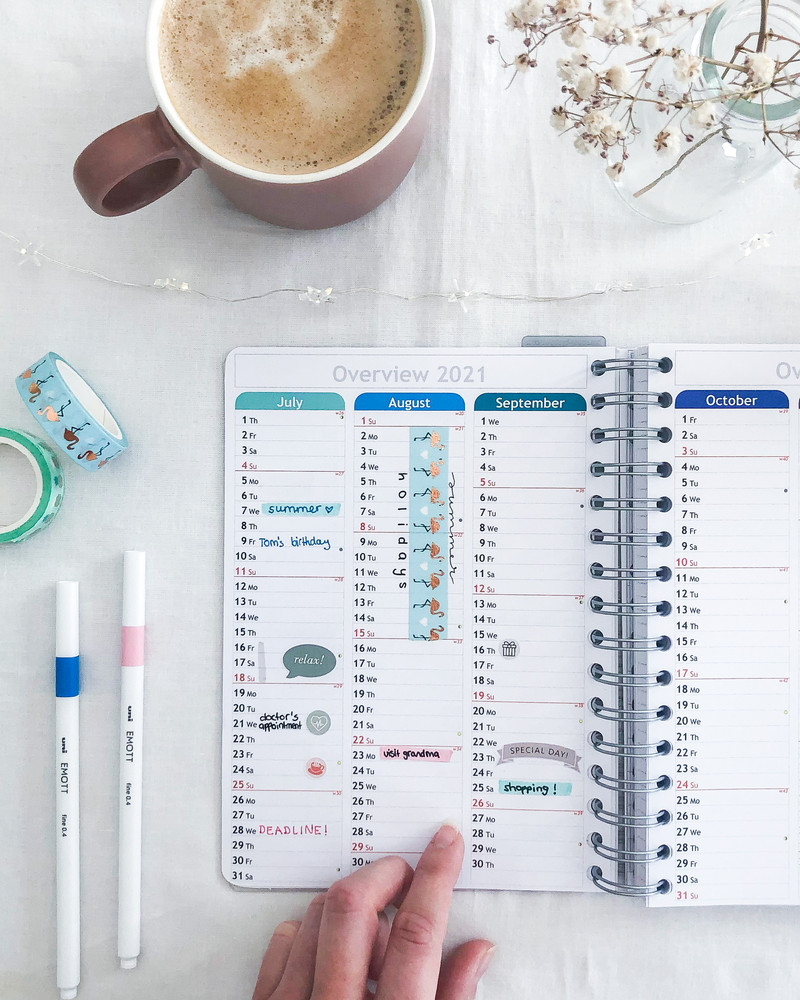 Products used in this picture:
· Uni Emott
· Washi Tape
· Stabilo Boss Mini Pastel
Key Page
"The key page helps you identify what the different symbols used for different activities and events mean in your bujo," Julia explains. "These symbols will help you be consistent in your planning, as you will be writing down all your to-do's and activities in a clear, simple way. I try to keep this page as minimalistic as possible so the overview doesn't feel cluttered."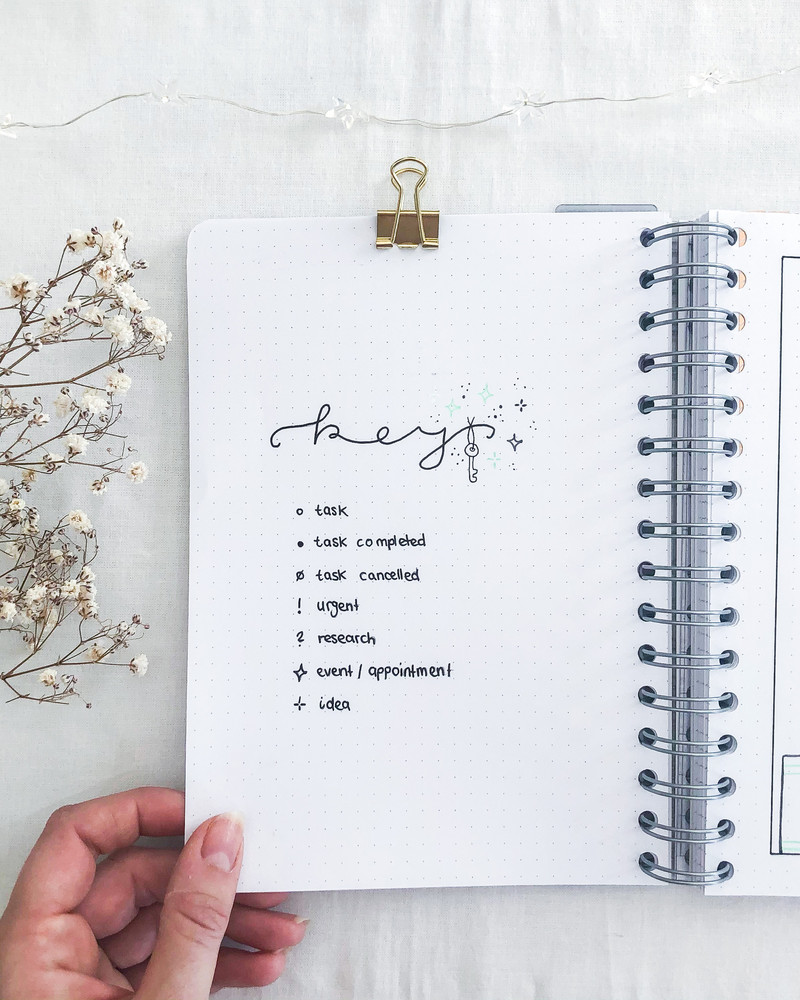 Cover Page
"This is like the introduction to your bullet journal. Here, I've made some cute little doodles to remind me of things I'm interested in at the moment or that feel extra important right now - you can do the same too! This page will follow you for the whole year, so try to think of things that really represent who you are in this moment," says Julia.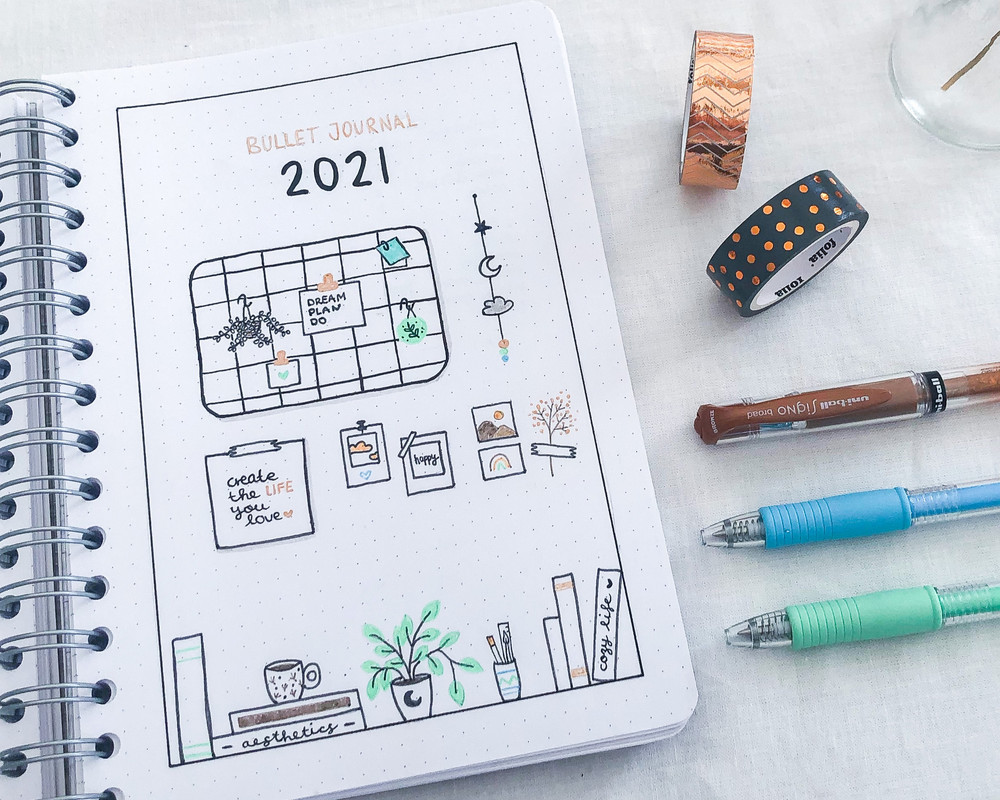 Products used in this picture:
· G2 Neon Pens
· Uni Ball Signo Broad, Bronze
· Washi Tape
LEARN MORE:
Doodle school! Watch our quick 1-minute doodle videos here!
Index Page
"A clear structure is super important to me, as is a solid index page!" says Julia. "I try to create a functional layout that's easy to read. Here, I've listed the contents of my bujo, and then jotted down the pages they're on. This means I can find what I want easily, without having to flip through the entire book first!"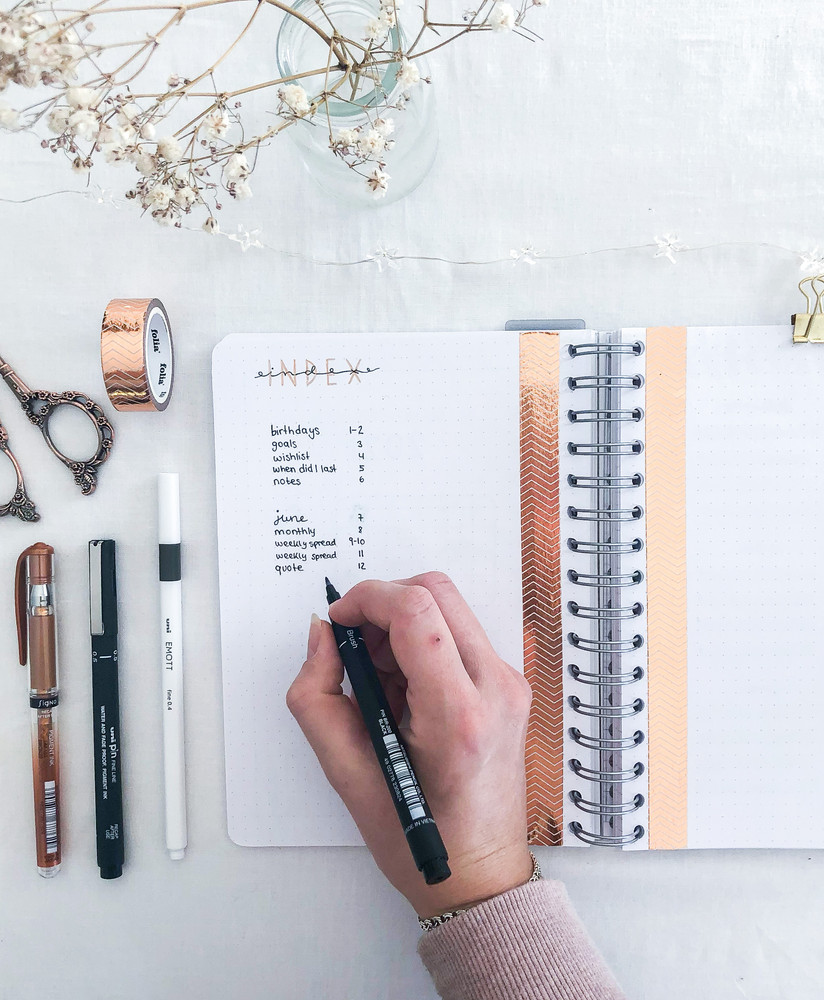 Products used in this picture:
· Uni Ball Signo Broad, Bronze
· Uni Pin Fine Line
· Uni Pin Brush
· Uni Emott
· Washitejp
Goals Page
"Some of the most important things for me in my day-to-day, is setting up goals - both in my professional as well as in my private life. And for me, the best way to way to remember my goals is writing them in my bujo, where I can see them and be reminded of where I'm going. This way I can easily check in with my goals during the year, ticking them off as I reach them," says Julia and adds, "The most important thing to remember when setting goals is that they're realistic and achievable. That way you'll feel motivated until the end!"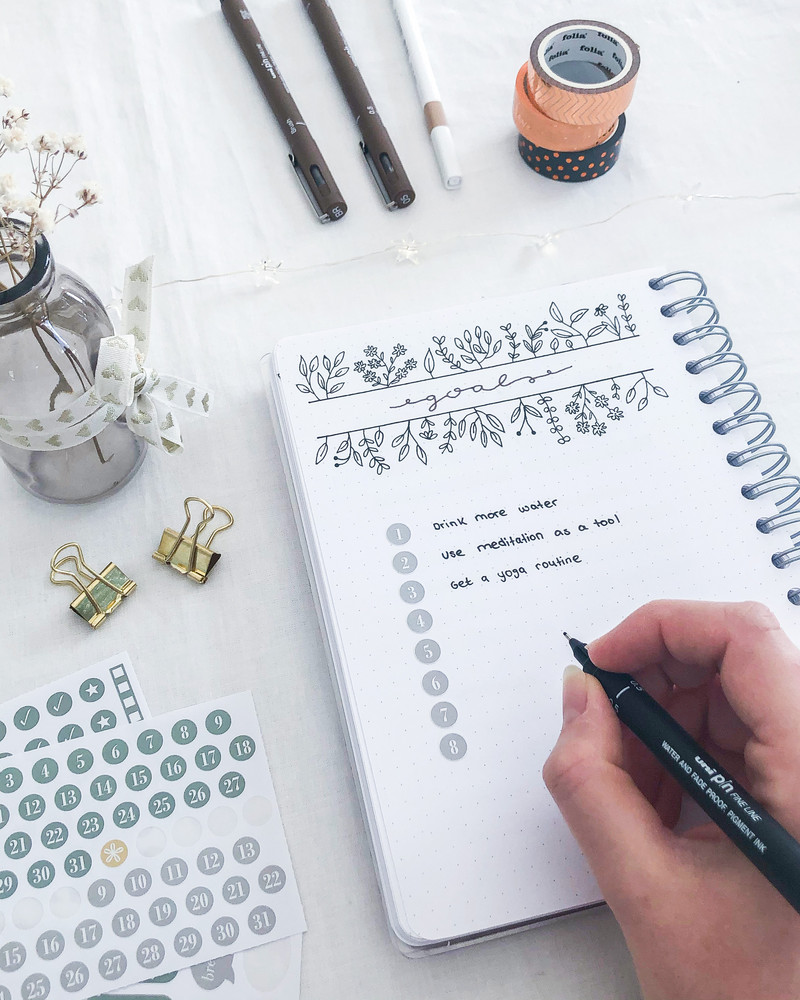 Products used in this picture:
· Uni Emott
· Washi Tape
· Uni Pin Fine Line
· Bujo – Flourish (Minis)
Wishlist
"This is such a fun part of my bujo!" Julia laughs. "Whenever I think of something I'd like to have, I write it here. If anyone asks what I want for my birthday, then I have a whole list ready for them! But the wishlist also helps me visualize what I want, and can help me work focused towards fulfilling my own wishes."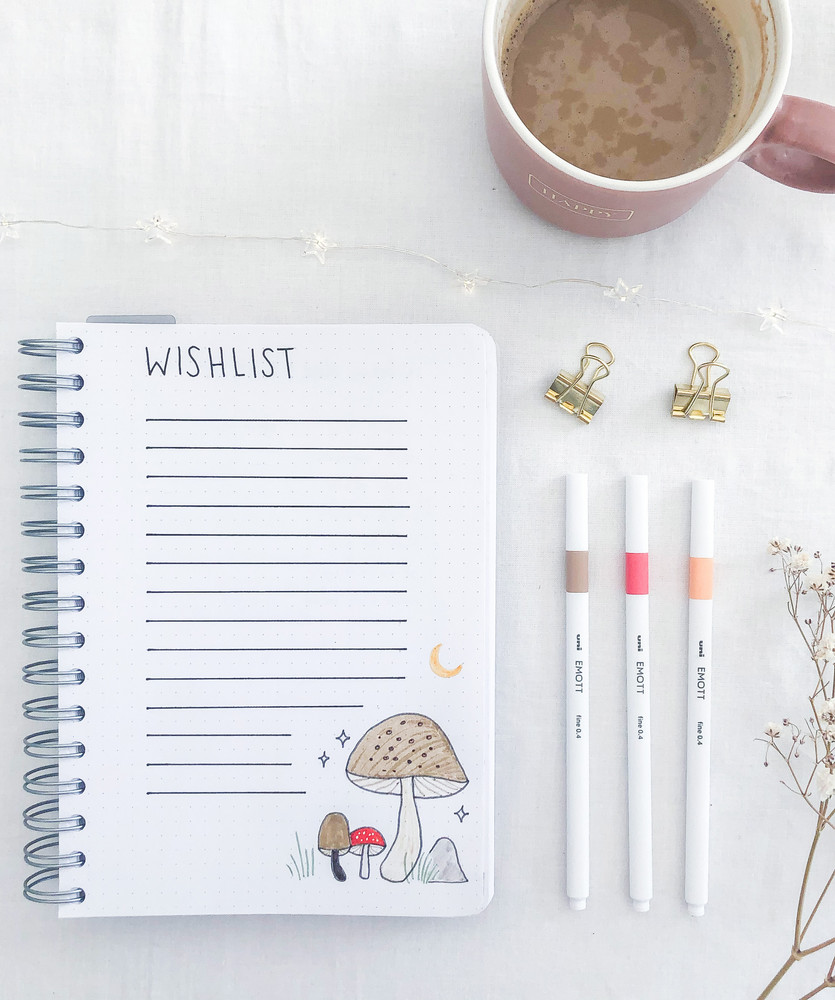 Products used in this picture:
· Uni Emott
When Did I Last
"This is where I write all those things that only need doing once or twice a year. Whenever I do any of these things, I write down the date. That way, I can always check how long it's been since I last cleaned the windows or backed up my phone, for instance."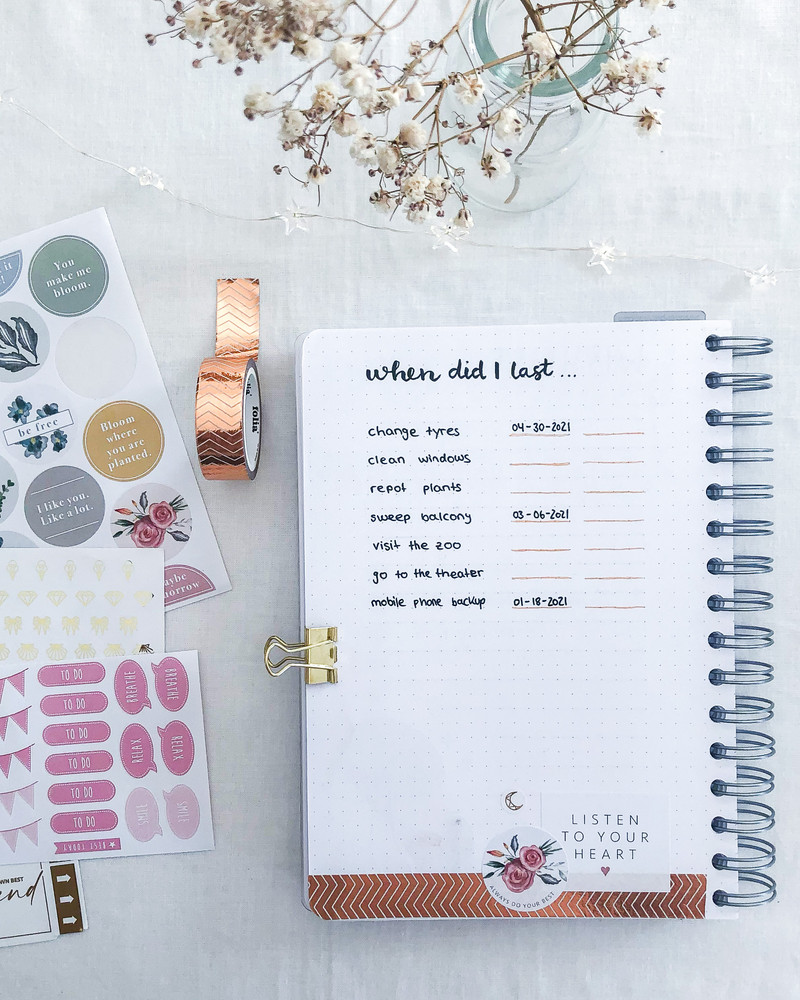 Products used in this picture:
· Washi Tape
· Brighter Days (Box)
· Flourish (Rounds)
· To Do (Minis)
· Shine On
Positivity Notes
"I'm convinced that a good bullet journal should always include a few mindfulness and self care pages. That's the purpose of this page - to help you take care of your mind and your thoughts. And for me, motivating quotes are super important in doing just that!"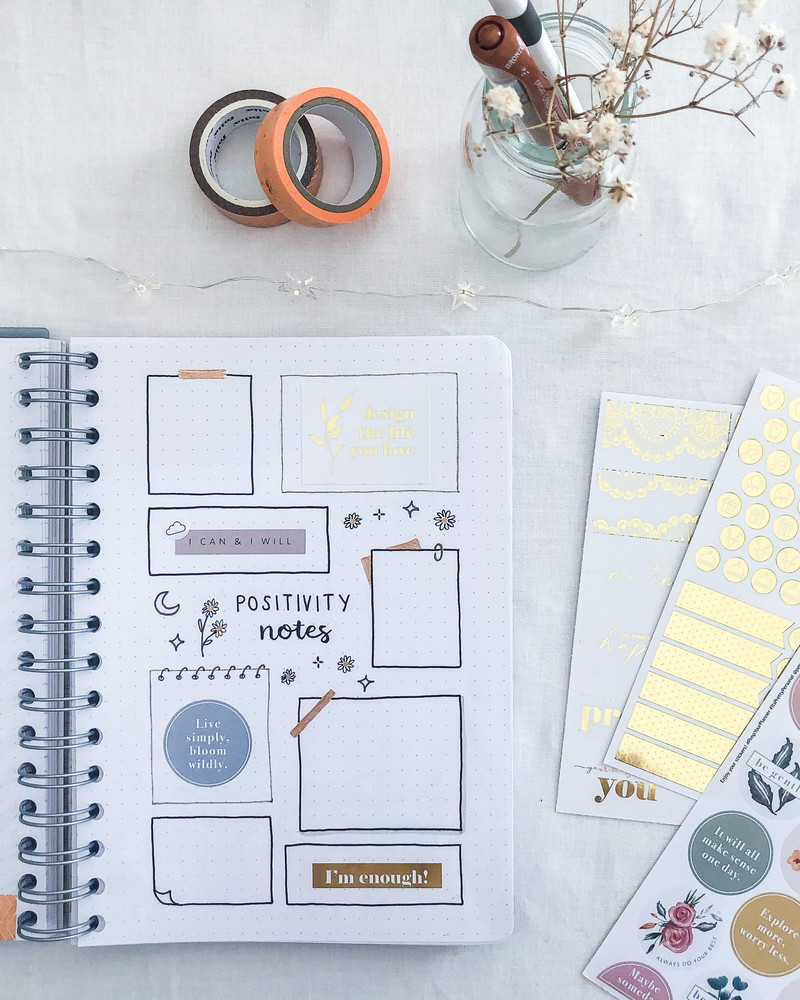 Products used in this picture:
· Washitejp
· Flourish (Rounds)
· Shine On
Book Tracker
"This is one of the available trackers you can add to your Mixbook™ and I think it's so great! I aim to read 20-30 books every year, and this page is perfect to help me keep track of them all. Once I've finished a book, I write the title on the spine - that way I can remember all the wonderful books I've read. Hopefully, by the end of the year, this page will be full of great reads!"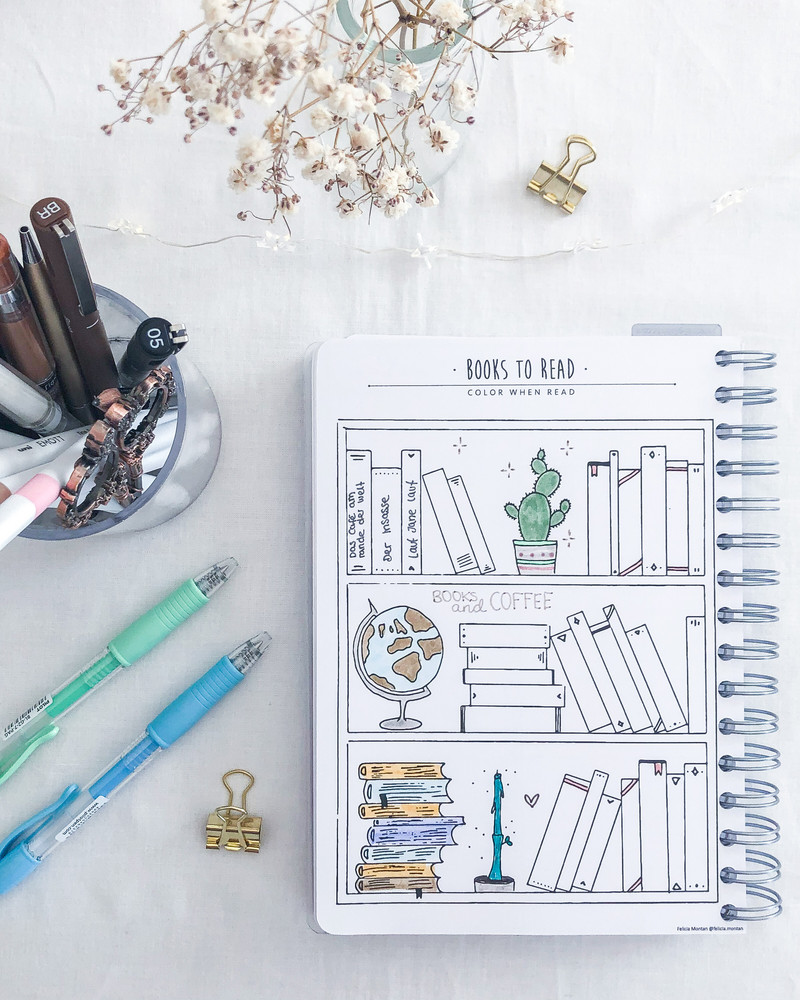 Products used in this picture:
· G2 Neon Pens
Movie Tracker
"This tracker is such a satisfying overview! There's plenty of space to write all the movies and series I want to see during the year and it helps me remember what I've watched. The Movie Tracker is available to add to your Mixbook™ too."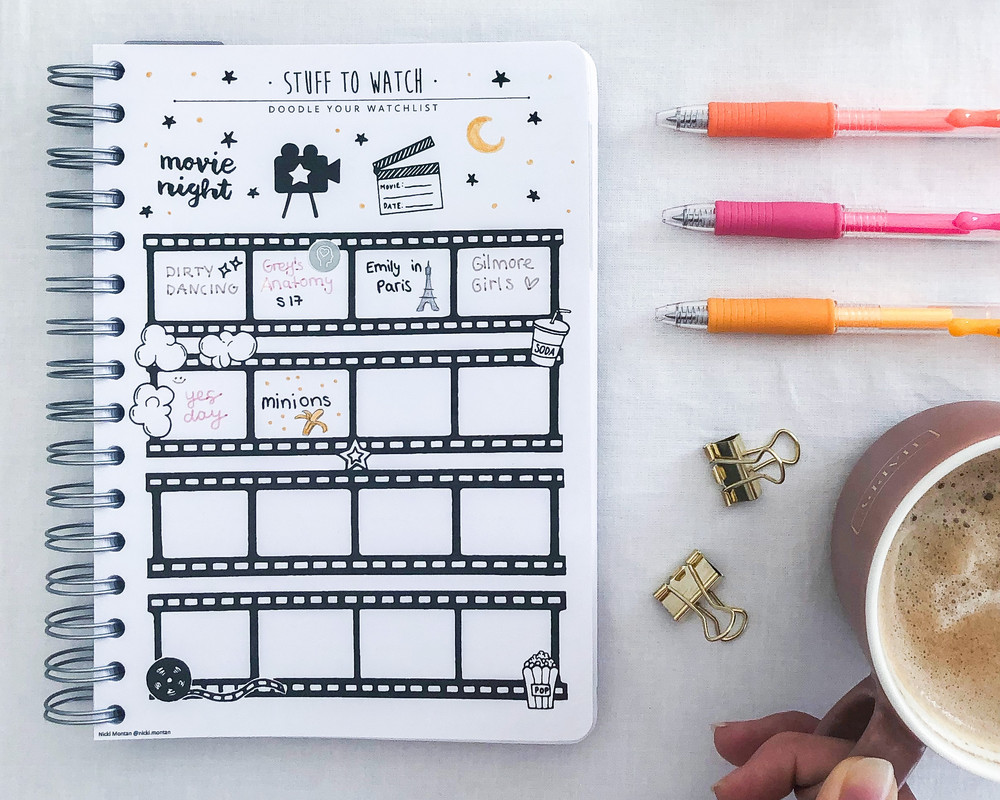 Products used in this picture:
· G2 Neon Pens
Mood Tracker
"A mood tracker is something I always make sure to include in my bullet journal. It helps me keep track of how I've felt during a specific period of time. It's also a great tool for understanding how my habits affect my moods, and what I can do to prevent dramatic mood swings," says Julia.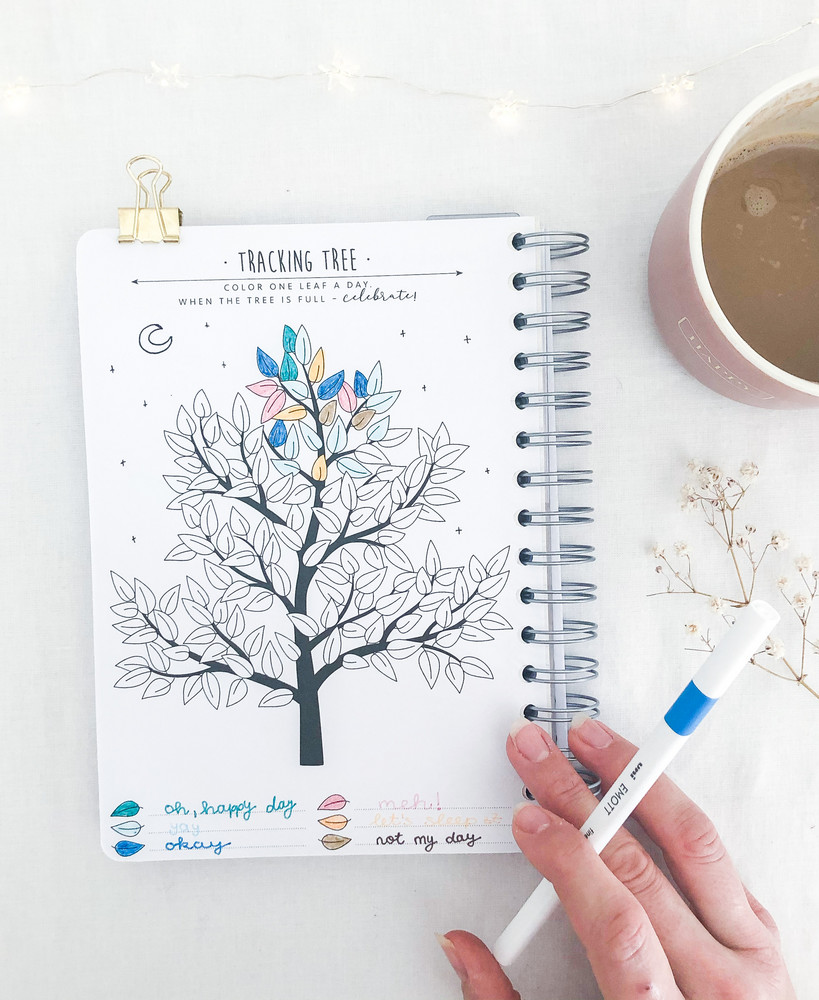 Products used in this picture:
· Uni Emott
LEARN MORE:
12 Mood Tracker & Habit Tracker Ideas
One Line a Day
"I added 12 of these pages when creating my bujo Mixbook™ - enough to get me through the year. It's so important to remind ourselves of the positive things that happen every day, to train ourselves to see them. I use this page to reflect on my day and to write down one thing I feel grateful for," Julia says.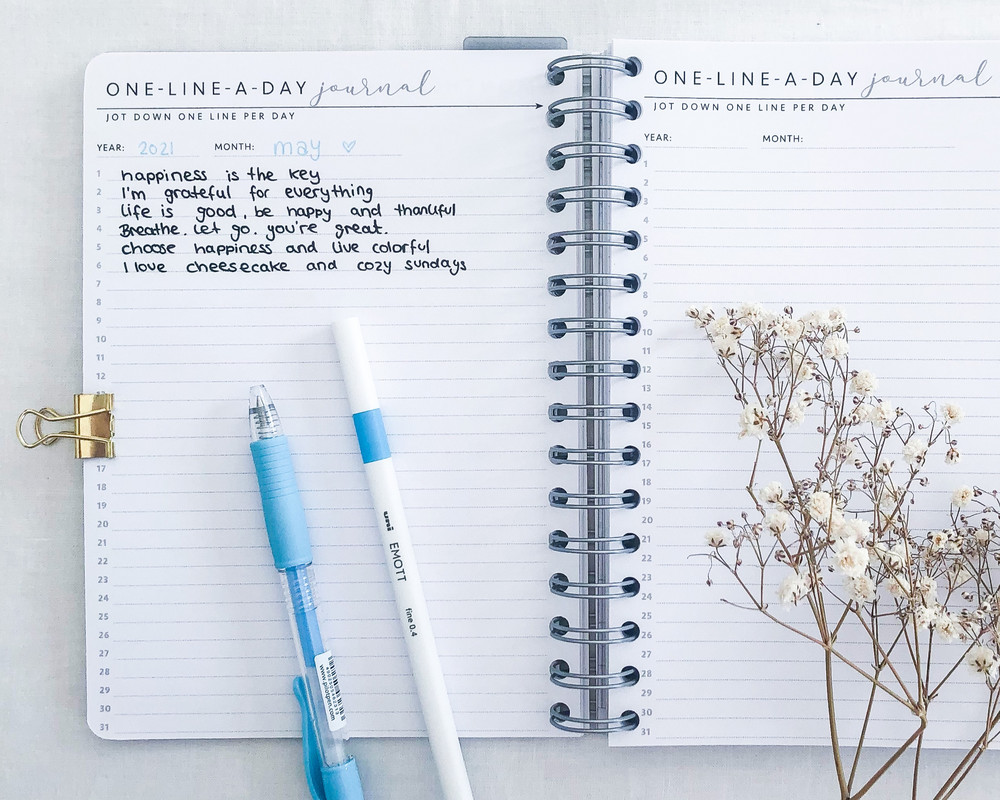 Products used in this picture:
· G2 Neon Pens
· Uni Emott
Step 2
Monthly Spread
"Once I've designed and/or selected all the pages that I'll be using during the whole year, it's time to create the first monthly spread," Julia explains. "I start by creating a cover design that will represent the month, and then I create the calendar part, where I enter all my important dates and events. In this step I often refer back to my future log for all that information."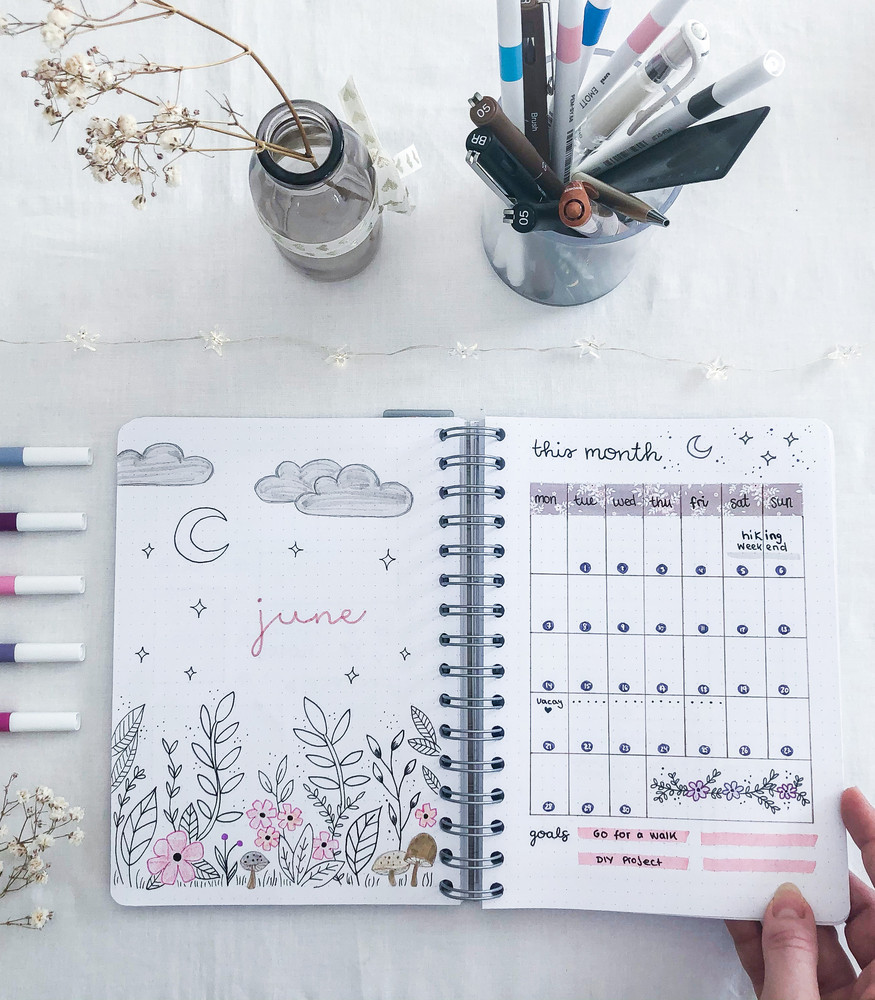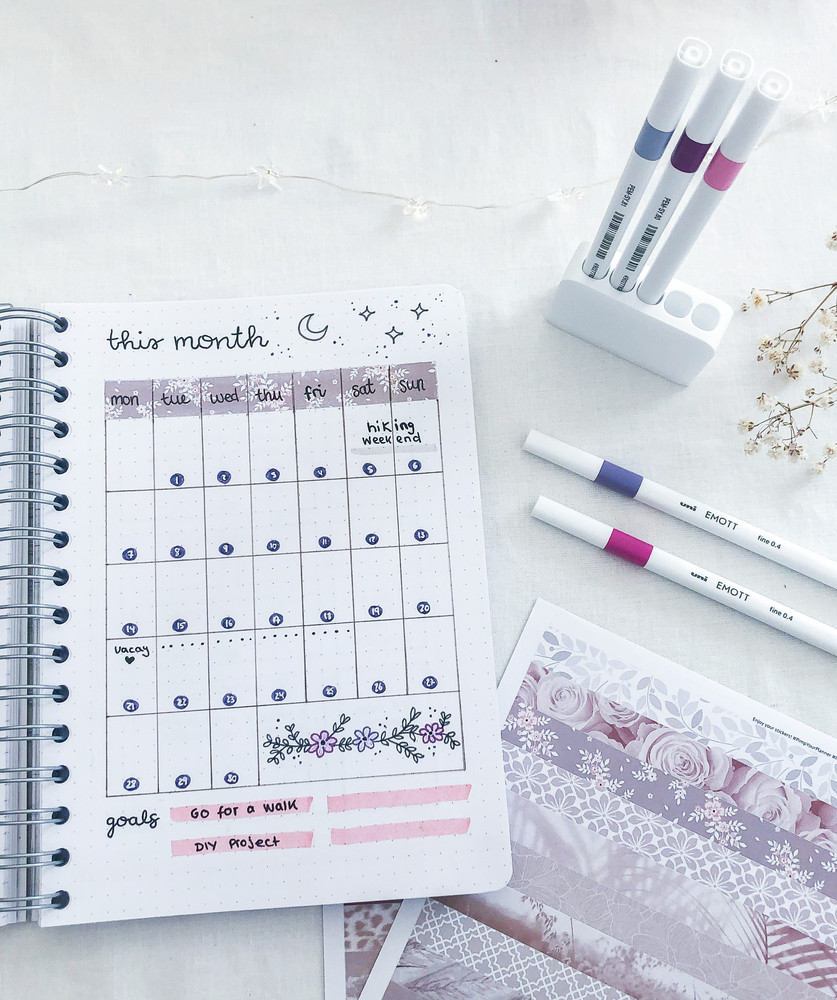 Products used in this picture:
· Uni Emott
· Dreamy (Headers)
Weekly Spread
"At the beginning of every week, I create a weekly spread, for my detailed planning. I often experiment with different types of layouts, but this box layout is one of my favorites because it's so clean and structured,"says Julia.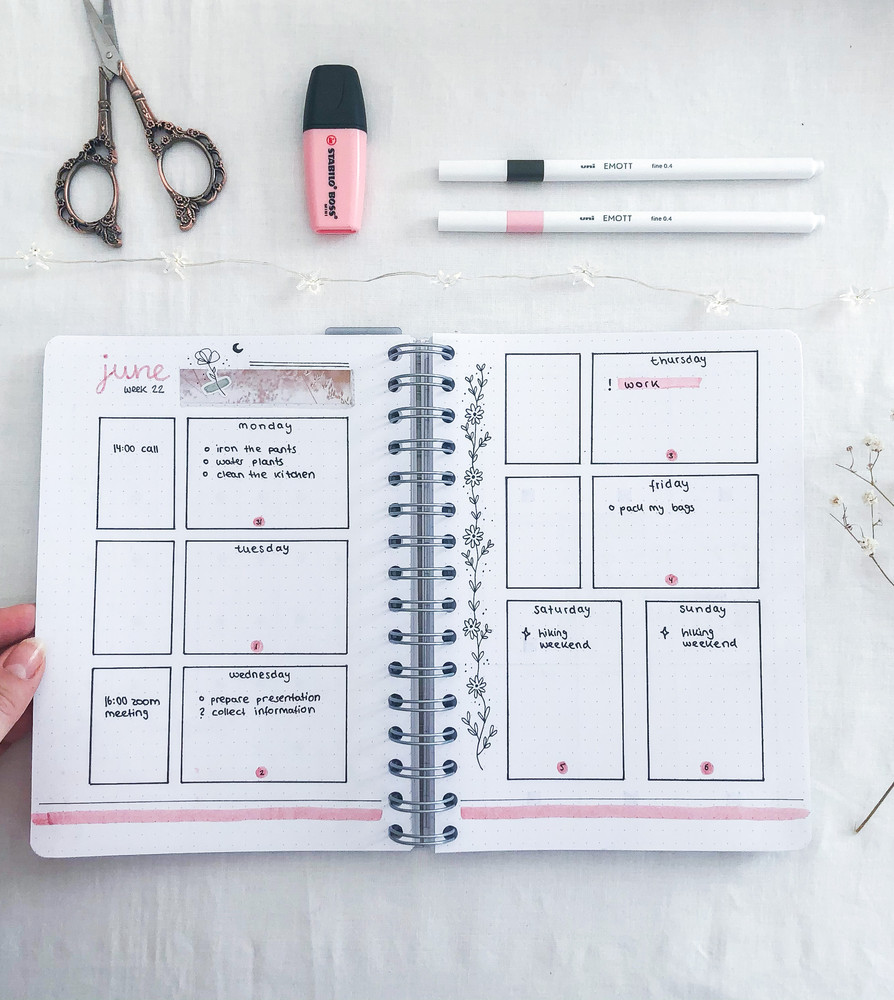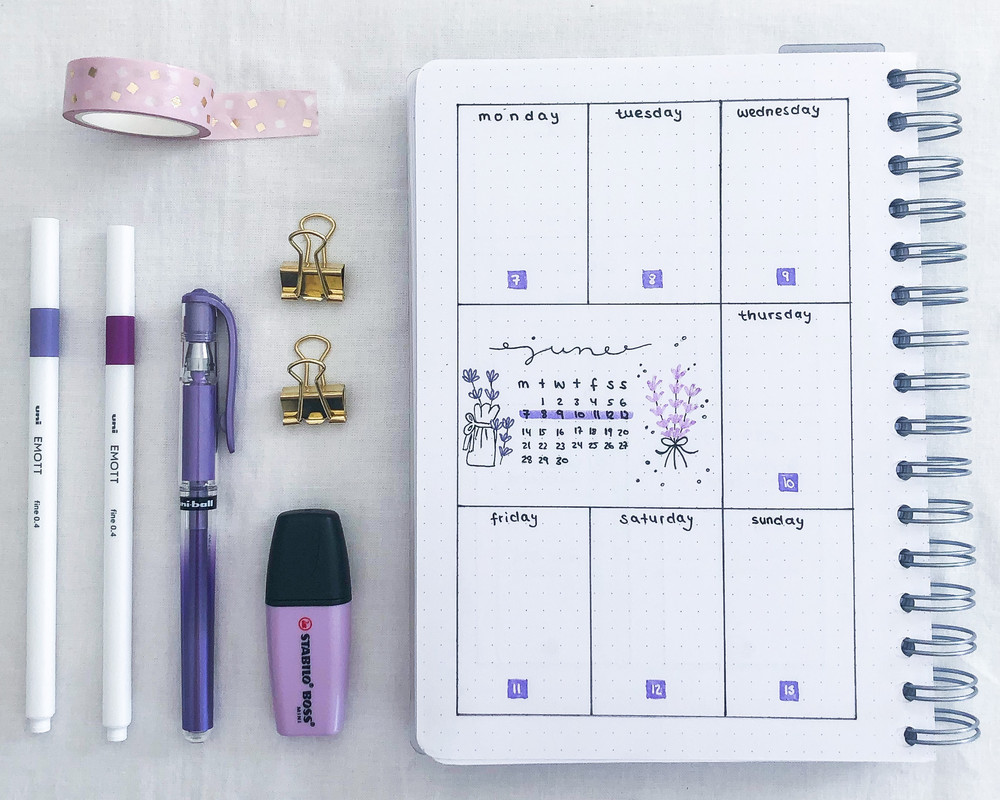 Products used in this picture:
· Uni Emott
· Stabilo Boss Mini Pastel
· Dreamy (Headers)
· Uniball Signo Broad Metallic Violet
Quote Page
"Devoting an entire page to an inspiring quote is a great way for me to keep a positive mindset. It's also an opportunity to practice my handwriting and lettering, and to try out fun new fonts. My tip to you is to unleash all you creativity onto this page!" says Julia.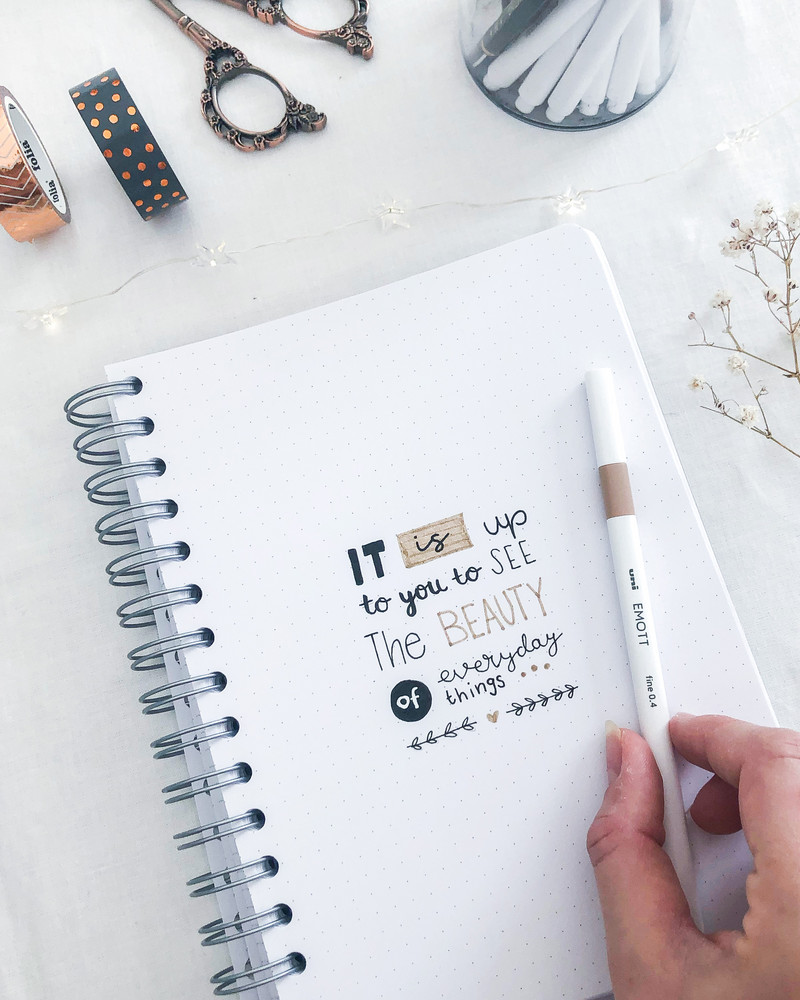 Products used in this picture:
· Uni Emott
· Washitejp
---
After this boost of creativity and inspiration, perhaps you'd like to have a go at creating a bullet journal of your own.
Click here to create a Mixbook™, as customized as you like,
and start your own great adventures in bujo universe!
LEARN MORE:
Inspo Guide to the Bullet Journal Planner
How to Do a Digital Detox with Your Planner
A digital detox does wonders for your mind and soul. Learn how a detox can help you press your mental refresh button, and how to plan one in your Personal Planner.
New Collection: Lemonade
Are you feeling parched? Quench your thirst for style with our brand new collection! Check out our 6 vibrant & juicy planner covers and matching notepads – the perfect refreshment for the summer!