home / Tips & Tricks /
Inspo Guide to the Bujo Planner - 10 Ideas for Your Bullet Journal Spreads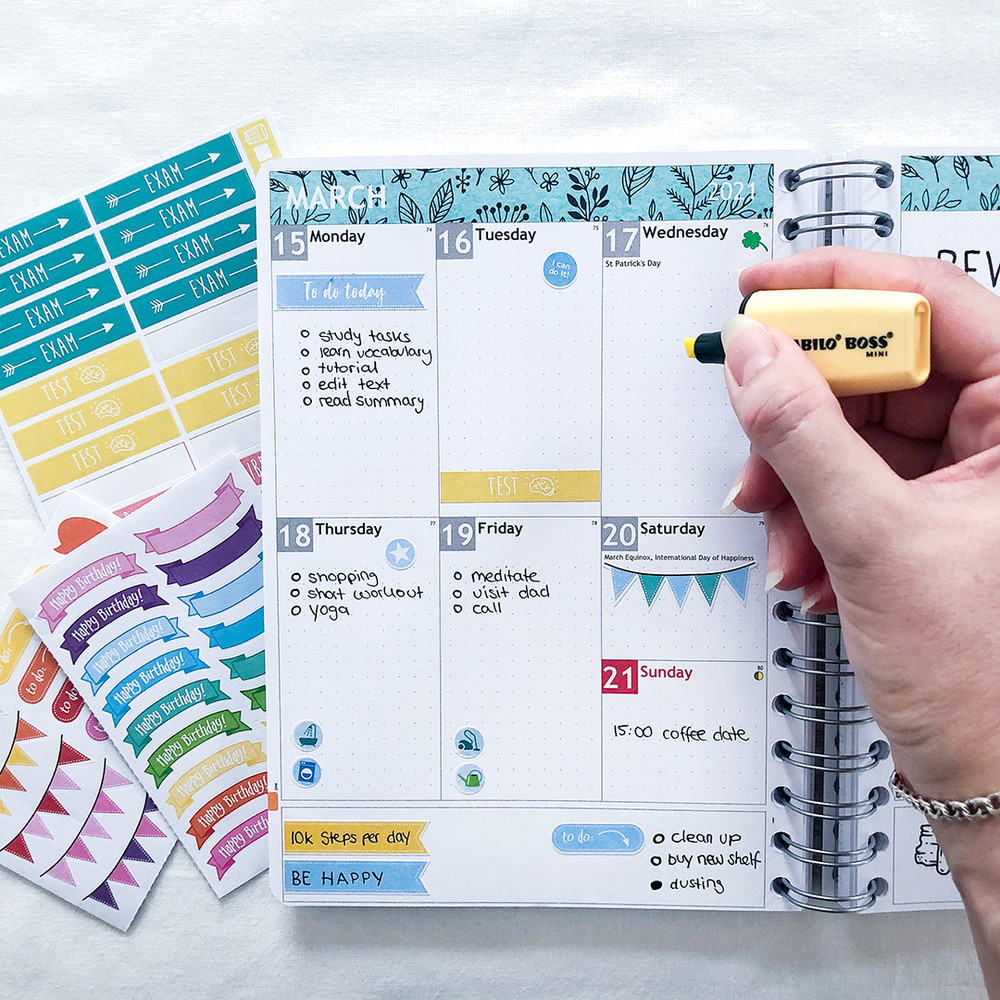 Inspo Guide to the Bujo Planner - 10 Ideas for Your Bullet Journal Spreads
In a visual guide to our Bullet Journal Planner, brilliant bujoist Julia Strycek shares 10 great ideas for your bullet journal spreads. Get ready to get inspired!
---
You've probably seen pictures of them.
Lovely, artsy bullet journal spreads, decorated with doodles, lettering and lots of washi tape - so pretty! Or perhaps you've seen the more minimalistic, structured bujos, with little more than to-do's and activities, all listed in the bullet journal task management system -
so neat!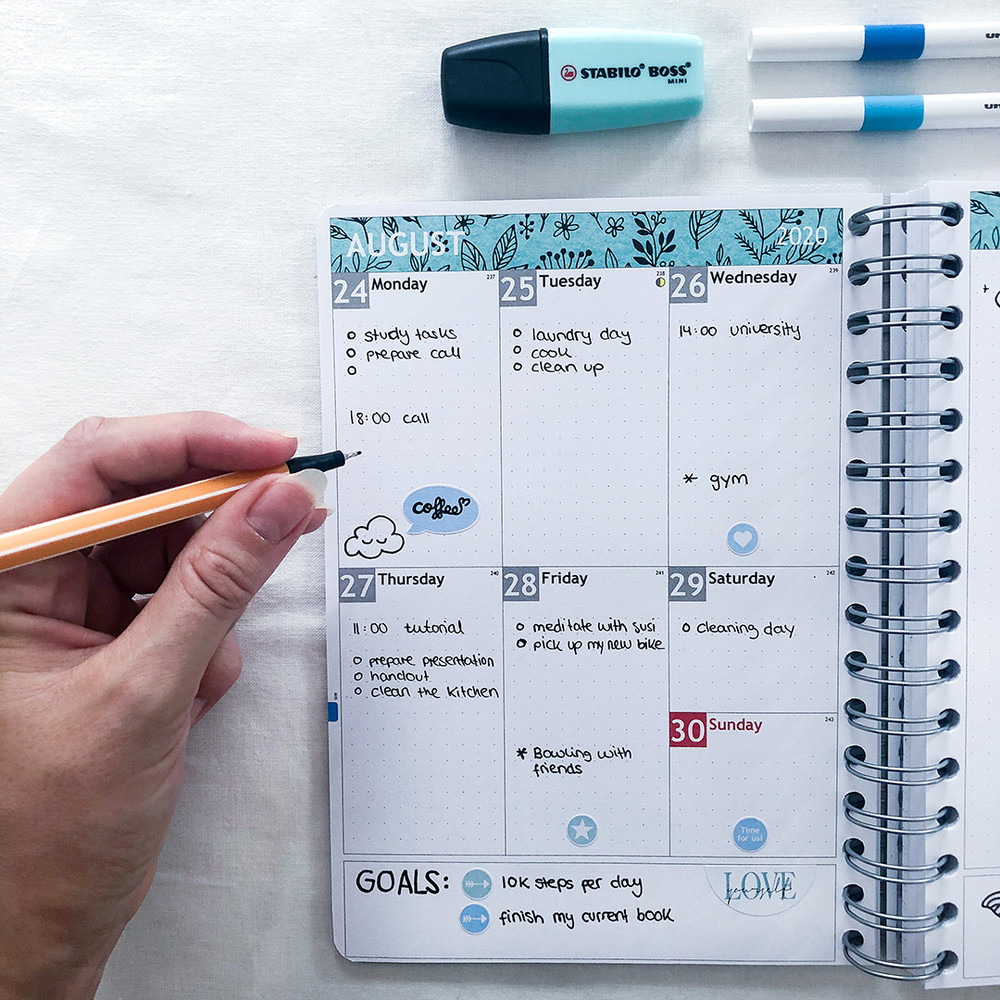 There's many ways to approach bullet journaling and making it your own, and
that's the beauty of it!
New to bullet journaling? Watch our video tutorial Beginners' Guide to Bullet Journaling here!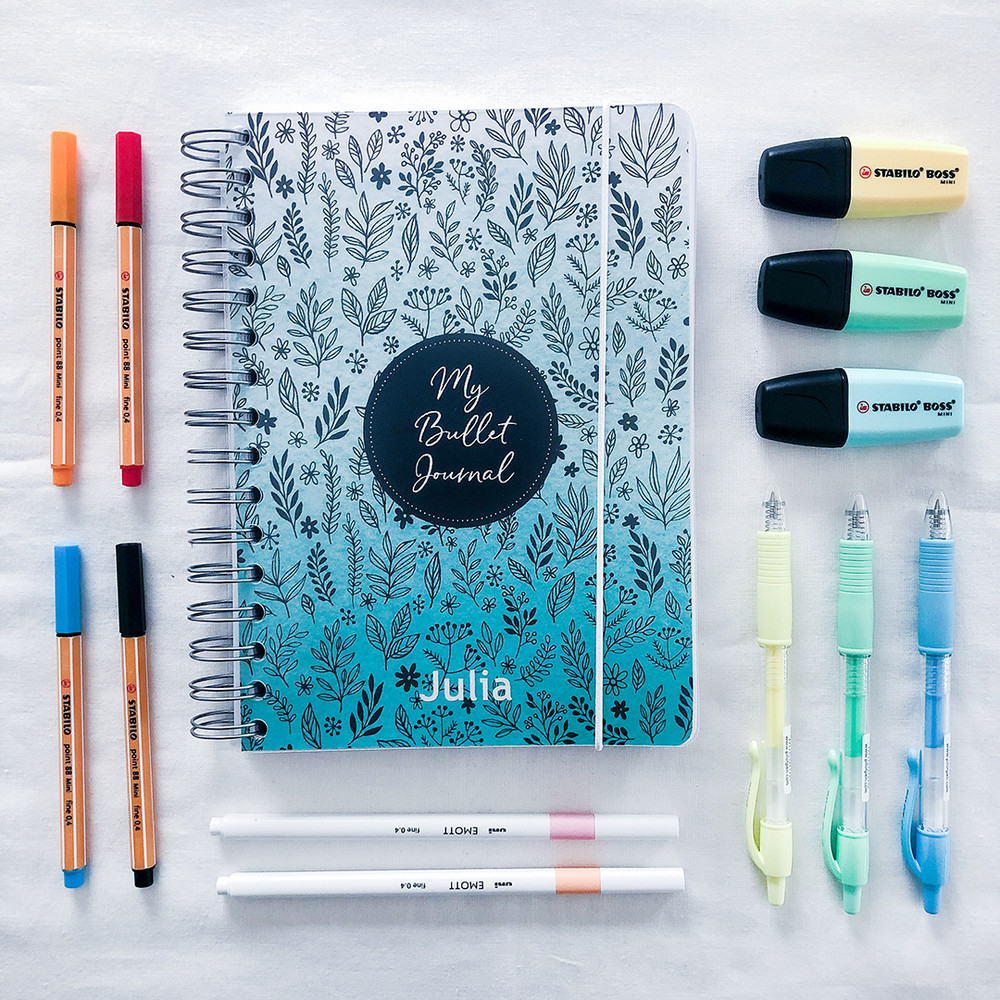 We're thrilled to
welcome the Bujo Planner
into our great planner family! A convenient
combination of a planner and a notebook,
the Bujo Planner features a preprinted weekly structure on the left, and a dotted page on the right, perfect for unleashing your journaling creativity!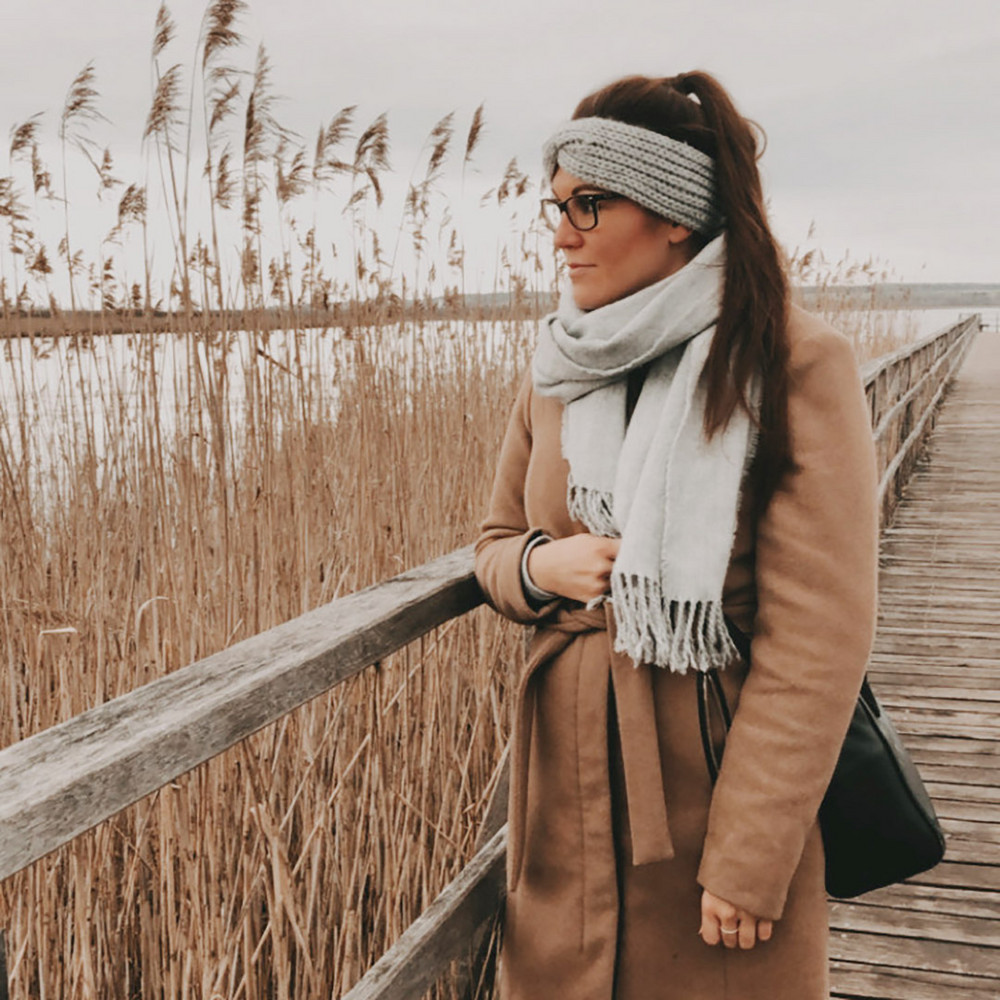 And to
inspire you
on your adventures into bujo land, we've teamed up with German bullet journalist,
Julia Strycek, aka @somekind.art.
Julia started her first bujo back in 2016, when she was studying at university and working at the same time.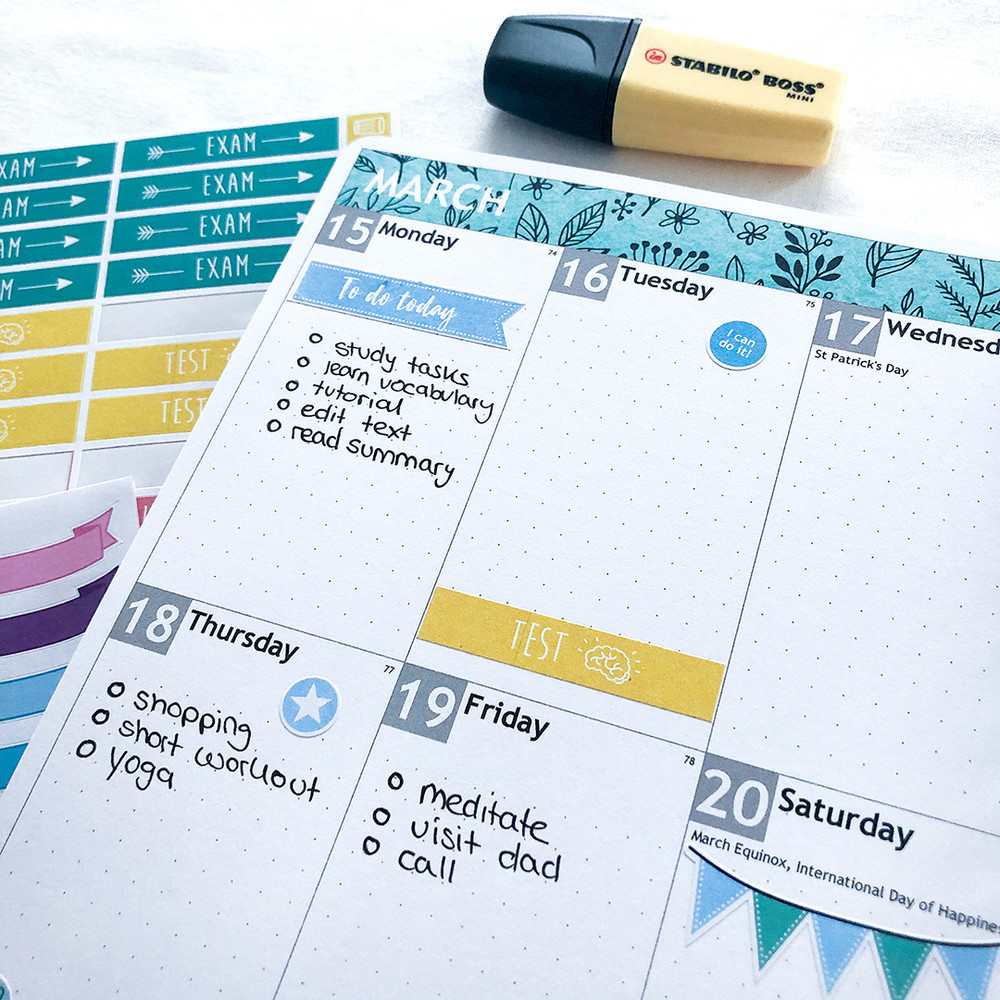 - I wanted to become
more structured and organized.
I needed to manage my time better and plan out my weeks, but felt that an ordinary planner didn't match my needs and ideas, says Julia.
-Then I came across the
Bullet Journal system
and the whole concept sounded so exciting!
Julia now uses her bujo to
plan and organise her everyday life,
as she's come to realise how much this system has
helped her
in becoming more productive, both in her studies as well as in her professional life.
- My bullet journal has become
a natural part of my life,
Julia continues. Not one day passes without my journal - it's my personal calendar, my diary and my daily companion!
A bullet journal can be
exactly what you want it to be.
Perhaps you're after the task management side of it, rather than the creative art journal side. It's completely up to you how you want to use and develop your bujo.
Start as simply as you want,
and find your own style along the way!
And, as Julia will assure you, all you need to get started is
a pencil, an eraser, a black fineliner and a notebook.
You can either
get a classic dot grid notebook
(personalization available, of course!), where you create all the designs and pages from scratch. But you could also get our
Bujo Planner,
which comes with the preprinted structure of a week, yet has enough space throughout the spreads and pages to get creative.
Take a peek at our Bujo Planner here.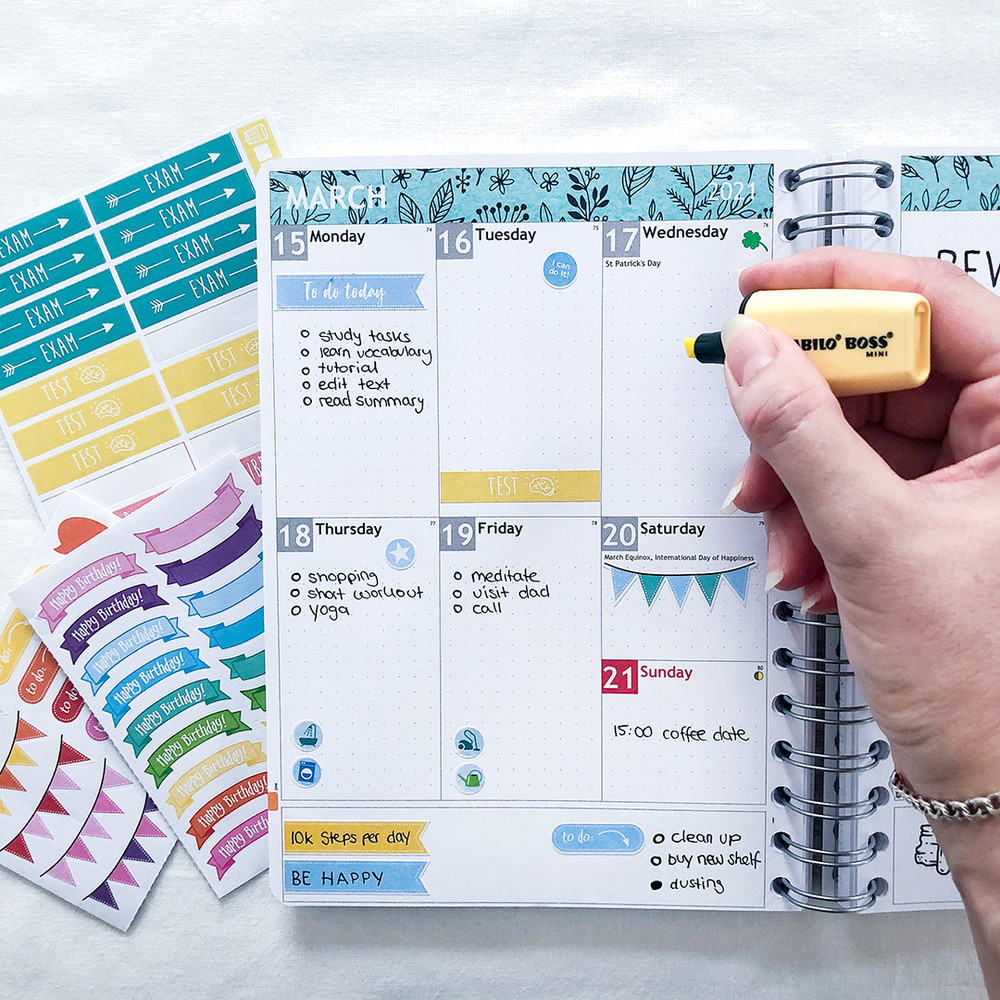 - To
keep it simple
in the beginning, I worked with minimalistic weekly and monthly spreads without too many doodles or drawings. But today I also use my Bullet Journal as a
creative space
and really enjoy designing cute spreads!
- In the end, it's not about the creative part or the design; it's about the functionality of your bujo, Julia stresses. The pages should be
suitable for your own life.
Have a peep at
Julia's 10 fun ideas for bujo spreads
below, try them in your own bujo planner and see which resonate with you! And to get your regular dose of bujo inspo, make sure to pay a visit to
Julias wonderful blog, somekindart.com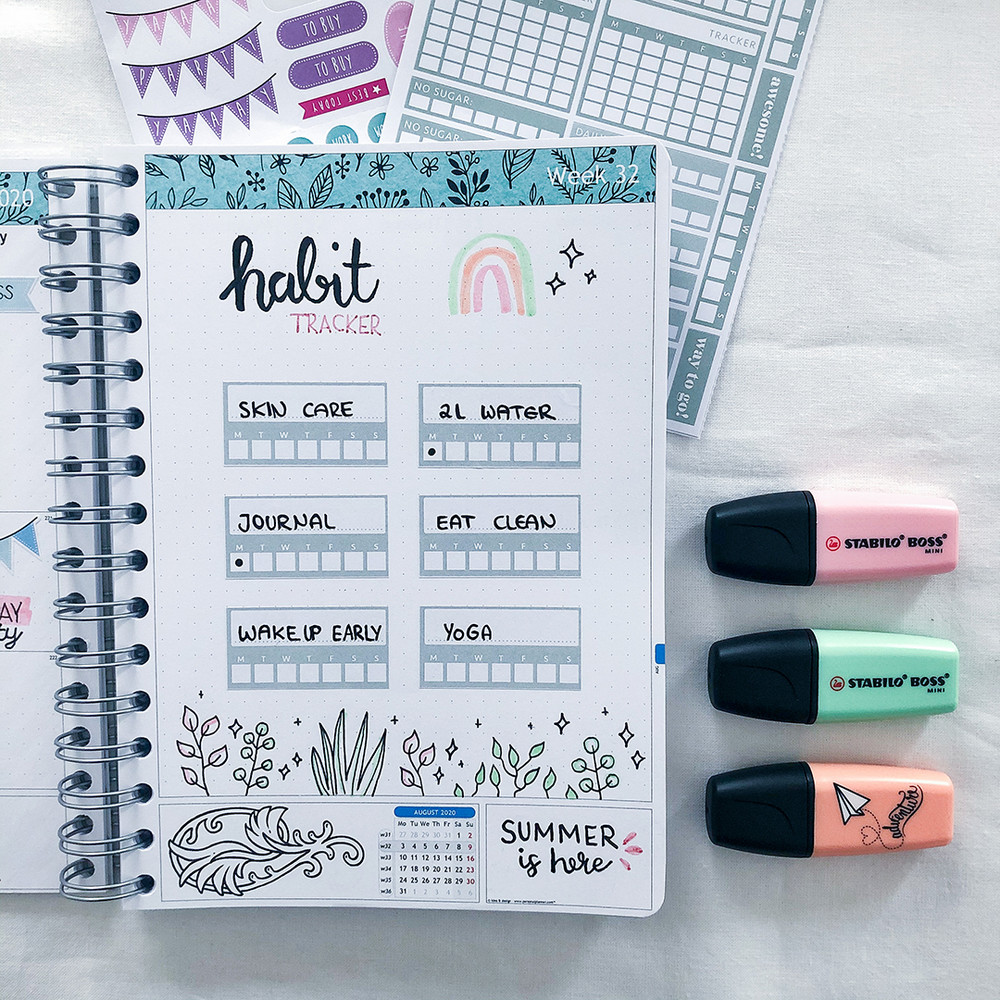 A
habit tracker
is used to log habits over a week or month, in a quick and simple way. Put a dot or tick the box every time you've performed the habit you're tracking. This will give you a
clear overview
of your habits so you can improve continuously.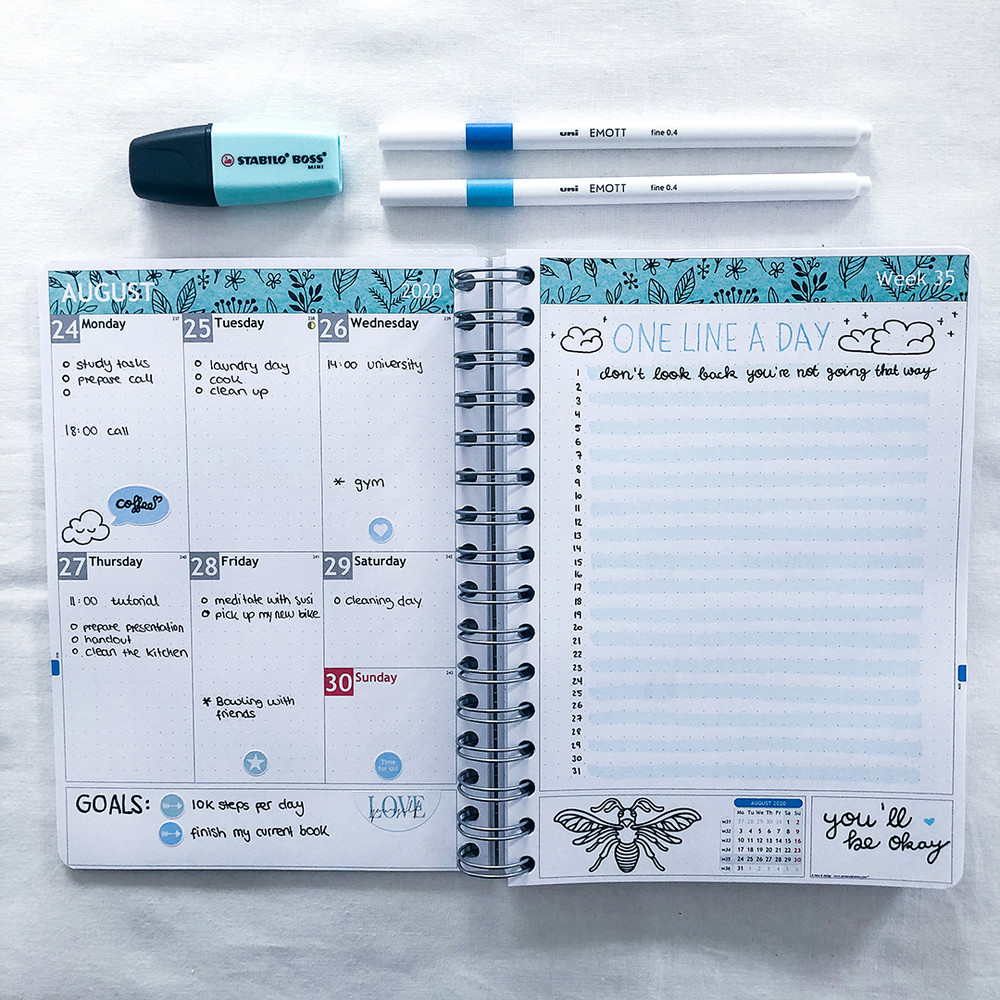 The idea behind the One Line a Day page is to
write down one inspiring quote every day
to lift your mood and motivate you.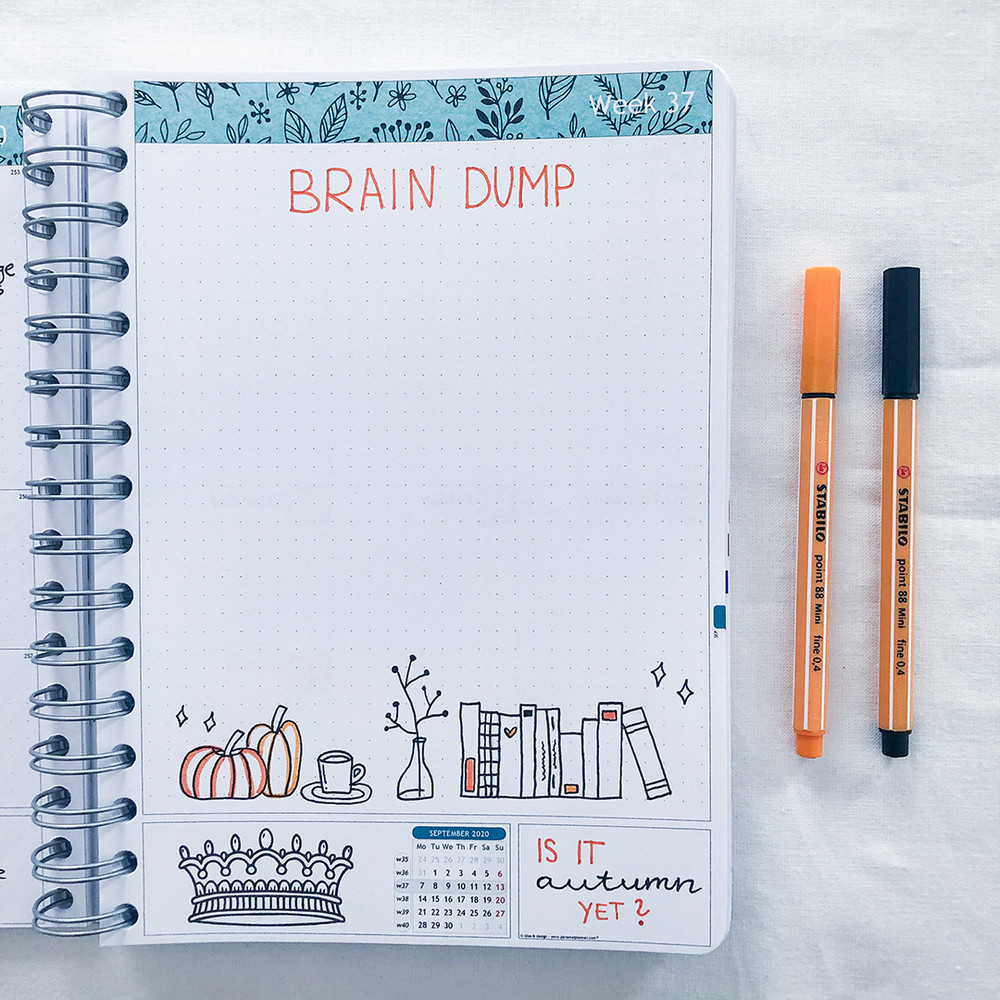 A brain dump page is the ideal place to
throw down your thoughts and ideas, whims and wishes
- unstructured and uncensored! Now that you've emptied your mind, you'll be able to think clearer.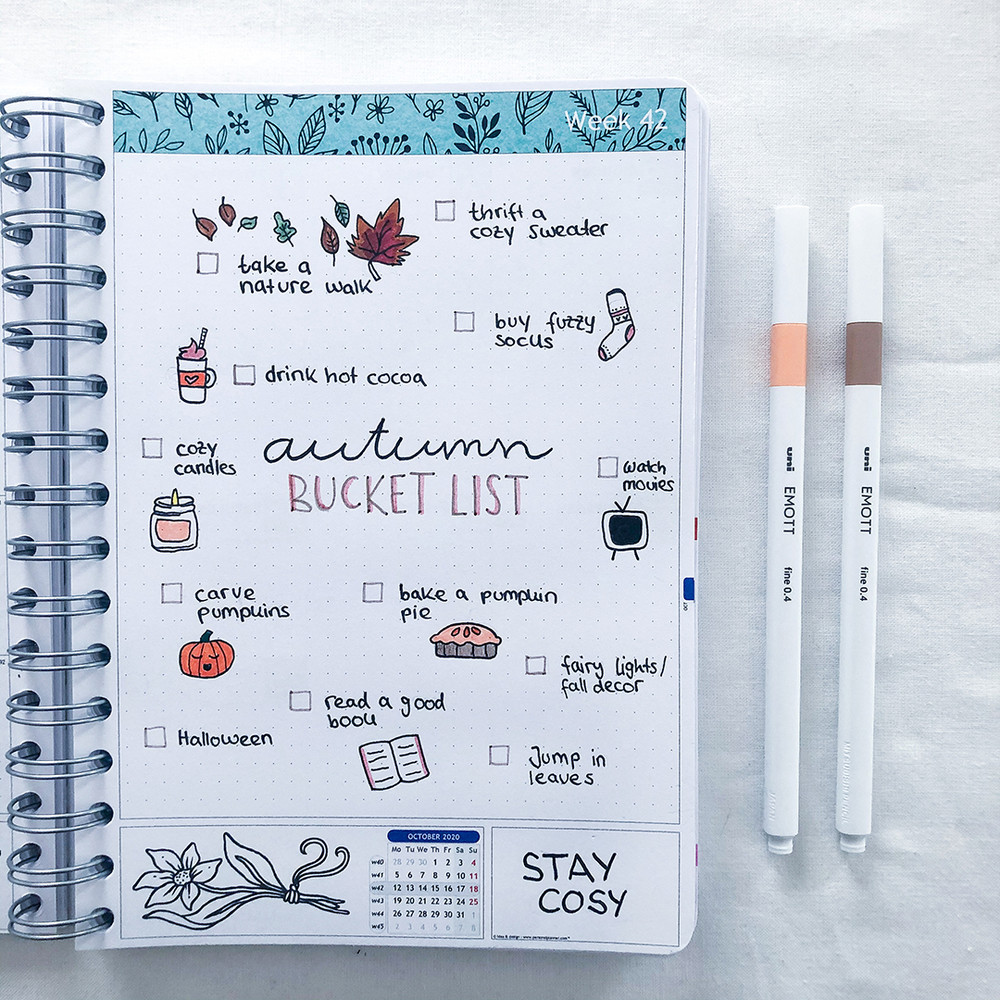 A bucket list can be created for different seasons or events. In this Autumn Bucket List I've written down
all the things I'd like to do and experience in autumn.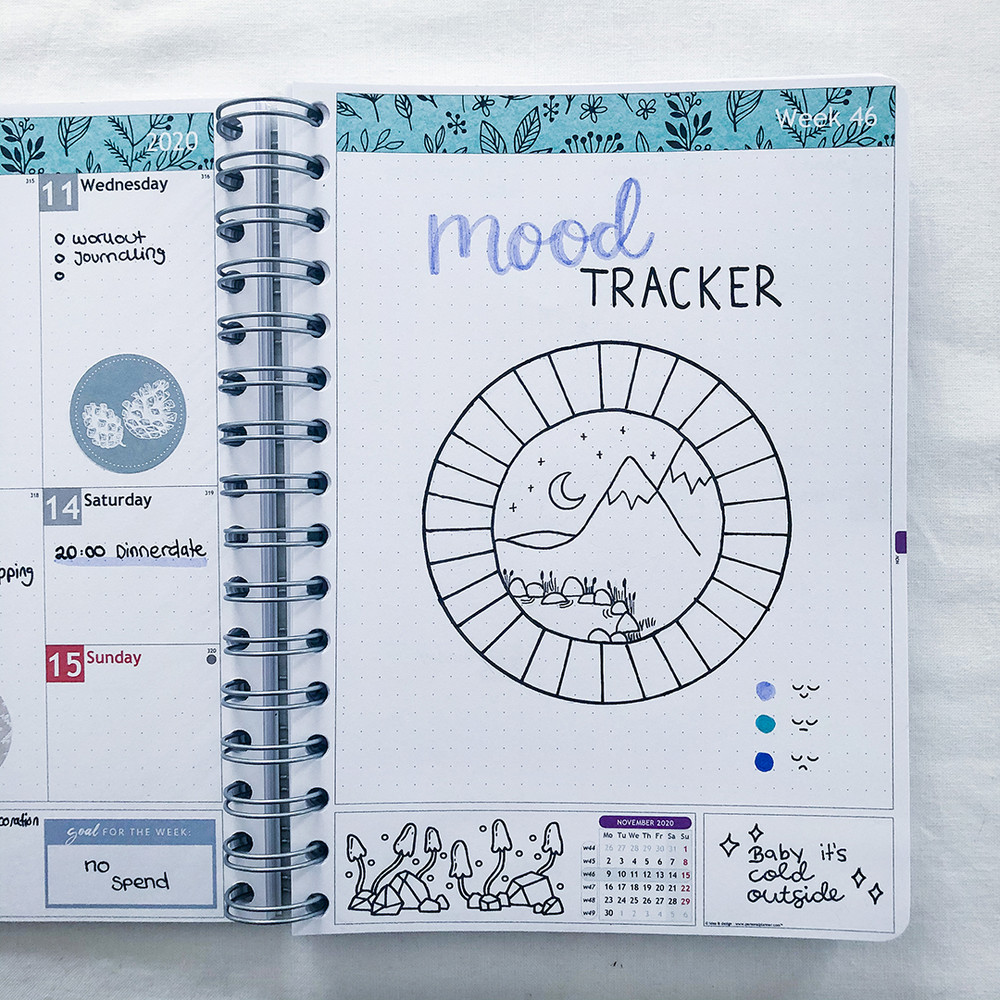 In a mood tracker, you colour in a box every day.
Each color represents a different mood,
so at the end of the month you'll be able to see how your mood has changed over the weeks.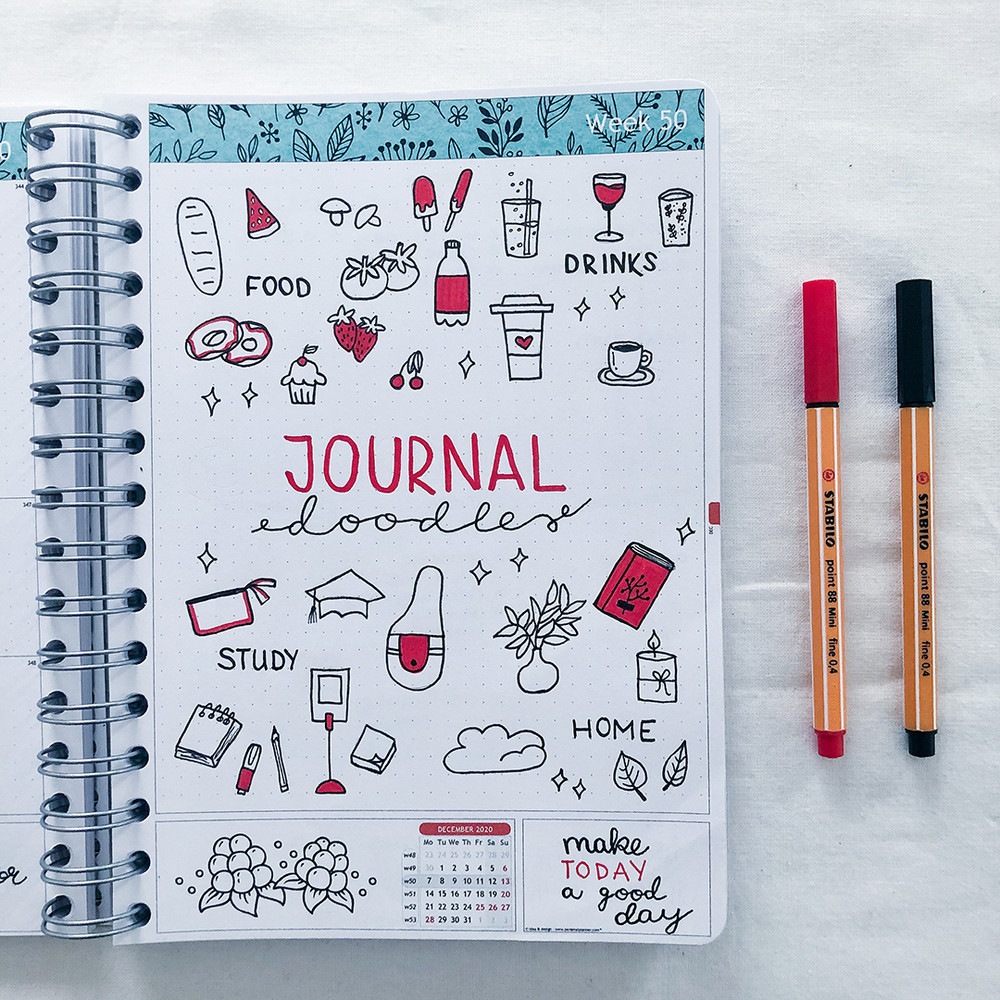 A few simple doodles can do so much to
cheer up a spread!
They can also help you visualize thoughts and ideas in a cute way.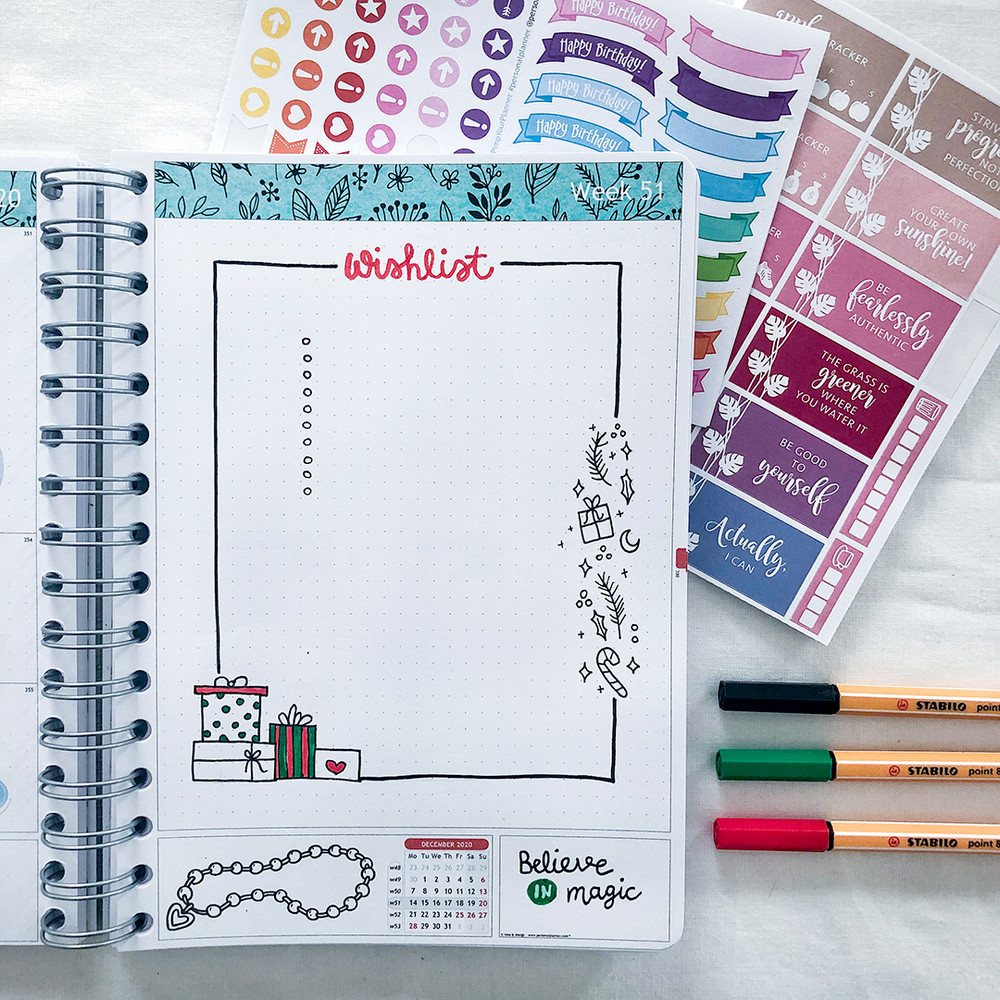 A
creative wish list,
either for yourself or for friends and family, is a very useful thing to have! Come Christmas or a birthday,
you'll already be prepared
with some great ideas at hand.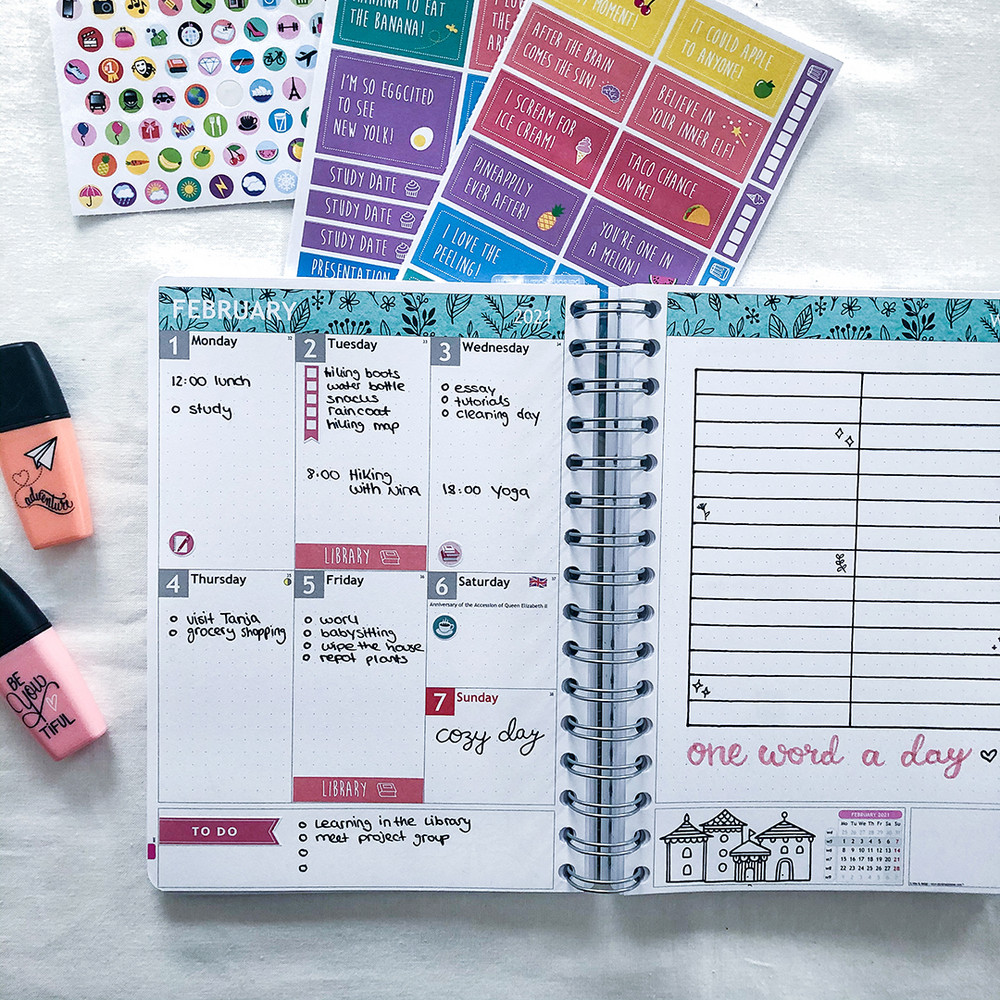 A "One Word a Day" page is a beautiful way to
cultivate gratefulness in our everyday.
Find a word that describes something that made your heart glad and thankful that day and write it down!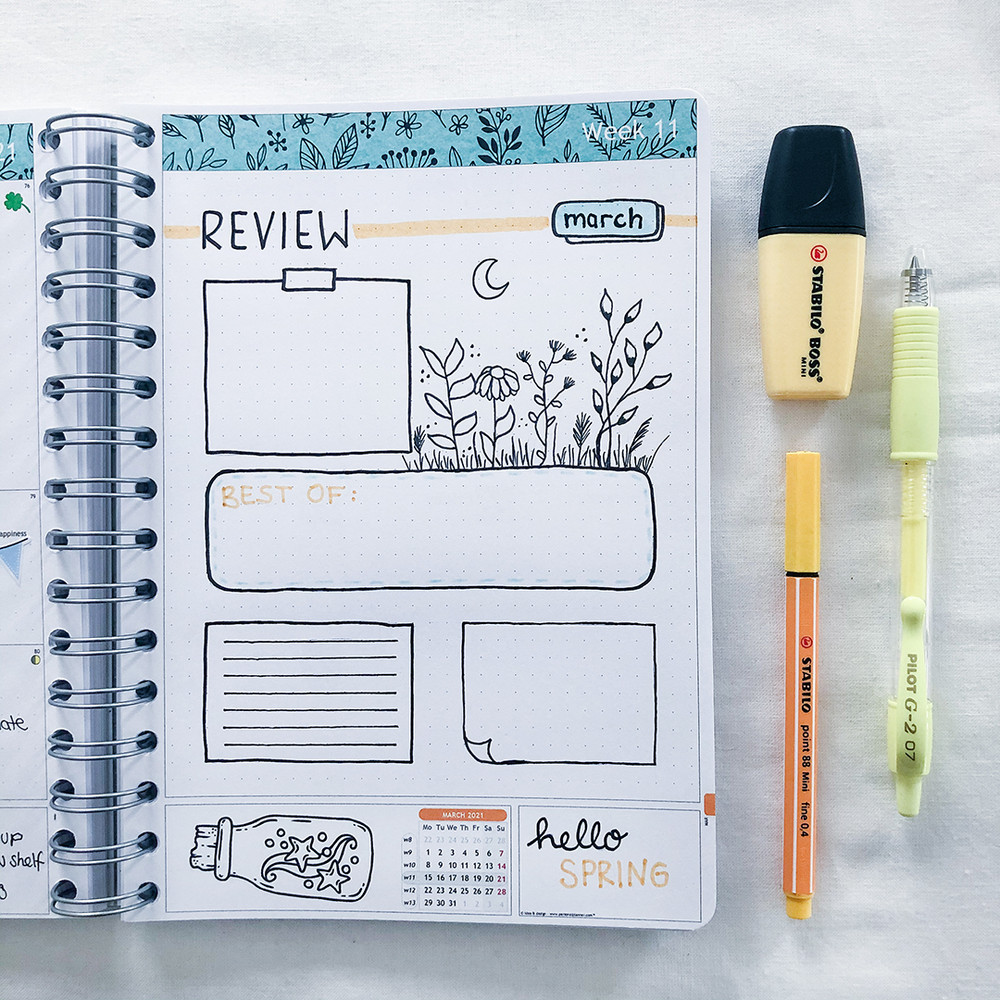 A review of the highlights and lowlights of the month can be great for
drawing conclusions.
I often realize how beautiful a month was when I look back and remember the things that have happened.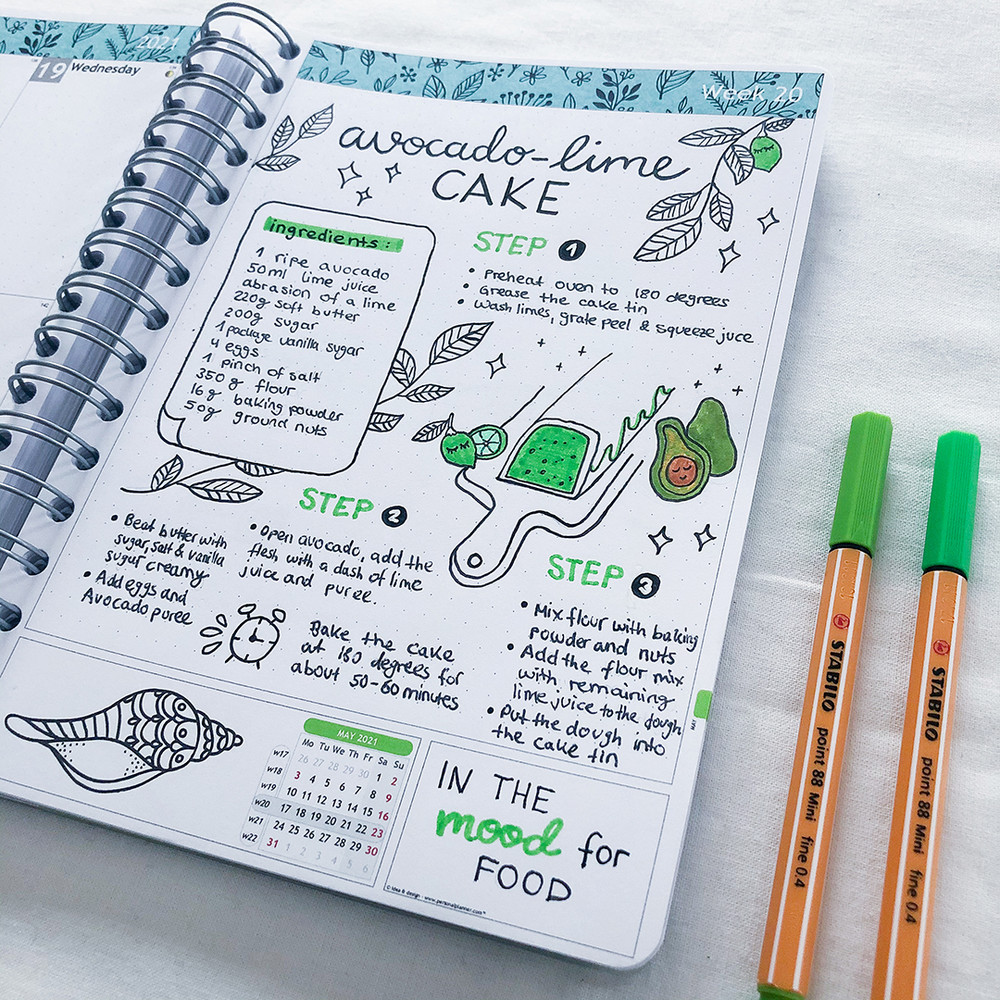 There are
so many great recipes I don't want to forget!
That's why I often design creative recipe pages to keep my faves in my bujo planner.
Personalize your own Bullet Journal Planner here.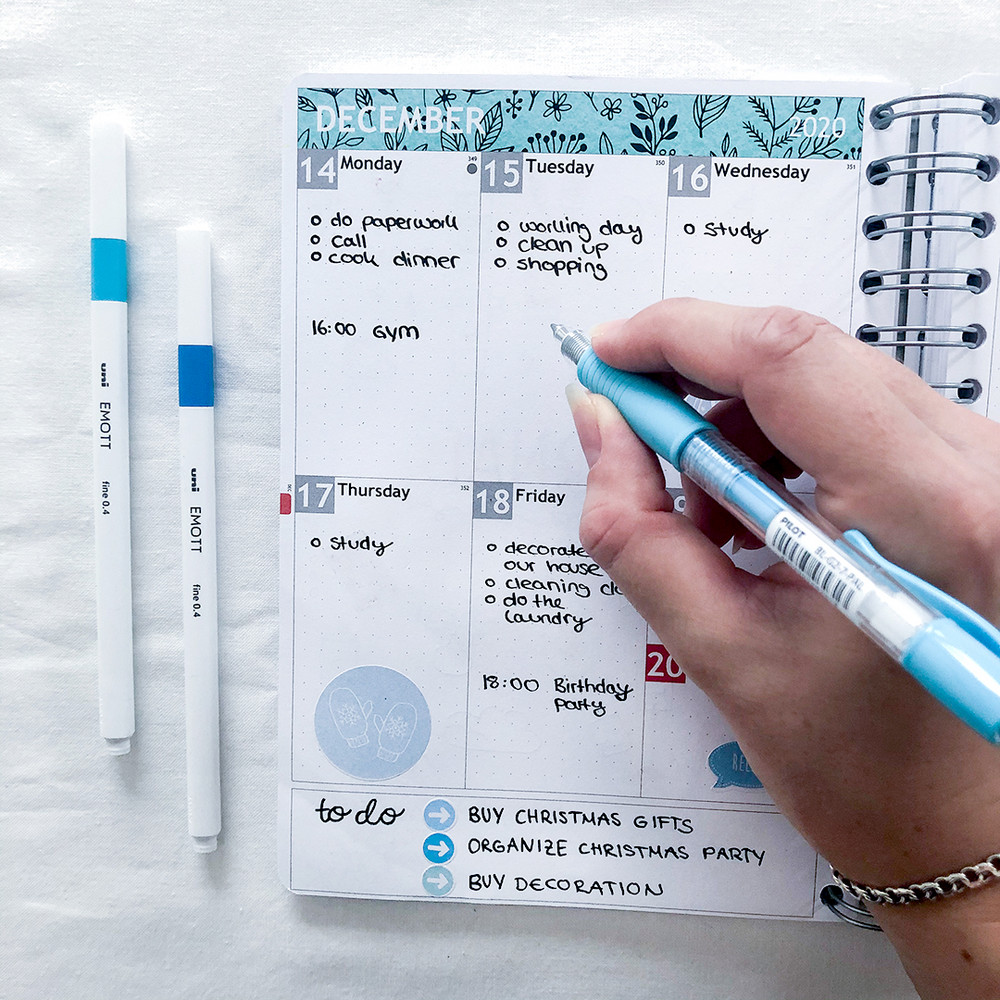 Finally,
here's Julia's top 3 tips on how to start bullet journaling and staying motivated:
1.
Don't compare yourself to others.
Each person is unique and every bullet journal should be too.
2.
Adjust and develop ideas
that don't quite work the first time. If I've designed a mood tracker that I didn't enjoy filling out, I'll try using a different layout next month.
3.
Experiment with different styles.
Especially in the beginning it's important to find out which pages and styles you enjoy.
Looking for more ideas for your bullet journal spreads? Have a look at these 10 cute bujo collection ideas!
How to Do a Digital Detox with Your Planner
A digital detox does wonders for your mind and soul. Learn how a detox can help you press your mental refresh button, and how to plan one in your Personal Planner.
New Collection: Lemonade
Are you feeling parched? Quench your thirst for style with our brand new collection! Check out our 6 vibrant & juicy planner covers and matching notepads – the perfect refreshment for the summer!