How to Set SMART Goals. Guide + Worksheet
Refresh your memory, or learn for the first time, how setting a SMART goal can help you achieve what you want in this year ahead. Download our worksheet and you're off to flying start!
---
Say the words "SMART goals" and you may have flashbacks from school where the teacher asked you to scribble down your academic goals for the year. And I bet your 10-year old self was super excited about that!

But did you know that SMART goals can be very effective in your personal life as well? Perhaps even more so than in school, as this time you'll be setting them by your own free will.

Keep reading if you want to refresh your memory, or learn for the first time, how setting a SMART goal can help you achieve what you want in this year ahead.

As you may recall, "SMART" is an acronym to help us remember five different criteria about our goal: specific, measurable, attainable, relevant and time-bound. Let's take a closer look at each letter to understand their meaning better.


S is for Specific
Your goal should be crystal clear. Ask yourself what it is you want to achieve. In our example, I want to get serious about starting writing on my book. That's my specific right there: "Start writing on my book."

Writing down your goals rather than just thinking them forces you to be clear and concise, and makes it more likely that you will actually achieve them.

Use our downloadable worksheet below to write down your personal SMART goal for this month or year.


M is for Measurable
Tracking your progress is a wonderful way to keep yourself motivated. Make sure you have some way of measuring how far you've come towards reaching your goal! How will you track your progress? In our example, I will check off in my Personal Planner™ each day I write.


A is for Attainable
When choosing your goal, it's important to remember that it needs to challenge you a little bit. Don't pick a far-away goal that will overwhelm you before you've even started, but don't pick anything that you can get done quite easily anyway either. Find your sweet spot!

Here you'll need to outline the steps needed to reach your goal. In our example, I need to wake up 30 minutes earlier in the morning to get some quiet writing time.


I WANT TO CREATE MY PERSONAL PLANNER™ NOW!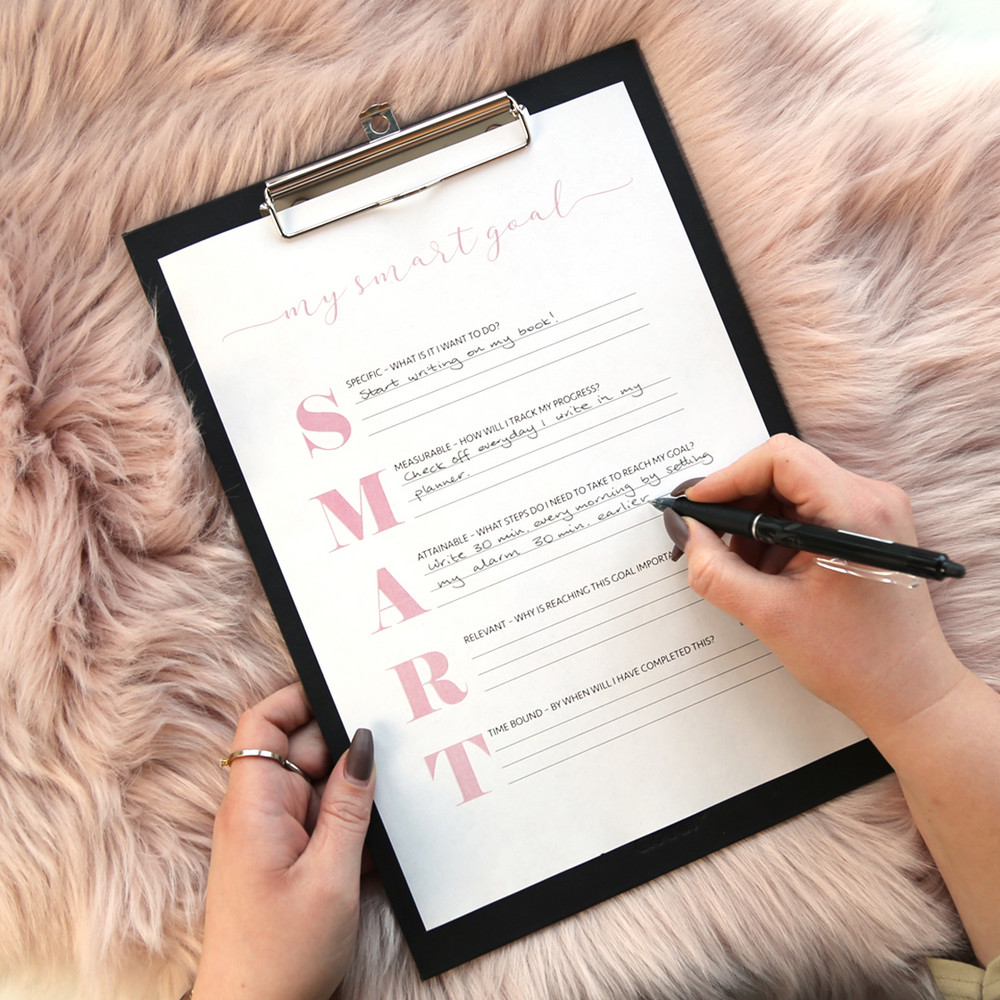 R is for Relevant
Why is reaching this goal important for you? How does it fit in with the rest of you life?
In our example, writing is a passion that never gets prioritized among all the other activities in my everyday life. It's something I love and think is important but that somehow never gets to the top of the list of the other million things that need my attention... Writing down "writing" as a goal will definitely force me to finally take this activity seriously.
T is for Time Bound
By when will you have completed your goal? A time frame will make your goal so much more effective!
Use your Personal Planner™ as your secret weapon to follow through with your goal. Use the daily timetables to block out time slots where you work on your specific goal. Write down your progress in one of the modules at the bottom of the weekly spread. You can even print out your SMART goals worksheet and keep it in the plastic pocket of your planner for reference.
Get your SMART goals worksheet by clicking below.
SMART GOALS WORKSHEET - PINK
SMART GOALS WORKSHEET - GRAY
Good luck!
/Sara at Personal Planner™
Simple but Powerful Ways to Practice Gratitude Every Day
You've probably heard how great a gratitude practise is for our overall wellbeing.

But how do we bring it into our everyday, and express it to those we love? Let's look at some simple, practical ways of practising thankfulness in our lives.
Free worldwide shipping
Happy customers
Safe payments