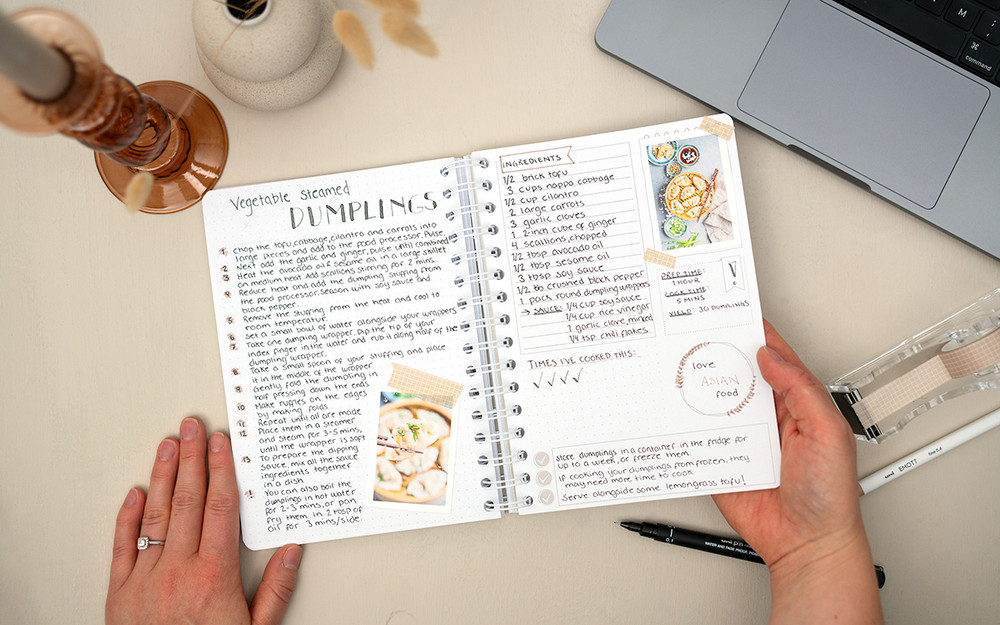 How Do I Eat Healthy on a Budget?
Eating well for less, especially if you're a student, can be tricky. Learn how to plan your meals in your planner & Mixbook - or use our printable Meal Planner!
---
If it's true that you are what you eat, then students - you're in trouble. I'm generalizing, of course, but if you're diet as a student consist mainly of chicken flavored noodles and ham & cheese toasties, then it's time to mix things up!

Hi, I'm Isabelle, and with three years of university studies under my belt, I've had my fair share of culinary hits and misses, and gathered a treasure trove of do's and don'ts along the way. Trust me, meatless spaghetti Bolognese might be easy on the pocket, but it's not quite a gastronomic delight. So, let me dish out some secrets on how to cook food that's both healthy and budget-friendly (and hopefully delicious, too)!


5 Foodie Tips from a Seasoned Ex-Student
Spot Those Discounts - Almost every grocery store has weekly discounts on various products. Keep an eye out for offers at your favorite stores and plan your shopping accordingly. Perhaps shopping at a few different stores could shave off a few more bucks? Staples like noodles, beans, and lentils are usually light on the pocket. Also, watch out for seasonal goodies!


Master the Art of Meal Planning – Once you've scoped out what's in season and what's discounted, it's time to plan your meals based on that information. Pencil in set times in your planner to meal plan, so you get into the habit of it.

A real timesaver is to plan one whole week at a time. Go through your grocery list for the week and plan recipes that include those ingredients. Don't have a recipe? Why not invent one! To keep things organized, use our themed page Meal Planner. This page has room for you to plan meals for nine weeks on a single page!

Fancy trying our Meal Planner page for free?



GET MEAL PLANNER PRINTABLE






Create Your Own Recipe Book – Make your Mixbook your culinary bible. In this custom notebook, you pick all the pages. Add the Meal Planner pages for planning ahead, and blank pages for jotting down your favorite recipes. Because we all know how frustrating it is when you can't remember that magical ingredient from last week's divine sauce, right? Or when that digital recipe goes missing in action. Keep them all in one handy spot!




CREATE A RECIPE BOOK



A nifty trick is using erasable ink pens when writing down your recipes. Messed up the quantities? No stress, just erase! Jazz things up with colored pens for headers, and custom stickers to add your own flavor.


Embrace Meal Prep – ust as you've scheduled meal planning, carve out some cooking time in your calendar or planner. Crank up some tunes or binge your fave podcast, and cook up a storm for the entire week. It might seem time consuming now, but trust me, your future self will be high fiving you when you effortlessly grab a lunchbox for school, or wolf down dinner after a long day.
Plus, having prepped meals reduces those panic "I've got no lunch!" purchases, saving you even more!


Shop Smart – Last, but by no means least: Never, ever shop on an empty stomach! There's no way of knowing what unnecessary snacks will end up in your basket when your tummy is grumbling…
Need more stellar student hacks to stretch your budget? Find out
how to make your student aid last the entire month
in this article!
Happy cooking!
/Isabelle
How to Motivate Kids with a Reward Chart
Use the Kids Reward Chart to empower your children to take responsibility for simpler tasks at home. Offer a small reward and create good routines the fun way!