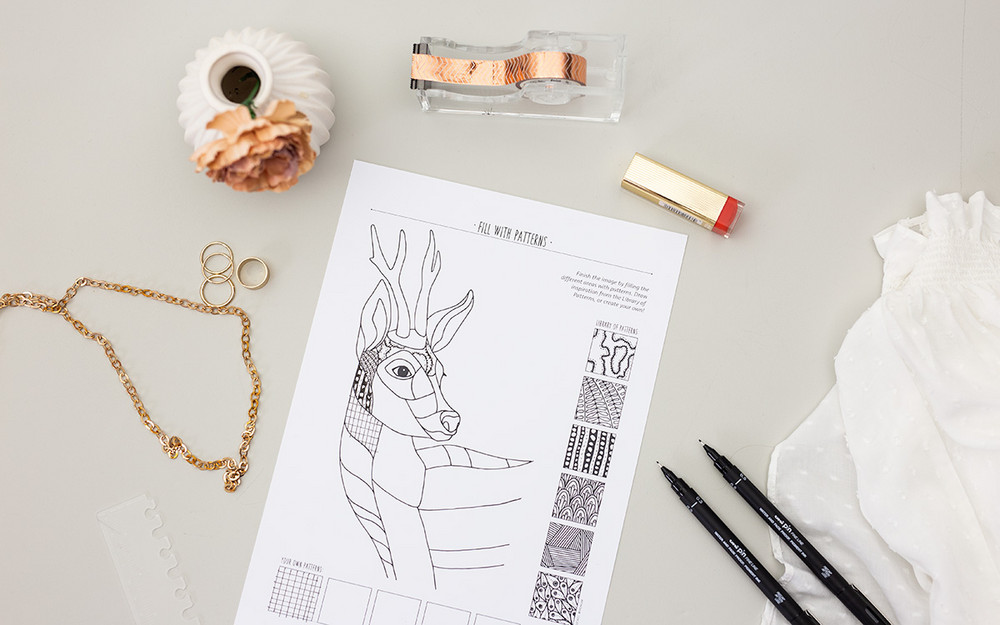 Creativity + Mental Health = True Love (+ FREEBIE)
Tapping into our creativity without demands or expectations is great for our mental wellbeing. Practice some creative relaxation with this free printable.
---
There's far too few opportunities in our day-to-day to spend time doing things that are completely free of demands and expectations. Yet, finding ways to relax that help silence the demands on us is super important for our mental wellbeing, especially since we often are our own worst critics, too. But that's easier said than done, right? A good place to start is allowing ourselves to do something creative, but without any expectations.

Illustrator Angelica Lucaci, known for her gorgeous adult coloring books, has had long practice in letting go of her own high expectations and performance anxiety. You can see some of her work on her Instagram, @hejnum. We've created two beautiful illustrations in collaboration with Angelica, with the hope of giving you a practical tool where the main focus is practicing creativity, not producing fantastic results. Both illustrations are available as themed pages at the back of your planner or organizer, or as a part of your Mixbook. But, as a treat, you can download a free taster here below, called Fill with Patterns.


DOWNLOAD FILL WITH PATTERNS
In this printable, the main illustration is already there - what's left for you to do is to slowly fill the different segments with lines and dots, abstract patterns and shapes. Take your time, and take some inspiration from the pattern library - or create your very own. The important thing is that you allow yourself a mindful moment of calm and creativity. Because, as you'll see below, this type of self-care can boost your mental wellbeing in wonderful ways.
3 Reasons Why Creativity Boost Your Mental Wellbeing
It can release emotions - Drawing and sketching can work as an emotional release valve. Give yourself permission to process your thoughts, feelings, and the events of the day through colors and patterns. This can help you relax and release emotional tension.


It can boost your self-confidence & self-esteem - Taking the time to engage in a creative activity can improve your self-confidence and self-esteem. At the end of the activity, you will have created something tangible, and even though you're not rating or judging the result, the act of creating something with your own hands is enough to boost your confidence and mental wellbeing.


You practice mindfulness & focus - Coloring requires concentration and focus, and that can help you get into a mindful state quite quickly. As you're slowly filling in the patterns, you'll notice how your mind becomes more focused on the present moment, helping you to let go of worries and distractions.
DOWNLOAD FREE PRINTABLE
So, creativity + mental wellbeing = true! Carve out moments of calm and mindfulness in your everyday, practice kindness towards yourself, and let go of your performance anxiety. If you're curious to learn more about creativity and mental health, be sure to
read our interview with Angelica
where she shares more about her journey, as well as a few great tips for wellbeing.
How to Motivate Kids with a Reward Chart
Use the Kids Reward Chart to empower your children to take responsibility for simpler tasks at home. Offer a small reward and create good routines the fun way!