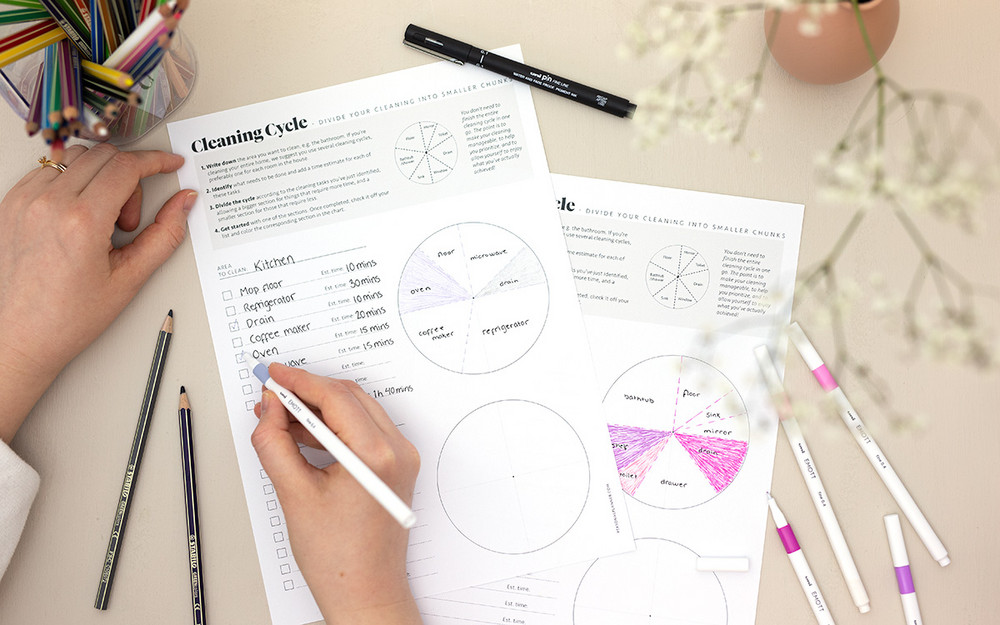 Cleaning in Chunks - Cleaning Cycle Schedule
Make cleaning more manageable, and perhaps even more enjoyable, by dividing it into smaller chunks. Get our free printable Cleaning Cycle here!
---
Do you belong to that part of the population who find cleaning the house just a tad boring, horrible, overwhelming, or all of the above? We can all identify with that at some point or other, but could there be a secret trick to change those negative feelings around cleaning?

Well, we might just have the best life hack for you right here! We call it the Cleaning Cycle. Simplify your weekly clean (or monthly, no judgement here) by breaking it down into smaller, bite-sized tasks with our printable, the Cleaning Cycle.


GET CLEANING CYCLE
With this helpful new cleaning schedule, you don't have to do the whole house all at once. Simply write down the area you want to clean (e.g. the bathroom), divide the cycle into individual cleaning tasks (e.g. shower, toilet, sink etc.), and get going - one chunk at a time!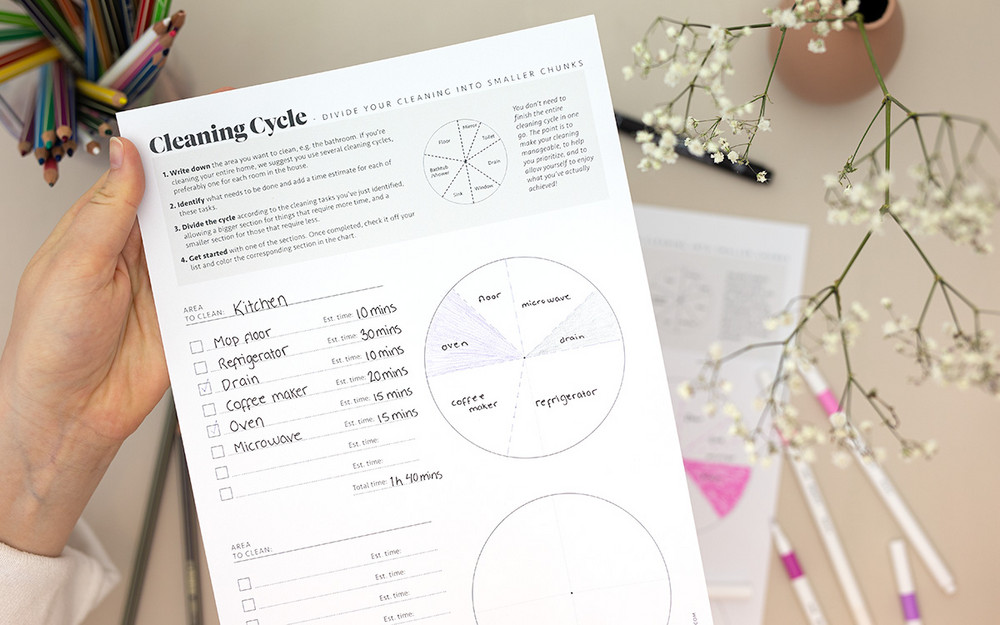 Here's how the cleaning cycle works


Write down the area you want to clean, e.g. the bathroom. If you're cleaning your entire home, we suggest you use several cleaning cycles, preferably one for each room in the house.


Identify what needs to be done and add a time estimate for each of these tasks.


Divide the cycle according to the cleaning tasks you've just identified, allowing a bigger section for things that require more time, and a smaller section for those that require less.


Get started with one of the sections. Once completed, check it off your list and color the corresponding section in the chart.


You don't need to finish the entire cleaning cycle in one go. The point is to make your cleaning manageable, to help you prioritize, and to allow yourself to enjoy what you've actually achieved!


And that's the simple beauty of the Cleaning Cycle. Because, as we all know, an elephant is best eaten in chunks. And the same goes for house cleaning.
DOWNLOAD CLEANING CYCLE
How to Do a Digital Detox with Your Planner
A digital detox does wonders for your mind and soul. Learn how a detox can help you press your mental refresh button, and how to plan one in your Personal Planner.
New Collection: Lemonade
Are you feeling parched? Quench your thirst for style with our brand new collection! Check out our 6 vibrant & juicy planner covers and matching notepads – the perfect refreshment for the summer!