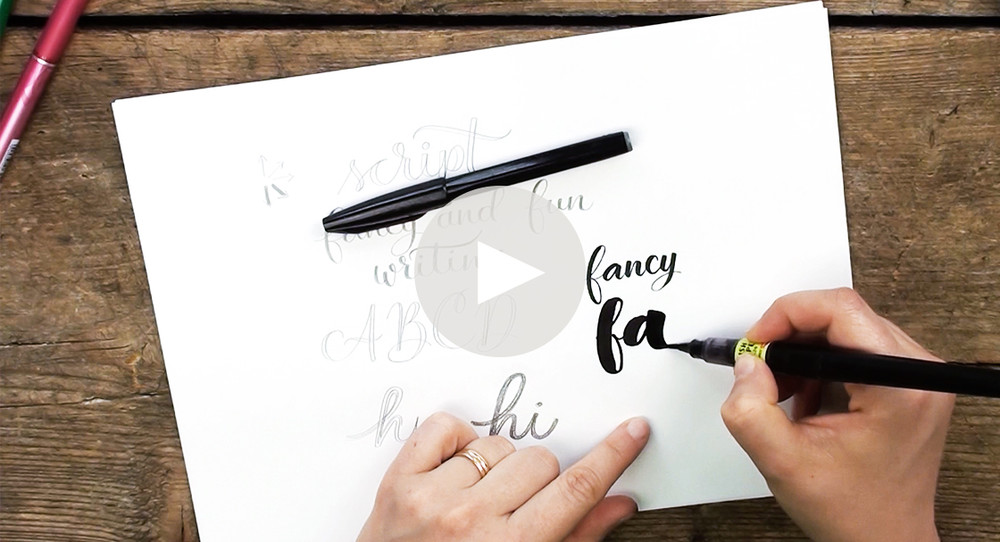 Lettering for Beginners - VIDEO COURSE
Anyone can learn to letter! With the help of lettering artist Sofie Björkgren-Näse you'll be guided through the basics of this craft, step-by-step, in our free video course. See all five videos here, and start pimping your planner with fun letterforms!
---
You've probably seen them. Gorgeous planners and notebooks all over the internet, pimped to perfection with some amazing lettering. And maybe you've dismissed them, saying:
Yeah, that's nice but who has time for that?!
Or:
My handwriting is so bad, I'll never be able to do that kind of lettering in my planner.
We hear you.
So we teamed up with lettering artist Sofie Björkgren-Näse (@fialottajanssondesign) who's put together a mini series of lettering tutorials for us. In five step-by-step videos, Sofie guides us through the basics of lettering, including skeleton letters, shading effects and faux calligraphy. It's so clear and simple, we're convinced that everyone can join in - even those of us who've been banned from writing the Christmas cards at home. ;)
"Getting started with lettering is actually not hard at all," says Sofie. "The materials you need are everywhere around you: a piece of paper and an everyday pen."
"Also, you already know the basics," Sofie claims, "because you already know how to write letters."
Lettering is the art of drawing letters, and builds on what Sofie calls our 'skeleton letters'. These are simply the basic letterforms that we were taught in school. With our skeleton letters as the starting-point we can learn all about shading, script letters and that calligraphy effect that is ALL THE RAGE on social media!
"Remember - the most important thing is to have fun!"says Sofie. "Doodling and lettering is something playful, something to enjoy. Worst-case scenario, you'll have to erase your piece. Best-case scenario, you'll have created something wonderful! So don't be afraid to experiment, and have fun!"
NOTE:
There's one or a couple of PDFs to go with each of the videos. Feel free to download these as a visual aid as you're learning this craft. Find them at the bottom of this post.
Love to letter but don't yet have a Personal Planner to decorate?
Click here to design your own!
Oh, and check out Sofie's lettering design edition while you're there! :)
Lettering for Beginners - Sofie Björkgren-Näse
Pt. 1: Skeleton Letters and Evolving the Fundamentals
Pt. 2: Block Letters 7 Ways
Pt. 3: Script Lettering - Faux Calligraphy
Pt. 4: Decorative Letters
Pt. 5: Lettering Composition
Downloadable PDFs
Part 1
Part 2
Part 3
Part 4
Part 5a
Part 5b
Part 5c
Plan with Me - December 2023
Snow crunches underfoot and the aroma of freshly baked cookies fills the air - December is upon us. Plan the most festive month of the year with us!
The Perfect Present for the One Who Has It All? Time!
Struggling to find the perfect gift for the person who has everything? How about the gift of time - in the shape of a custom planner! Design it yourself or get a gift card.