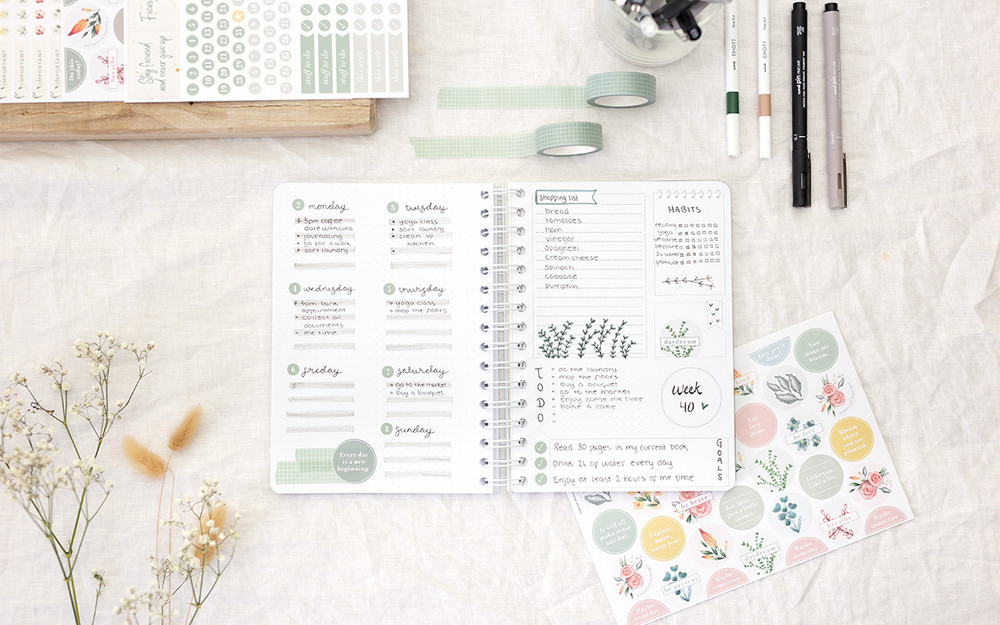 How to Set up a Bullet Journal: A Guide to Our Bujo Book
Bullet journaling is the planning method that combines creativity, reflection, and structure all in one book. Here's how you can create your own in our Bujo book!
---
Have you been eyeing all those beautiful bullet journal pictures online and wondering how to create your own bujo? We've got your back! In this guide, you'll learn the basics of bullet journaling, get inspired by cute layout ideas, and take a peek inside our version of this planning method, the Bujo Book!

Together with the talented artist Julia Strycek (@somekind.art), we've put together a handy visual guide to the Bujo Book. Here you'll get a closer look at the pre-printed pages included, which provide a framework for expressing your own creativity. Think of these pages as a bullet journal skeleton for people who may not have the time or desire to create layouts entirely from scratch.

You'll also learn about the essential pages you need at the beginning of your Bujo Book, such as the Index Page and Symbol Key.

The Bujo Book consists of three sections: dotted pages + yearly overviews, weekly logs, and mood & habit trackers + dotted pages. Join Julia as she explains each part, and shares examples and ideas from her own Bujo Book!


Section 2 in the Bujo Book: Dotted Pages + Yearly Overviews
The Bujo Book contains dotted pages both at the beginning and the end, allowing you to create specific pages and layouts that suit you. One of the foundational pages in the bullet journal structure is the index page.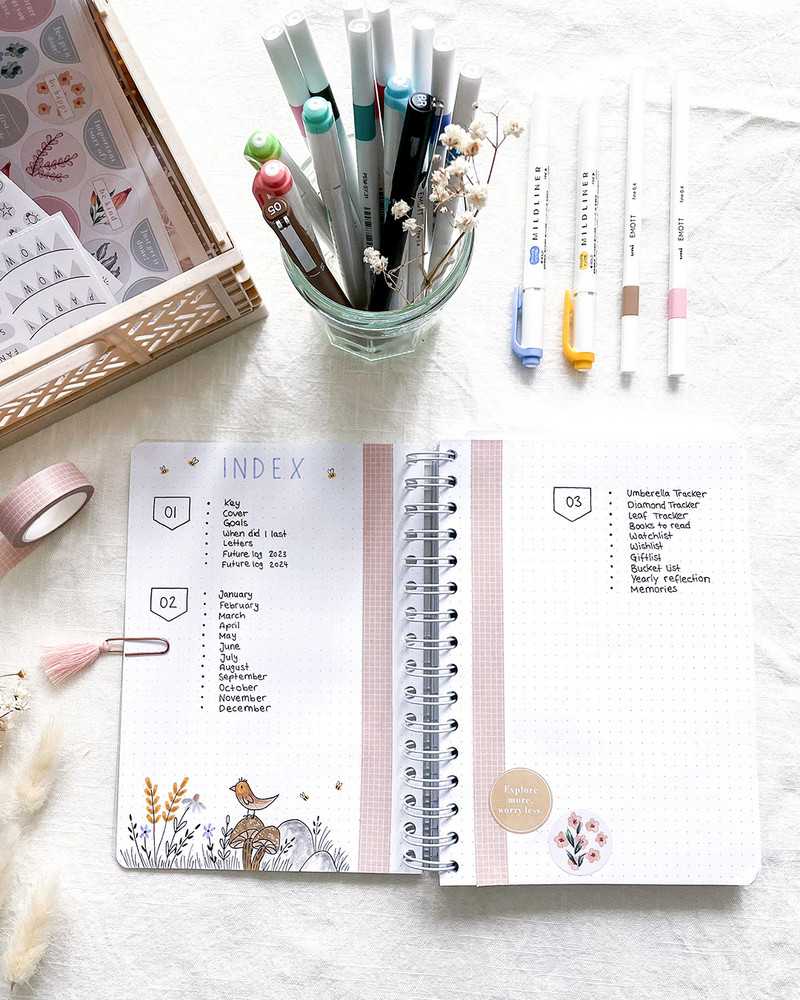 Index Page
"Having a personal table of contents is essential in a bujo," says Julia. "It gives me a great overview of the book's content and helps me quickly find the right month, tracker, or note page."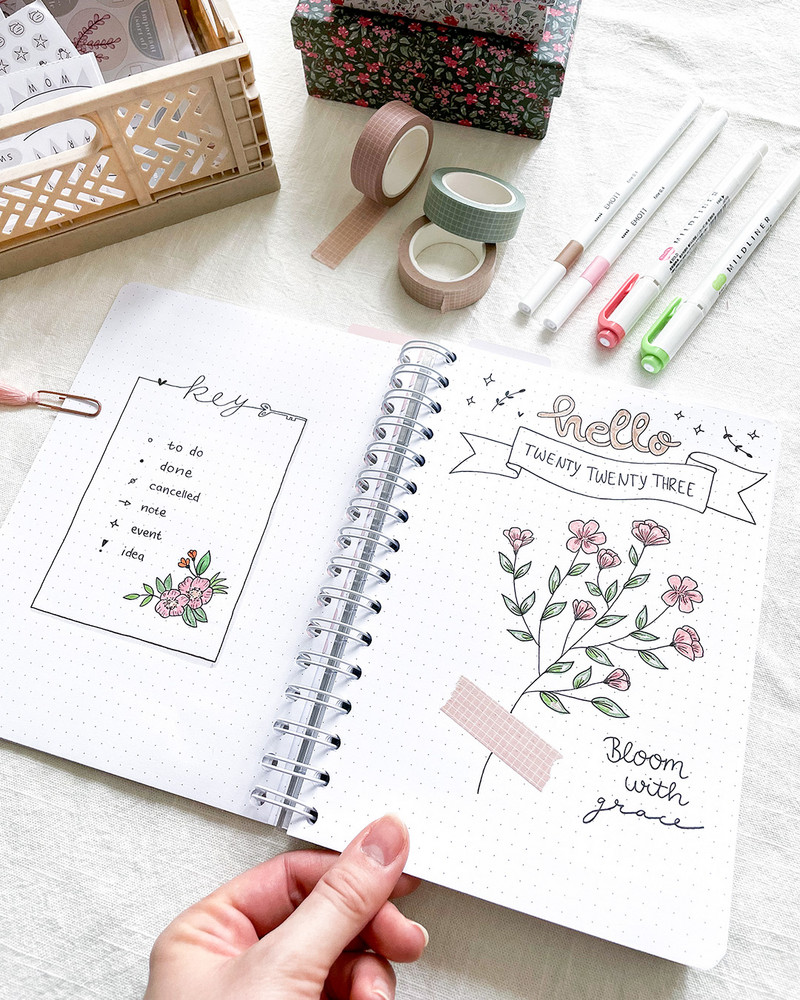 Key Page & Cover Page
Another page that should always be included in a bujo is the key. The bullet journal system uses different basic symbols to describe things added to the calendar, and there are also symbols to indicate when a task has been completed or rescheduled.
"I always create my key page right at the front of my bujo. Then, I use the symbols in the weekly layouts to plan my tasks, meetings, and notes. An empty circle represents all my to-do's, and a filled circle means the task is completed. If I strike out the circle, it means the task is moved to tomorrow, so I write it in on the next day. The arrow indicates a note, the asterisk marks events, and the exclamation point is for jotting down ideas," Julia explains.
"To add even more individuality and personality to my bujo, I like to start the book with a custom-designed Cover Page. Here, I choose colors and motifs that I really love because I'll be looking at this page the entire year!"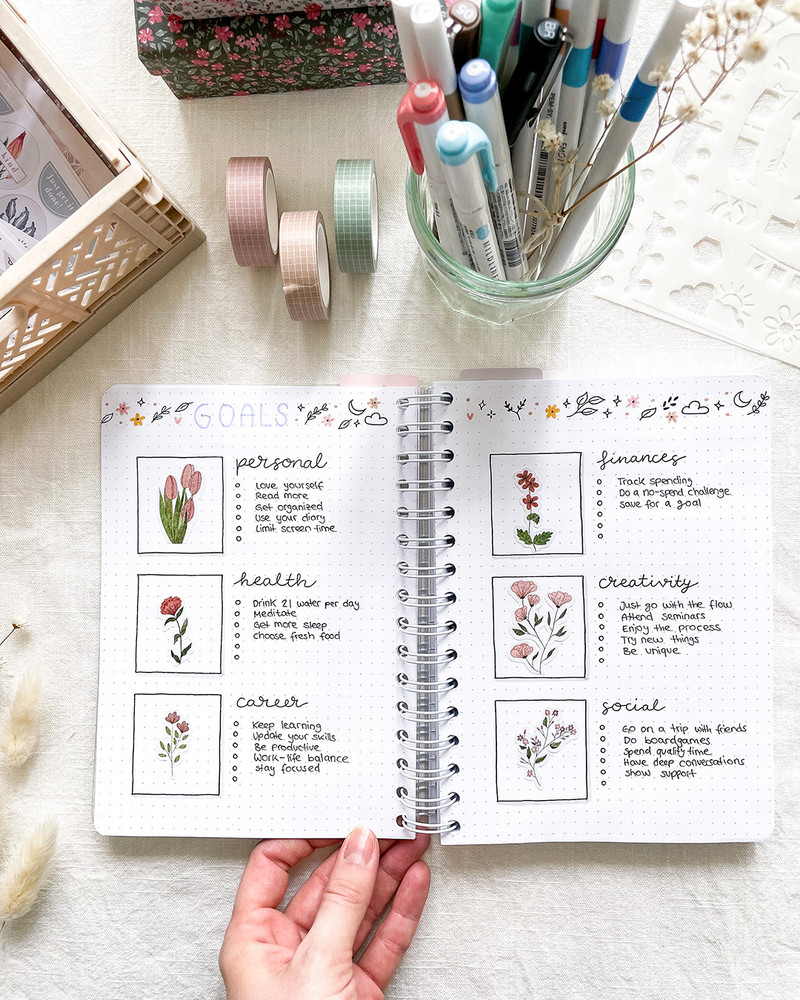 "Pages dedicated to my personal goals are the most important for me in my bullet journal. That's why I prefer using a full spread to have plenty of space to divide my life into different parts. Here, I write down many small goals for the new year."
I WANT A BUJO BOOK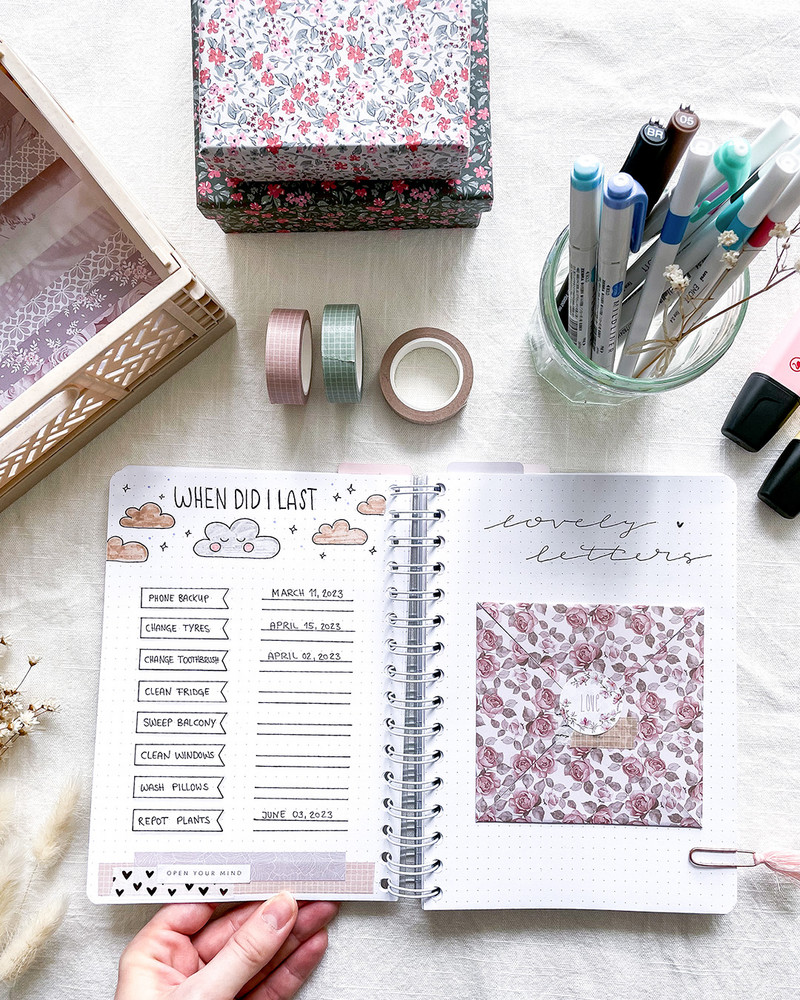 When Did I Last & Lovely Letters
"There's a
'When Did I Last'
page in all my bujos," says Julia. "I find this overview page super helpful because it allows me to keep track of when I last did certain things, things I don't need to do too often. To create this, I simply write down the date I last did a particular thing next to the flag, e.g. backing up my phone."
"If you have special memories you want to preserve, maybe movie or concert tickets, or sweet notes and letters, your bullet journal is the perfect place for that. I like to use a homemade envelope for this. Simply take a square sheet of paper and place it so that one corner points toward you. Then fold the lower corner to the center. Fold the right and left corners toward the center as well, and finally, seal the envelope with a piece of washi tape of your choice."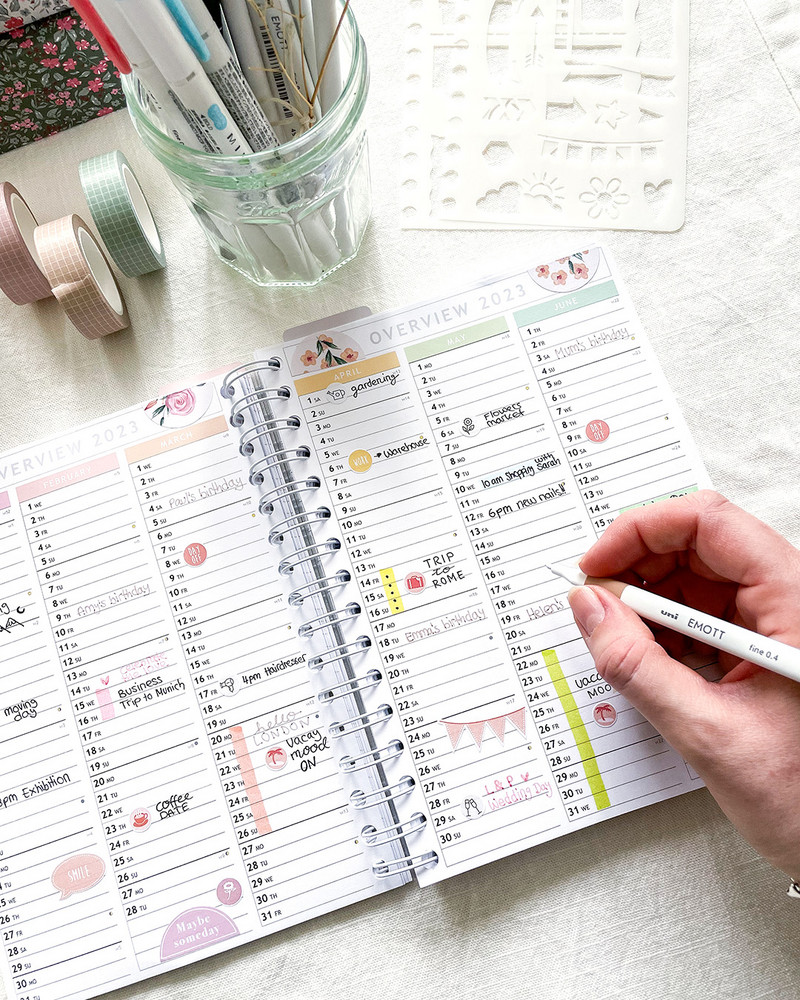 Future Log
"A year overview, known as a future log, should always be included in a bullet journal. In the pre-designed pages for 2023, I have enough space to write down all the birthdays, celebrations, trips, vacations, important events, and meetings at once. It gives me a great overview of the entire year. The Bujo Book's future log for 2024 offers already now writing space for the year's first meetings. Super helpful for planning ahead!"
Section 2 in the Bujo Book: Weekly Logs
Weekly logs, or weekly overviews, are the heart of your bujo. These spreads have a dotted left page where you can create boxes for the days of the week, and a pre-designed right page with space for notes, to-do's, and anything else you want to include in your week.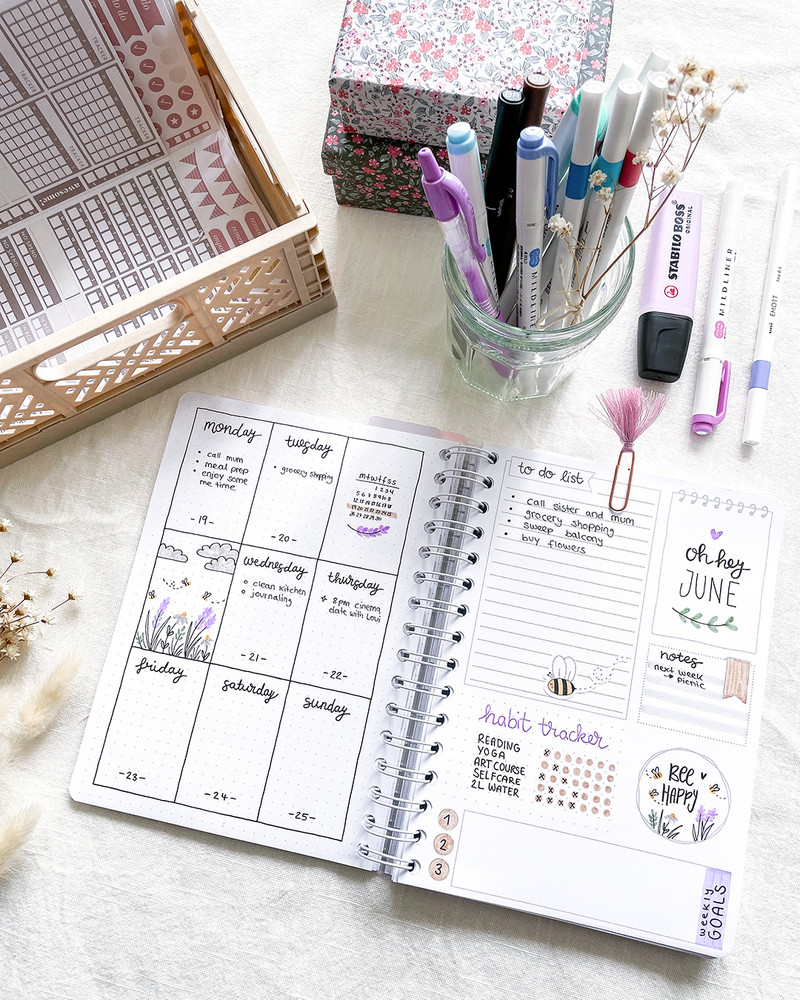 Weekly Log - June
"Weekly spreads, or weekly logs in bujo language, can be created quickly using a simple box layout. I usually add a small calendar for each month (June in this case) as well."


"I use the right page for my to-do list, to keep track of the weekly tasks. A tracker is a must, too! I like to track my habits weekly, so my tracker complements the weekly overview perfectly. After all that, I still have space at the bottom of the page for my weekly goals, which I usually take from my goals page at the beginning of the book. I design this spread as I want, with small doodles and different fonts to make it personal and interesting."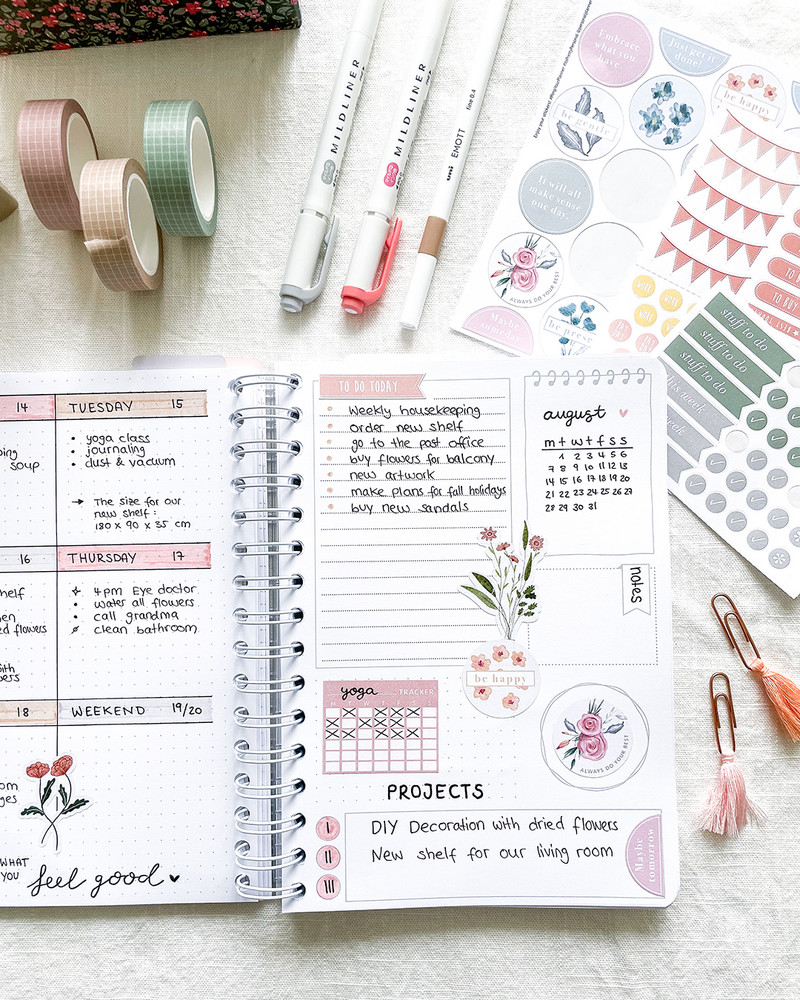 Weekly Log - August
"In August, I created a practical layout again using a black fineliner. I used a highlighter pen to add a touch of color and break up the design a little bit. Here, you can also see how I use symbols (also called bullets) to plan my week. I often also write down a quote for the week, to boost my daily motivation."


"If you don't enjoy drawing as much, you can use stickers to create your weekly spread instead. I used some cute stickers for my to-do list, my tracker, and the flowers for decoration. A tip is to stick to a main color for the whole spread, such as pink here. That will make your design more cohesive and won't distract from the essential planning either."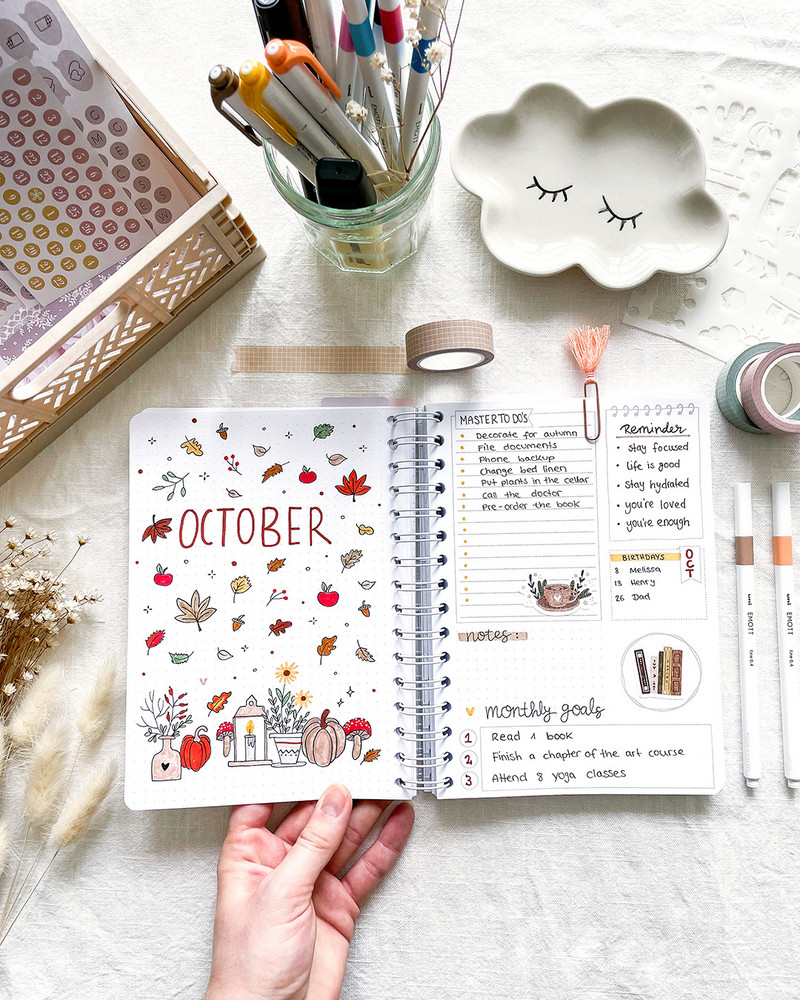 Cover Page - October
"I often design a cover page for each month, with a specific theme and color palette. For October, I decided to create some cozy autumn doodles as well. It makes me look forward to autumn, and I love using my bullet journal for a creative break!"


"Next to the cover, you'll find my master to-do list for October. Here, I can gather all the tasks to be done during the month and then distribute them across the different weeks. I also wrote down some monthly goals. Positive reminders can be helpful for a good mindset, so I regularly write down small notes in my bujo so I can always see them there."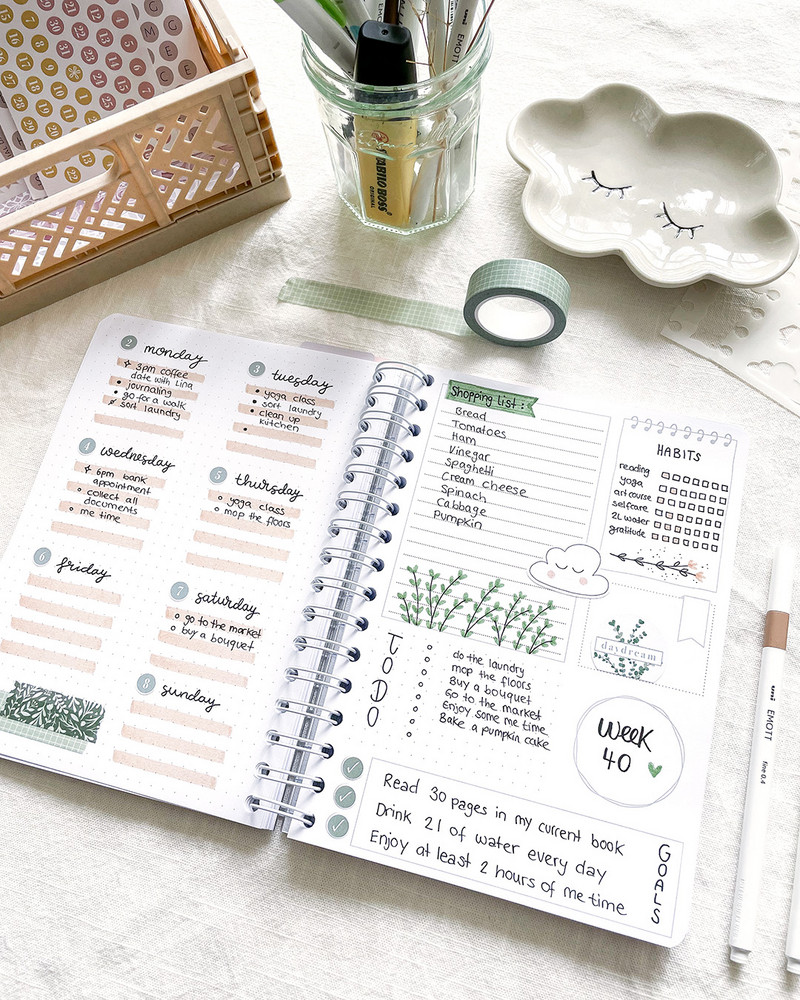 Weekly Log - October
"I created one of my favorite layouts using only highlighters and number stickers. Then I added the weekdays with some stylish lettering, and the planning can begin! A few strips of washi tape complete the look in this layout. In October, I could use the space on the right side for a shopping list, my habit tracker, and a to-do list. And like every week, I also wrote down my weekly goals here."
Section 3 in the Bujo Book: Mood & Habit Trackers + Dotted Pages
Tracking moods and habits is common in bullet journaling. You can do this simply, by writing down the days you do a specific activity, working out for instance. But you can also use an illustrated mood and habit tracker, like the ones included in the Bujo Book.
READ MORE ABOUT TRACKERS HERE
.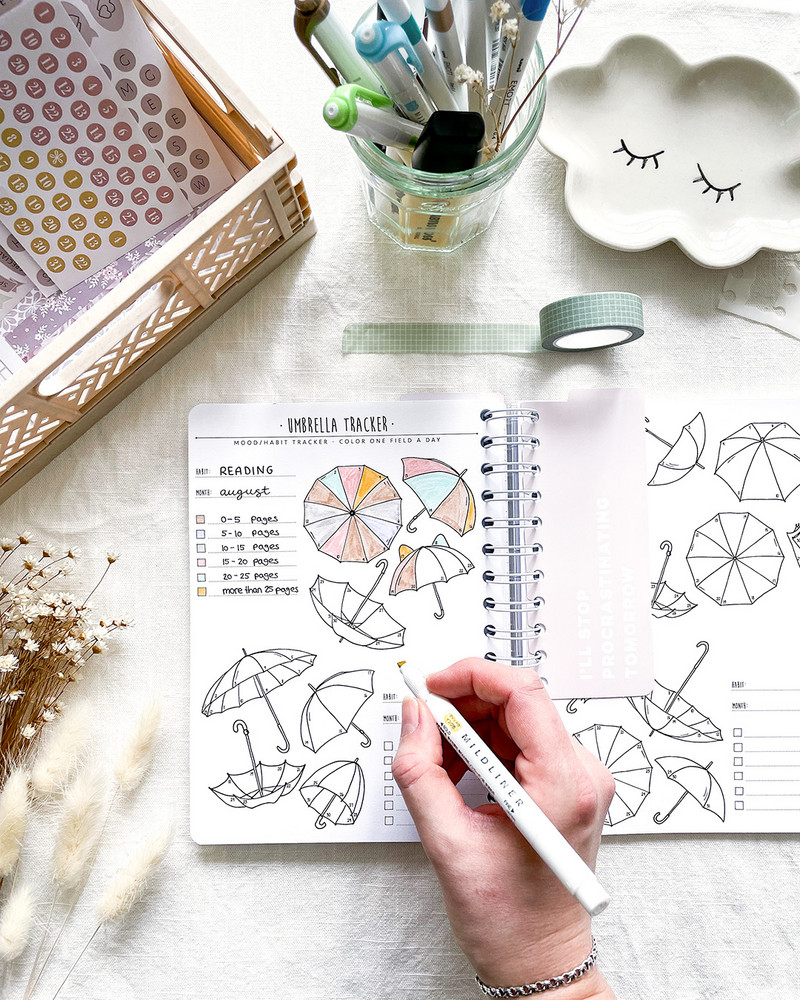 Umbrella tracker
"With the umbrella tracker, I can easily track both my mood and habits. In August, I used the pre-designed pages to achieve my goal of reading more this year. I used different colors to track the exact number of pages I read each day. This way, I stay on top of my progress, see how far I've come, and stay motivated to continue reading every day."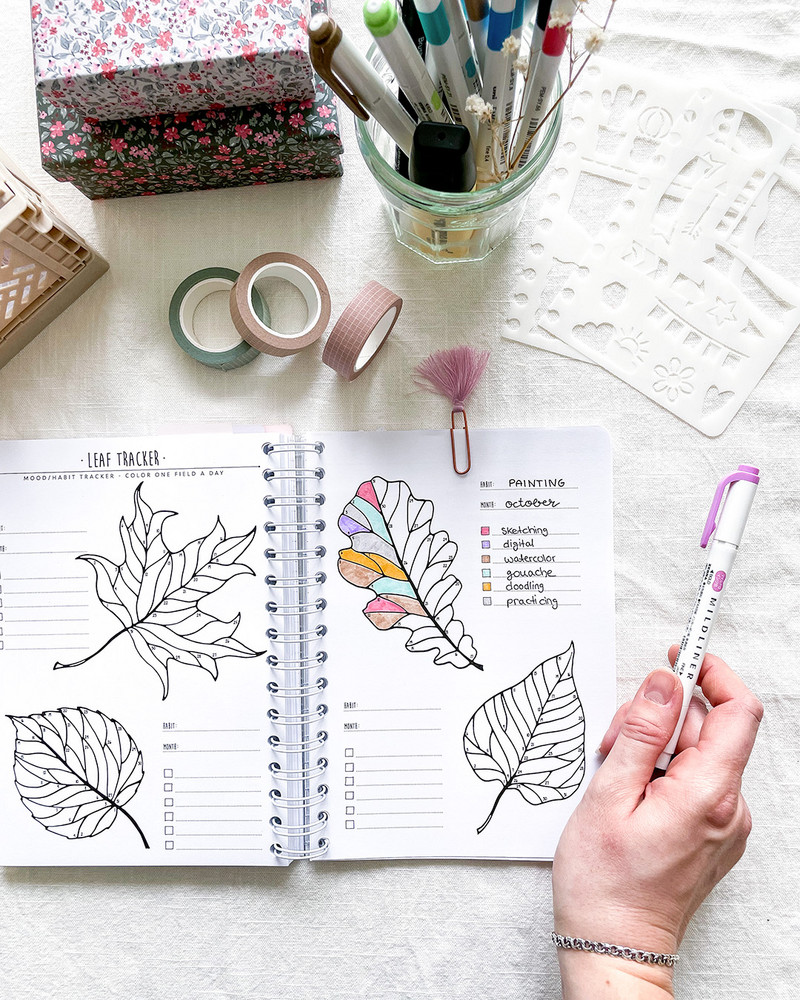 Leaf tracker
"In October, I used the practical leaf tracker to practice painting more during the month. I used different colors to represent different painting goals. Each day, I colored a leaf to document my progress. This method helped me stay motivated throughout the month and get closer to my goal.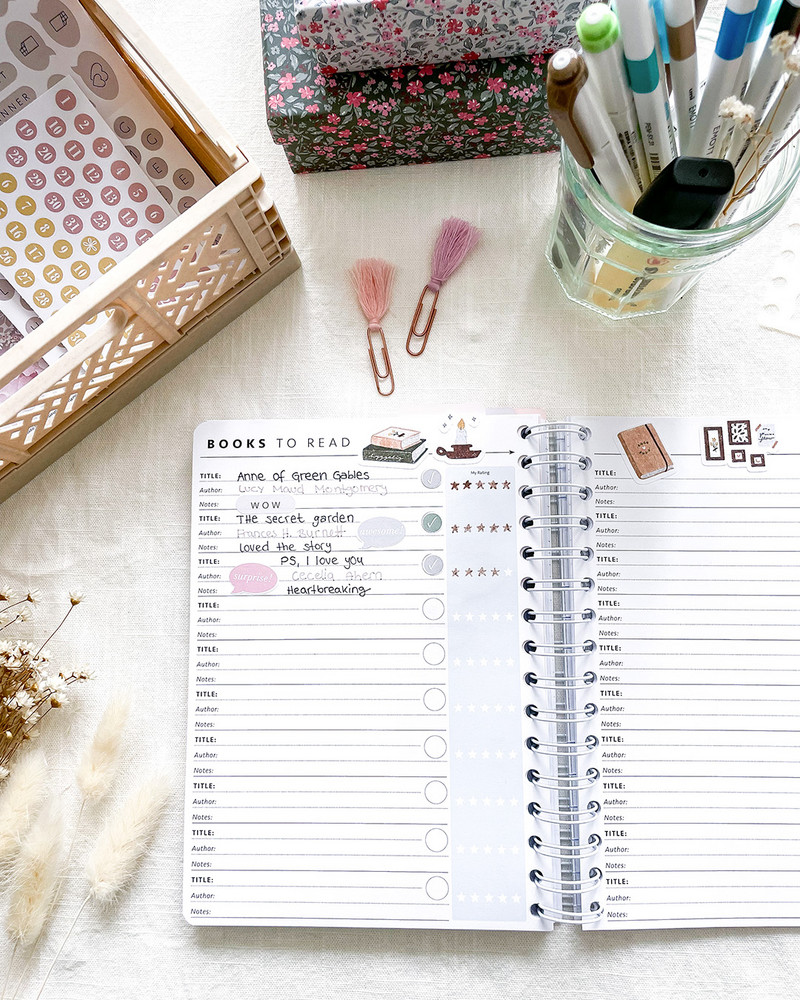 Books to read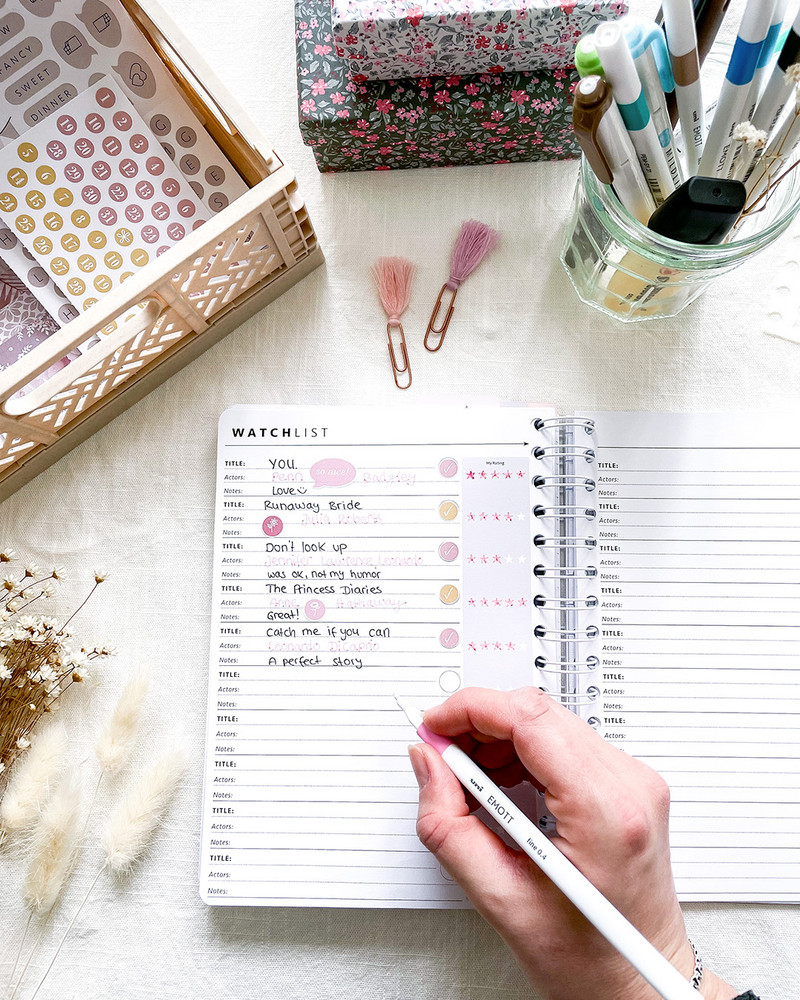 Watchlist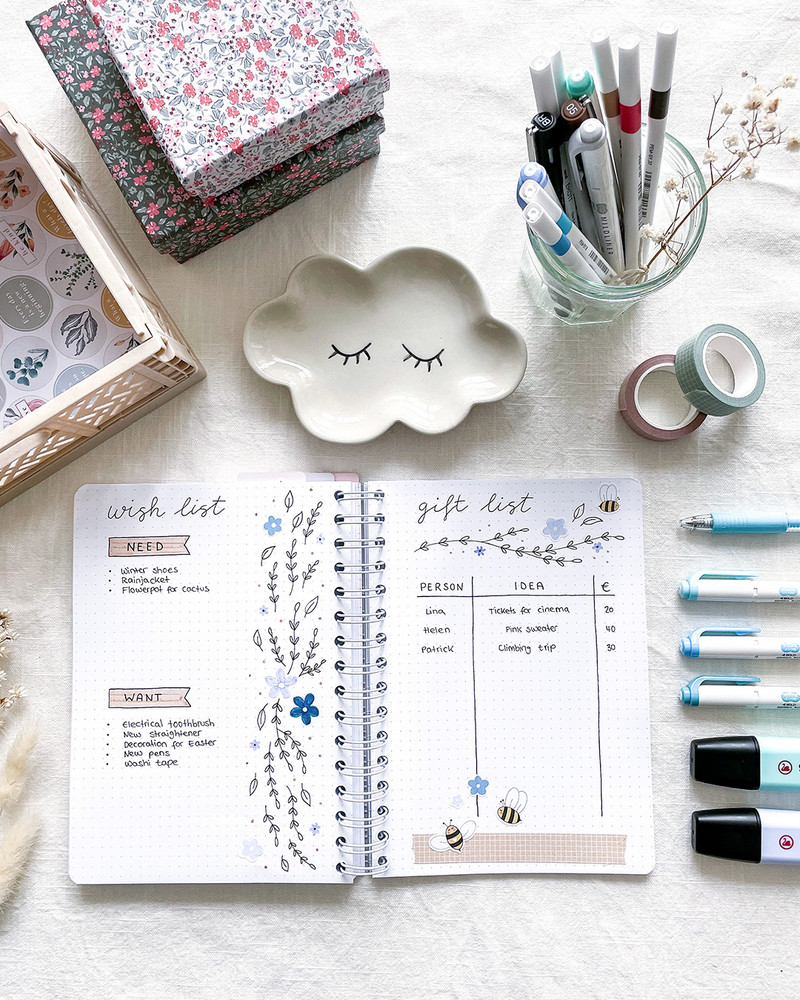 Wish list
"All my wishes for 2023 can be found on my wish list. I collect them in my bullet journal, and divide the list into items I need and items I want to buy just because I like them."
Gift list
"The gift list gives me plenty of space to jot down gift ideas for friends and family that I come up with throughout the year. The best part is that I no longer forget these ideas and have them ready when I need them!"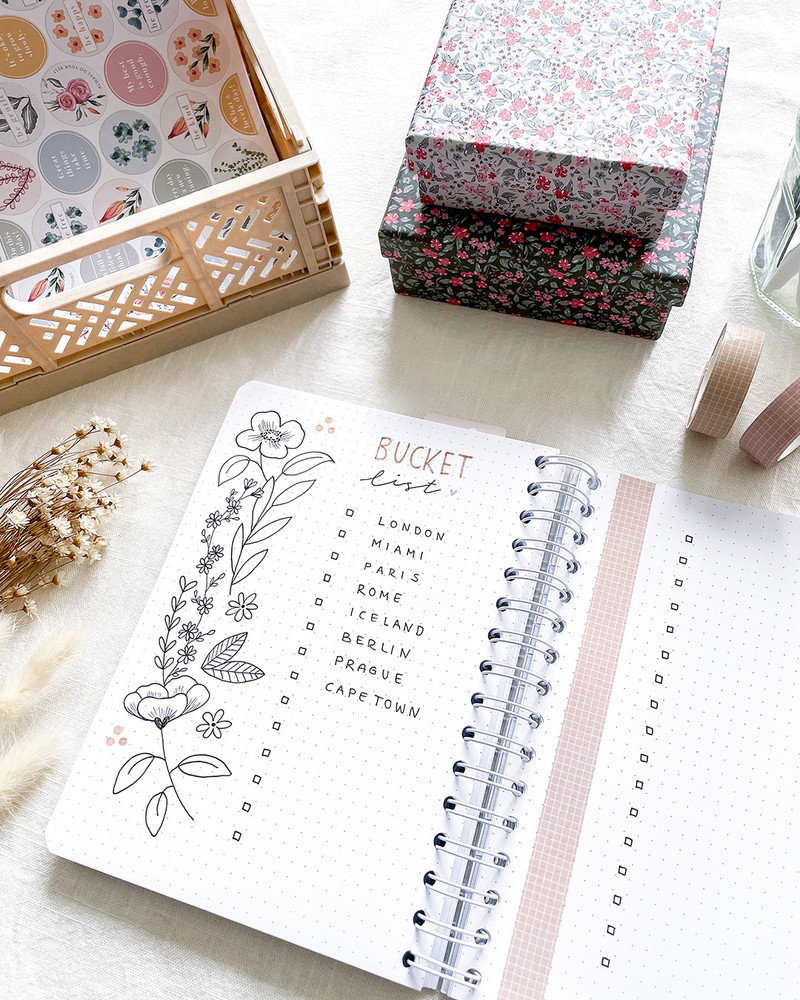 Bucket list
"I love bucket lists! I create a bucket for each season and also for each year. Here, I make notes of different dream destinations and write down all the places I really want to visit."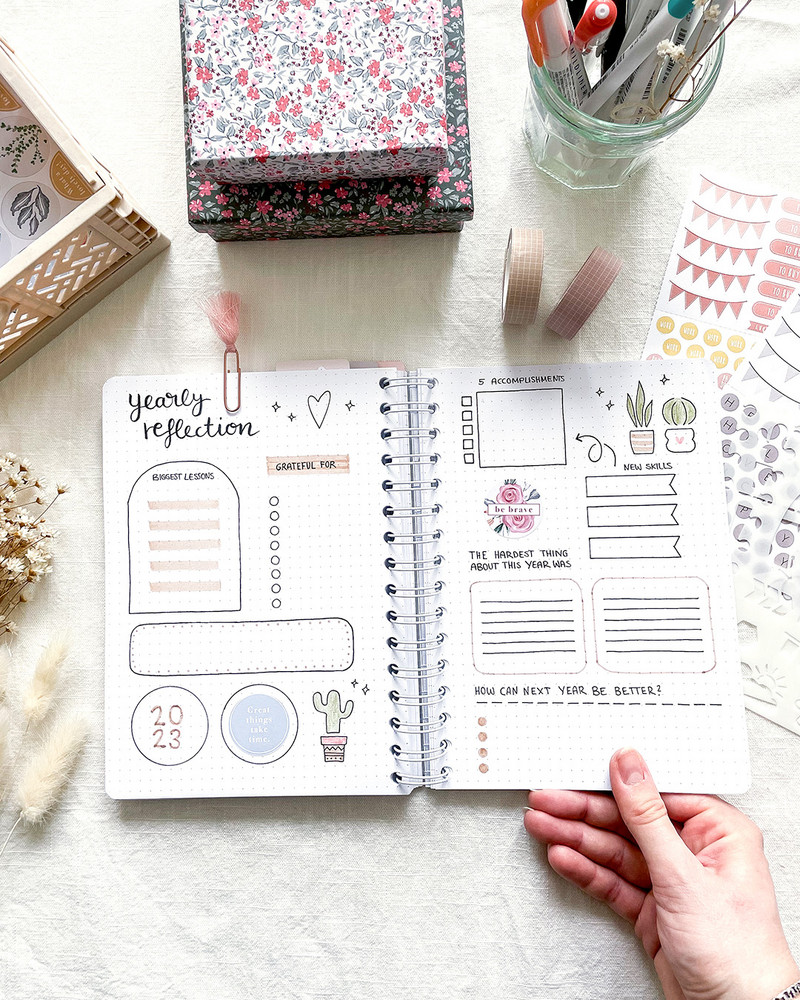 Yearly reflection
"An annual reflection helps me look back on the past year. I always create a spread in my bullet journal that I can fill in at the end of the year. I reflect on things I am grateful for, specific memories, moments, new skills, achieved goals, and completed projects. Additionally, I use the reflection to gain insights into the new year, contemplating what can be improved and how I envision the upcoming year."
As you can see, a bullet journal doesn't have to be complicated—it can be exactly what you make it! Order your Bujo Book today and try for yourself!
GET MY BUJO BOOK HERE
Plan with Me - December 2023
Snow crunches underfoot and the aroma of freshly baked cookies fills the air - December is upon us. Plan the most festive month of the year with us!
The Perfect Present for the One Who Has It All? Time!
Struggling to find the perfect gift for the person who has everything? How about the gift of time - in the shape of a custom planner! Design it yourself or get a gift card.