home / Tips & Tricks /
Family Wall Planner Hacks: 4 Ways to Share the Load & Stress Less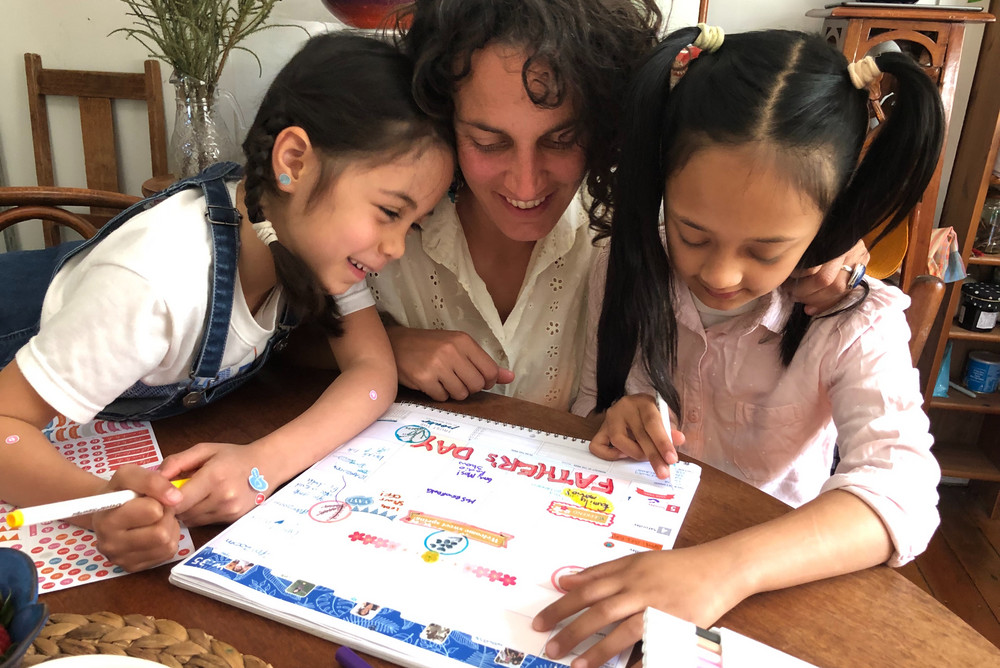 Family Wall Planner Hacks: 4 Ways to Share the Load & Stress Less
Do you have a troop of little humans to coordinate at home? Learn how our family wall planner can help you become an organizational wizard, while keeping your sanity intact!
---
Why is that when times get tough, the mental load that comes from having a family always lands on me? I realized just how much I carry, when I wrote out a one page list of everything I do - it included everything from shopping for groceries, to making sure there's a gift when we go to kids parties, and returning overdue library books.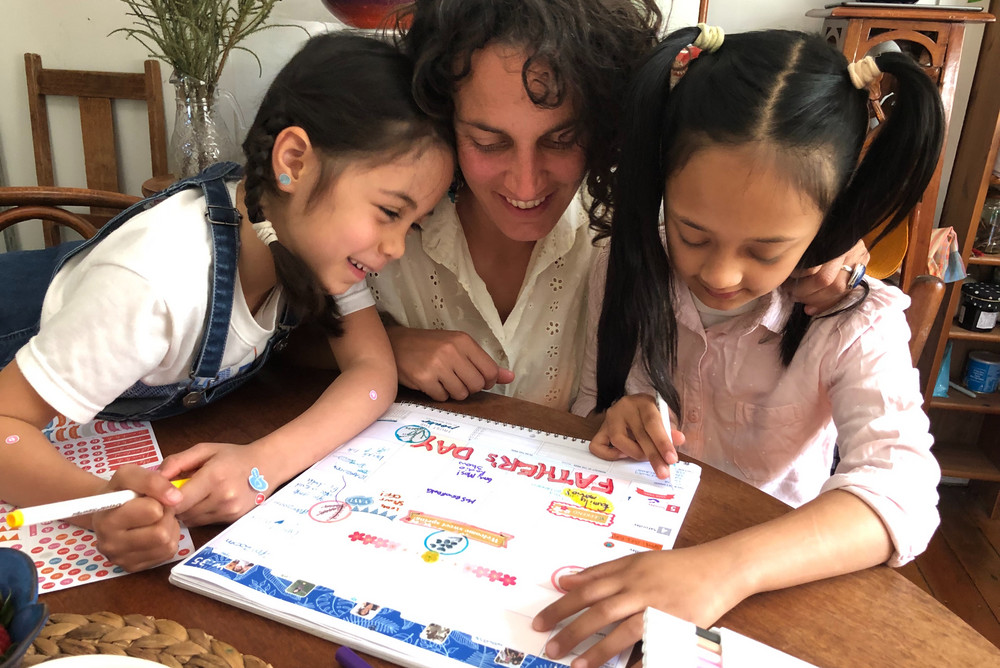 In our case, my husband and I have tried to share the load by syncing online calendars, scribbling lists on a whiteboard, and even talking with our marriage therapist!

How can you change everyday life so that the load is shared and maintained by all? Once the kids hit school, they can write a word or two... and it's time to even things out a little.

A family Wall Planner can be a game changer - lifting it from two players to more! In our family, there's four of us: myself Katerina, my husband Rully, our 8-year-old daughter Leda, and our 6-year-old daughter Femi. Each of us have our own column on the planner for our own appointments and events, with a fifth column for family events - the Grindo column: I'm Greek and my husband is Indonesian (or as we say, Indo!) so they call us The Grindos!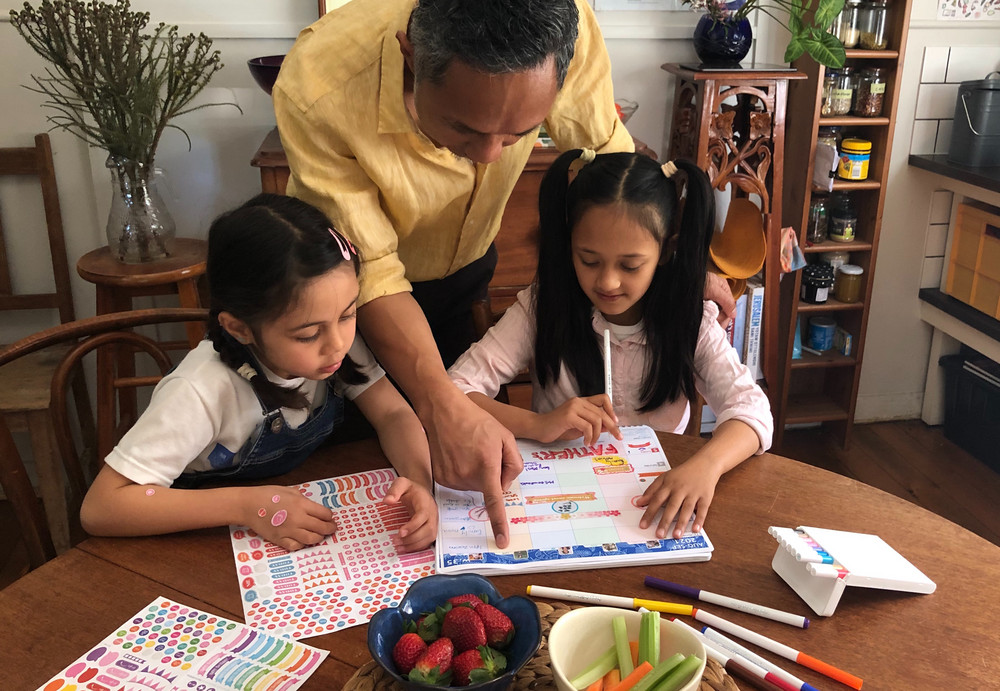 Here are 4 ways a family planner can lighten your load.
1. Make It Part of Your Family HQ
• Decide on a central place to hang your planner. Ours hangs on a wall in the kitchen because this is the heart of our home. We eat in the kitchen, talk about our day, laugh, argue and entertain friends here.
• Out of sight, out of mind. We used to have the wall planner hanging in the study/office which excluded the kids. But if the whole family can actually see their own week at a glance, then it's a shared responsibility.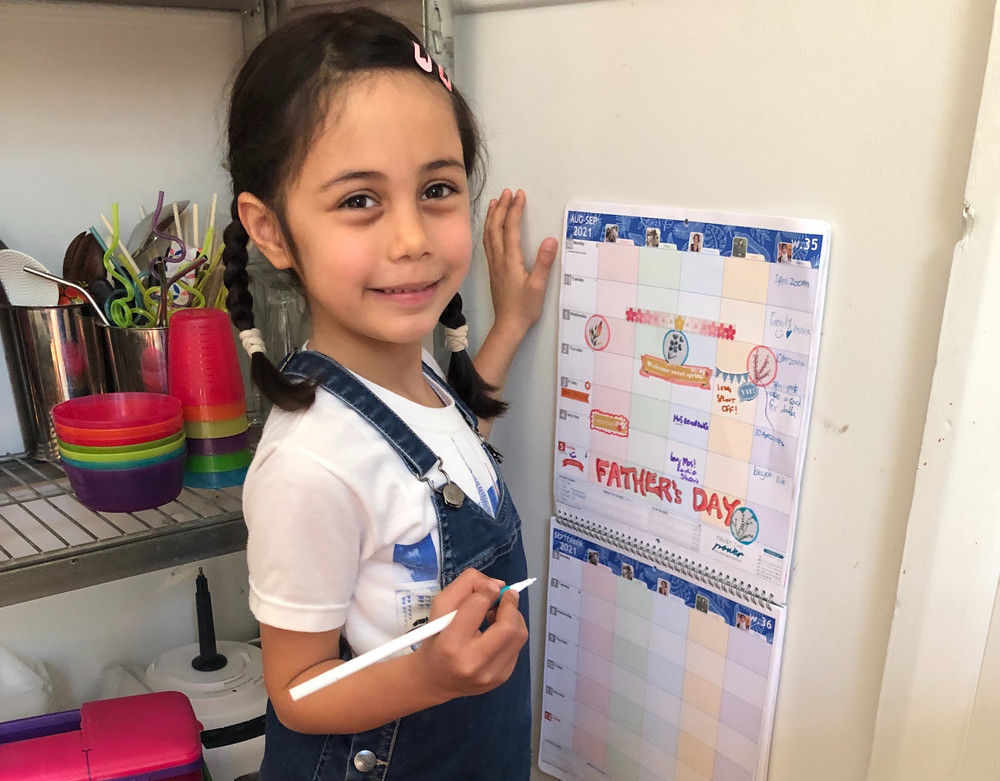 2. Train up Your Younger Players
• Create a column for each kid. At the top of the column, you can display their photo, name, and preprint their birthday with their chosen color as the background.
• Let them decide what pens or markers they'll be using - they can go to town with color!
• Make it fun with cute stickers and little drawings - everyone loves stickers!
• Help them remember their own activities by allowing them to write in their column. This will also help them take responsibility for their chores like cleaning their room or packing away their clothes. They can write due dates for school projects or exciting milestones like "I learnt to ride a bike".
• Get them to write down birthdays for their friends and family.
• You can also write down your budget to allow each person to track their spending throughout the week.
• Give them a "YES" day once a month where they can choose a family activity (from a list you've created, of course!)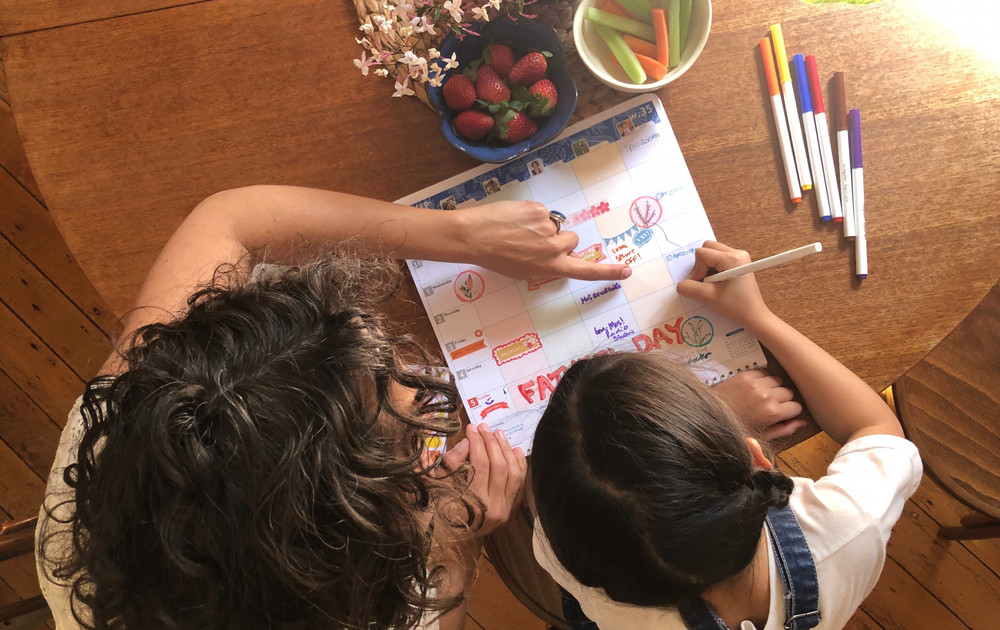 3. Meal Plan a Week Ahead:
Because we're all tired of thinking of what to cook every night for dinner!
• Give your brain a break! Save time thinking about it, minimize food waste and keep within your budget. It will alleviate the extra stress in your day-to-day life!
• Either create a full column for meals or pick the Meal Planner module at the bottom of the page. We use the date column to write in our meals.
• Be democratic. Ask each family member what they would like - it shows what meals they love the best.
• Get creative by looking at recipe books or YouTube videos but keep the plan simple. For example, Sundays are for roasts - whether it's chicken or beef. In our house, we like to eat fish or seafood on Fridays and our favourite local Thai restaurant has discounted specials every Tuesday so that's our takeaway night. As a rule, we like to eat vegetarian food 3-4 nights of the week.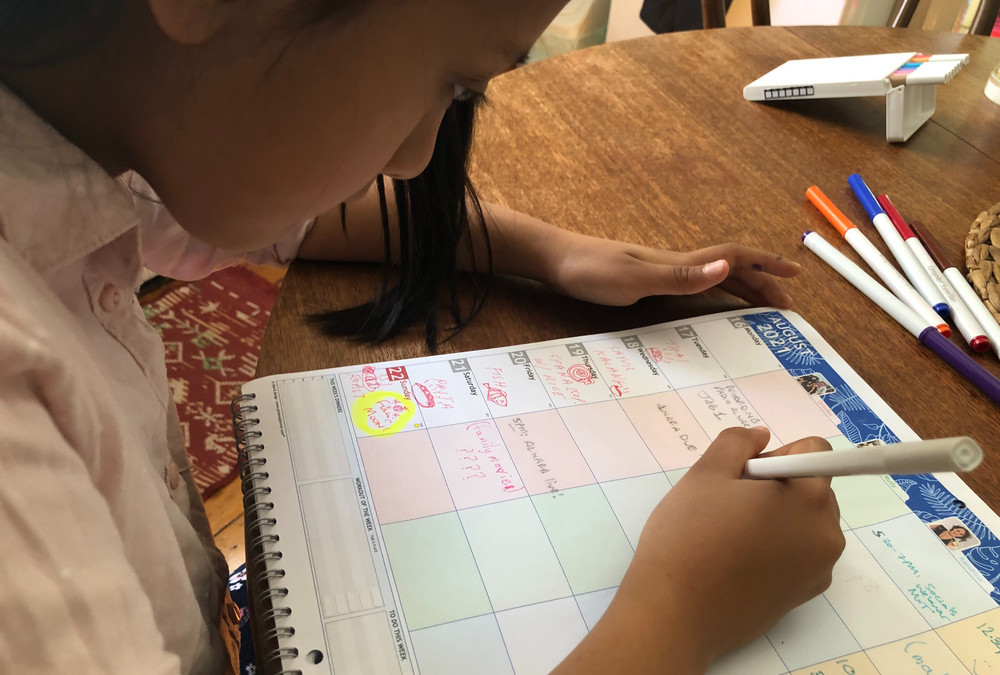 4. Have a Weekly Family Huddle
• Decide on a time and place when the whole family sits down to workout their schedules and write down the important events or deadlines for the upcoming week. The Grindos love doing this on a Sunday afternoon, complete with a 5-minute family dance off or musical jam afterwards.
• Keep it short - 30 minutes maximum. This shows the whole family how to get into the rhythm of being concise and efficient.
• Keep it light and colorful with snacks and markers! The kids love adding drawings, stickers and decorations.
• Touch base everyday to keep on top of any changes. We usually like to go round the table at dinner and say one thing we are grateful for that happened on that day and this gives us a chance to tell our news or changes to the next few days.
Our family calendar helps us plan our week, and lightens the load we carry as parents. It helps us to avoid stressful moments, and frees up more time for laughter and family adventures - and who doesn't like that!
Try customizing a Wall Planner to fit your family life below!
CREATE A FAMILY WALL PLANNER
/Katerina at Personal Planner™
How to Do a Digital Detox with Your Planner
A digital detox does wonders for your mind and soul. Learn how a detox can help you press your mental refresh button, and how to plan one in your Personal Planner.
New Collection: Lemonade
Are you feeling parched? Quench your thirst for style with our brand new collection! Check out our 6 vibrant & juicy planner covers and matching notepads – the perfect refreshment for the summer!