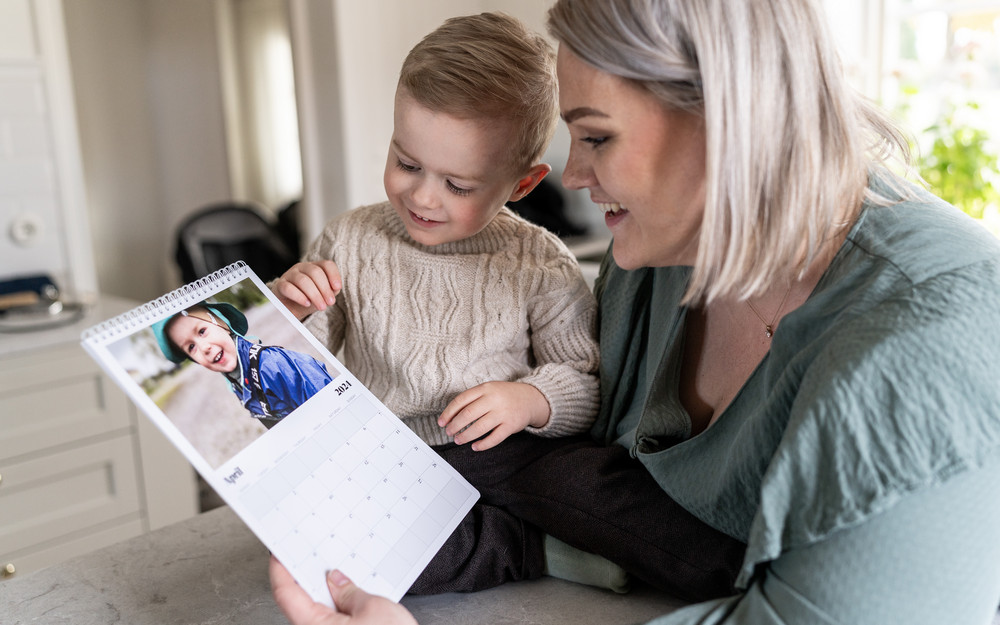 How to Create a Photo Calendar with Your Own Pictures
Create a Photo Calendar with your own snaps! Gift a photo calendar, or reminisce magical moments, as you map out your life with our monthly overview.
---
Ever wondered, "Can I order a photo calendar from Personal Planner?" Well, we're thrilled to say, now the answer is a resounding YES! You can now design a personalized photo calendar, filling it with your cherished images to enjoy month by month. Plus, you get a clear view of the month's plans with our handy monthly overviews.

A photo calendar serves as a lovely home decor detail and is a thoughtful gift for someone who seems to have everything, a beloved family member, or a friend who's miles away.



CREATE A PHOTO CALENDAR
Make a Personal Photo Calendar with Monthly Overview
Our photo calendar comes in A4 size, combining your chosen picture with an overview of the month. You get to enjoy a new personal favorite snap each month – that's twelve opportunities for smiles! Seasonal shots, family memories, or any theme you fancy – the choice is yours.
Not only does the photo calendar brighten your day with personal pictures, but it also becomes a central part of the family's organization. The monthly overview simplifies keeping track of activities, appointments, school runs, holidays, and dinners. It's about being proactive to ease the daily hustle!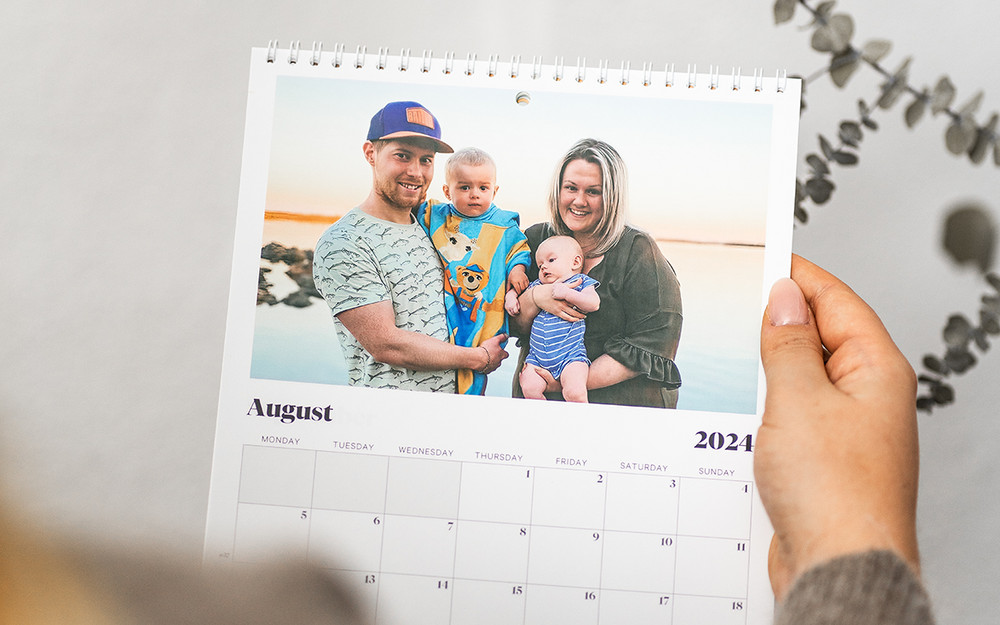 Design Your Calendar's Cover
Creating your photo calendar is not just about the inside – you get to design the cover too. Pick the photo that will grace the year, and whether you want it on the entire cover or just a part of it. Choose from different fonts, colors, and decide if you want one, two, or three lines of text. With up to 10 cover designs depending on the placement of your photo and text, your calendar will be as unique as your memories.
The cover is made of durable, glossy paper like our planners. The inside pages are on 150gsm paper with a semi-matte finish, that's great for writing and makes photos pop.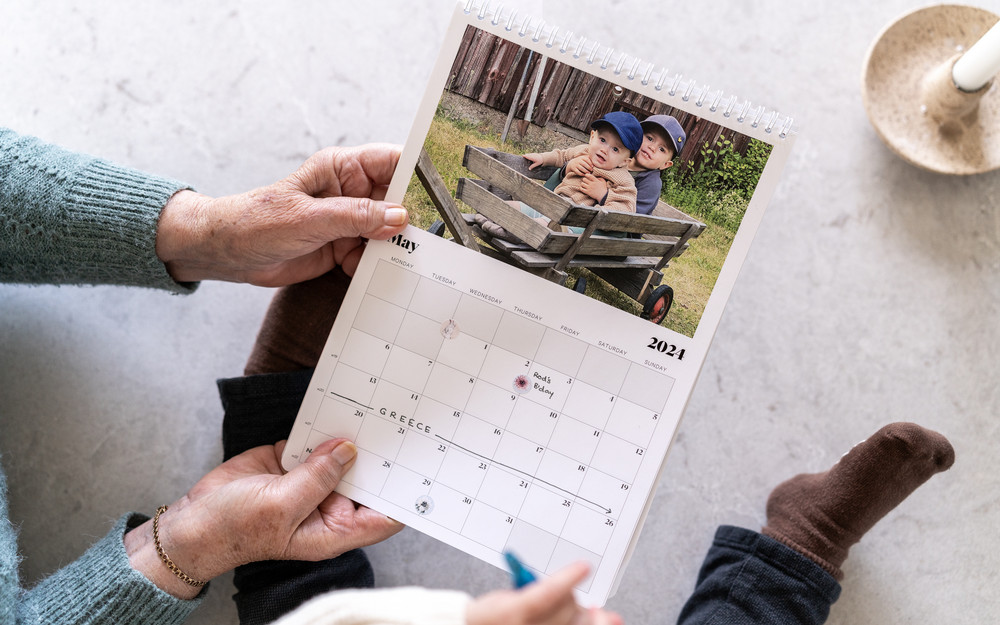 When you order a photo calendar...
… You also get to:
Pick the language of the insert


Choose a starting month


Add personal dates
Personal dates are something we're quite proud of. They've saved many from forgotten birthdays and anniversaries. Speaking of which, if you're ever stuck on gift ideas, why not
give the gift of memories with a photo calendar
!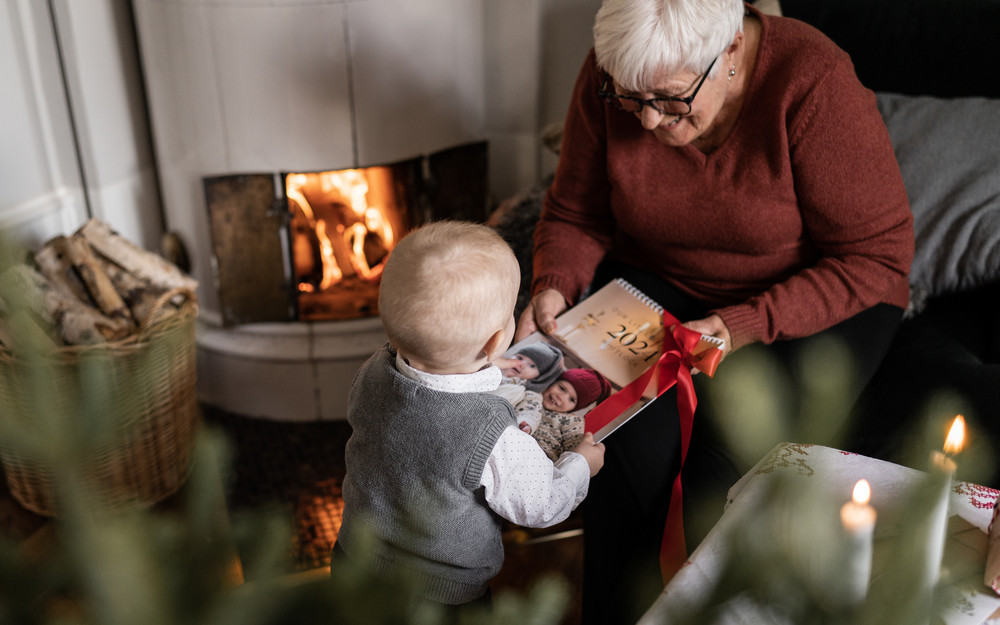 The Photo Calendar – The Ultimate Present
Stumped on what to give for Christmas or birthdays? A photo calendar is both an ideal birthday treat and a classic holiday gift. And with your choice of start month, it's a suitable gift all year round.
A photo calendar is a heartfelt gift you can tailor to the lucky recipient. Imagine a grandparent unwrapping a calendar peppered with grandkids' photos, a friend reliving shared moments, or your partner cherishing shots from your last vacation. "The Johnson Family," "Merry Christmas, Grandma," "Happy Birthday, my love" – what will your cover say?
Take a moment to create your 2024 photo calendar now!
ORDER PHOTO CALENDAR
Plan with Me - December 2023
Snow crunches underfoot and the aroma of freshly baked cookies fills the air - December is upon us. Plan the most festive month of the year with us!
The Perfect Present for the One Who Has It All? Time!
Struggling to find the perfect gift for the person who has everything? How about the gift of time - in the shape of a custom planner! Design it yourself or get a gift card.