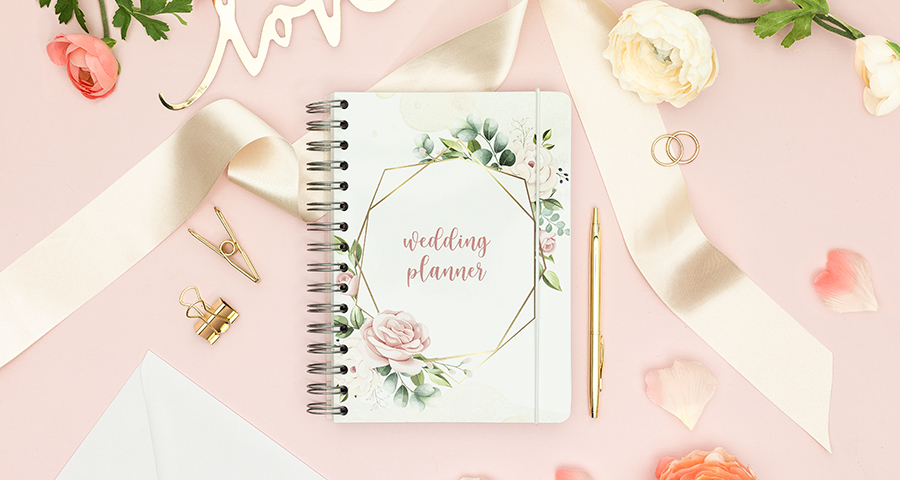 Wedding
Counting the days to your wedding bells? Personalize your Wedding Planner, and leave no detail to chance!

Planning a wedding can be stressful - but it doesn't have to be that way! The secret is, of course, planning everything from the rings, to the cake, to the party playlist well in advance. And as it happens, we have the best tool for the job: the Wedding Planner!

This perfect size wedding book includes our Best-of-Both layout, with a weekly calendar page on the left for optimal appointment and date planning, and a blank page on the right - perfect for writing down lists, ideas and inspiration for the big day. The themed pages pack at the back of the planner include a practical Budget Planner that'll help you stay on track with expenses, as well as clever habit trackers and workout logs to keep you looking and feeling your very best during the whole year leading up to the day. In this section you'll also find our most popular themed pages: Make a List. Capture every little detail, idea and to-do that comes to mind by jotting it down quickly in any of the featured lists! And to finish it off, the Travel pages. Dream up your honeymoon, planning every step of trip, and save little sweet mementos here to remind you of this special time.

To make the Wedding Planner truly yours, just add your name or your own text on the cover, select your starting month, and have a wonderful year of planning for one of the biggest days of your life!
---
Wedding
Planner Classic A5
Wedding
Planner Classic A5
Starting month:
Inlay language:
Size Classic A5, 5.8x8 in.
160 pages
130 g eco-friendly FSC paper
Quote on owner's page
Left squares weekly layout
Modules: To Do this Week, Weekly Boost, Workout of the Week
Month Overview 24 pages
Lists 2, 2 pages
Tracker Yearly, 2 pages
Budget Planner 1, 12 pages
Squared, 2 pages
Travel - Prepare, 2 pages
Travel - Memories, 2 pages
Ruled, 2 pages
White elastic closure
Storage pocket
White ruler
Add some matching accessories!