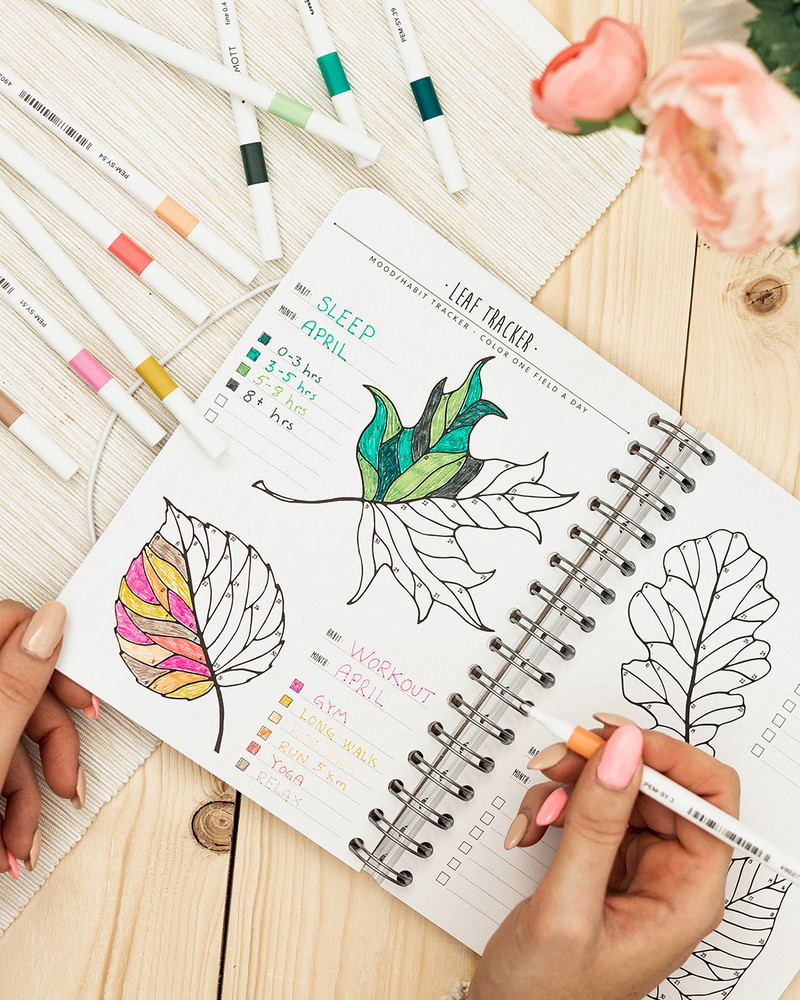 12 Mood Tracker and Habit Tracker Ideas - Free Printables!
What if you could track your habits and see how they impact your moods? Using a habit tracker in combination with a mood tracker can help you see patterns in your behaviour and help you change things if needed! Here's 12 mood tracker and habit tracker ideas to get you started - oh, and free tracker printables too!
---
When you're in a bad mood, your brain shuts down, you stop listening to those around you and you can find it hard to make good logical decisions.

A mood tracker can help you learn what's affecting how you feel. And to complement this, a habit tracker can help you identify certain patterns and reasons for the change in mood. Eventually, you can work out what's bringing your mood down so you can create a positive environment everyday.

What is a mood tracker?
A mood or habit tracker is an illustration or a grid that shows patterns once you fill it with colour. Using a month-long tracker, you can notice the changes by adding a colour key representing different moods or habits. You can update whether you're feeling happy, excited, sad, tired, bored, angry, etc on a daily basis.

What are the benefits of a mood tracker?
Trackers can help you identify triggers that change your behaviour, and it can help you become more conscious of when these patterns emerge.

You can then plan time to unwind, meditate or get more sleep before a big week of deadlines to minimise the frustration, anger or a feeling of overwhelm.

Reprogramming the brain to embrace our positive feelings may seem challenging but many of us just need more practice in savouring the joy, peace and love in our everyday.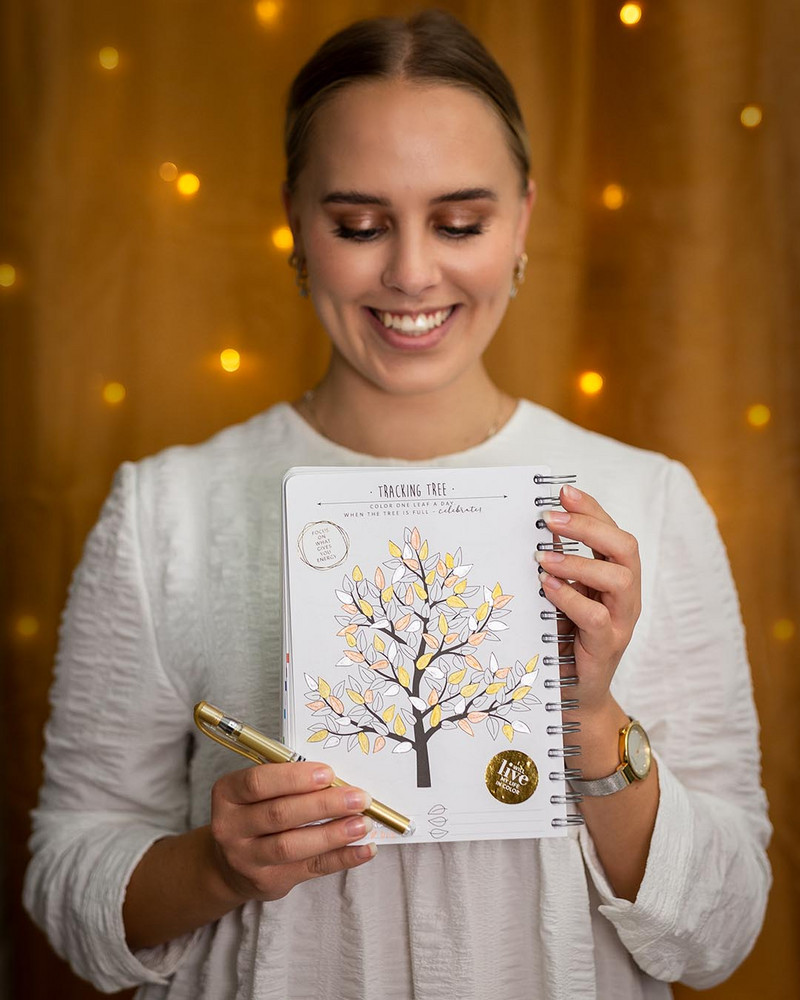 But wait! What about Bullet Journaling?
We can't really go any further without mentioning bullet journaling, or bujo for short. It's a short-form monthly or yearly planning system that uses a key code, index and a future log with monthly and daily sections. Brooklyn-based artistic-director Ryder Carroll is credited with this new way of jotting down ideas and tasks using two old-school tools: pen and paper... something that works well with your Personal Planner™ or Mixbook™!


Create your custom Personal Planner here
How does a bullet journalist use these mood or habit trackers? A bullet journalist would typically enjoy taking the time designing and decorating their own tracker, and being intentional with their choice of colours to create a gorgeous colour palette - really heading back to the illustrative, analog way of graphic design! We see these beautiful bujos everywhere on social media, but remember: bullet journaling is first and foremost a type of planning system, not an art journal!
See our short video course, Beginners Guide to Bullet Journaling.
If you want to get right into tracking your moods and habits, we've created a little shortcut for you! Here are 12 different designs you can add to your planner or Mixbook™ at the click of a button. Another tip is to create a Personal Planner™ with a dot grid weekly inlay, to get the benefit of a pre-printed weekly structure. Oh, and do make sure to download all the cute freebies we have for you here in this article too!
12 Inspirational Tracker Designs
Charts and graphs can sometimes be a bit dull to look at, which is why we've created all these fun tracker designs. You can choose your favourite pens and have fun decorating the page!
1. Leaf Tracker
"We all change colours and lose our leaves... then we bloom again." - Maria Lago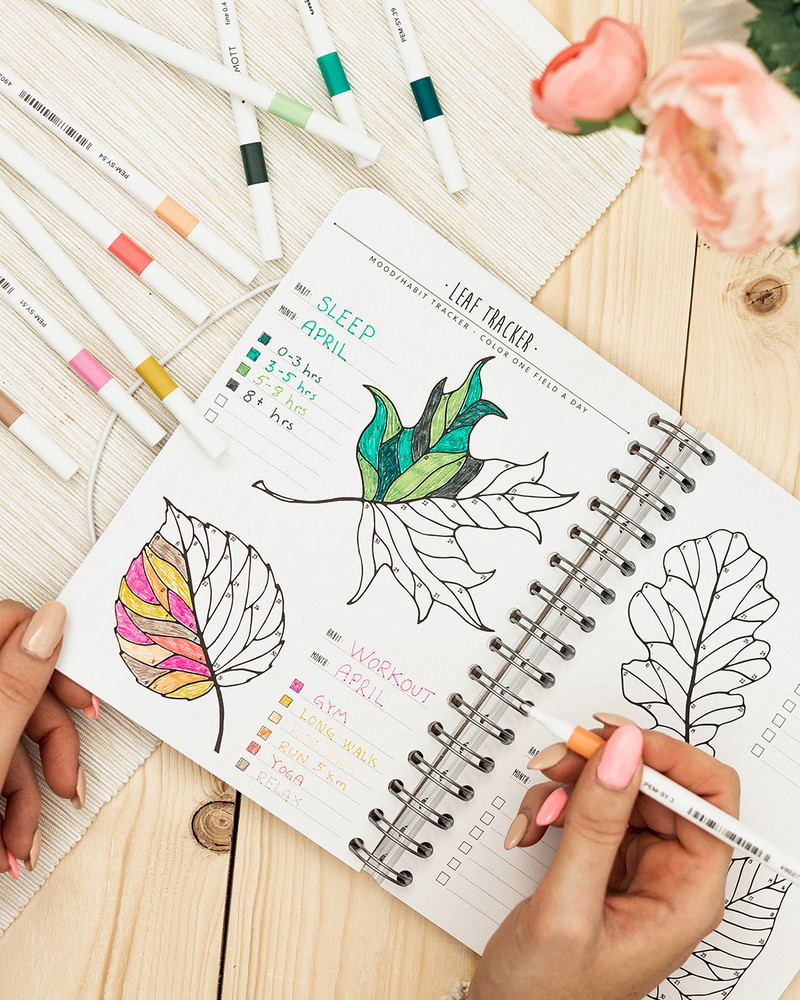 Get green with your tracker and notice the amount of time you sleep or exercise. You can split it up to show under 5 hours, 5-7 hours, 7-8hours, 8+ hours. Nab your copy of this cute tracker below!
FREE PRINTABLE HABIT & MOOD TRACKER - LEAVES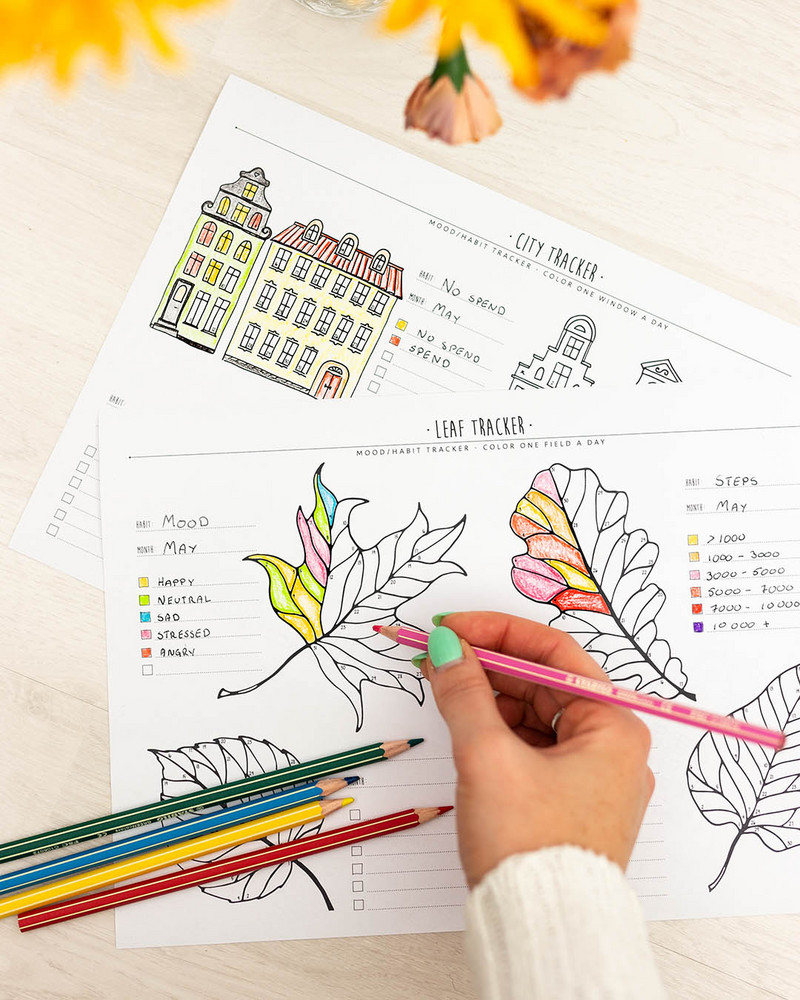 2. Diamond Tracker
"Invest in the human soul. Who knows, it might be a diamond in the rough." - Mary McLeod Bethune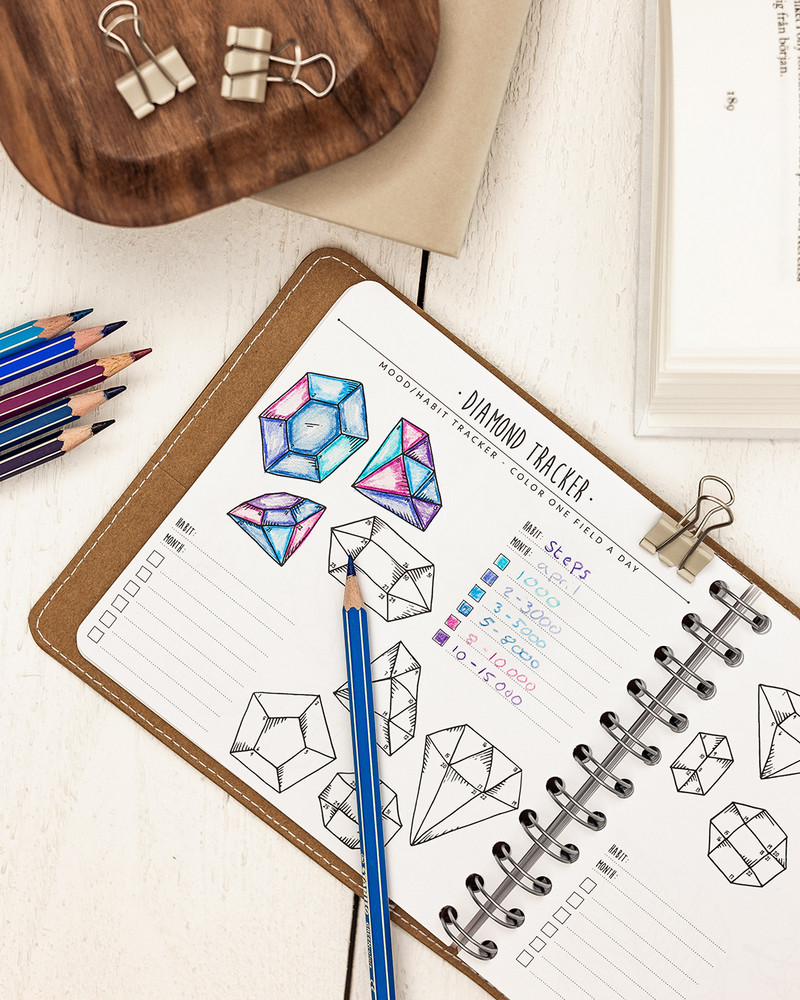 Who wouldn't like to complete 10K steps a day? Make this goal uniquely yours by using colour to show your progress. And remember that shading can be so therapeutic when decorating your tracker... now you just have to choose a cool palette!
3. Umbrella Tracker
"The mind is like an umbrella... it only works when it's open." - Sir James Jeans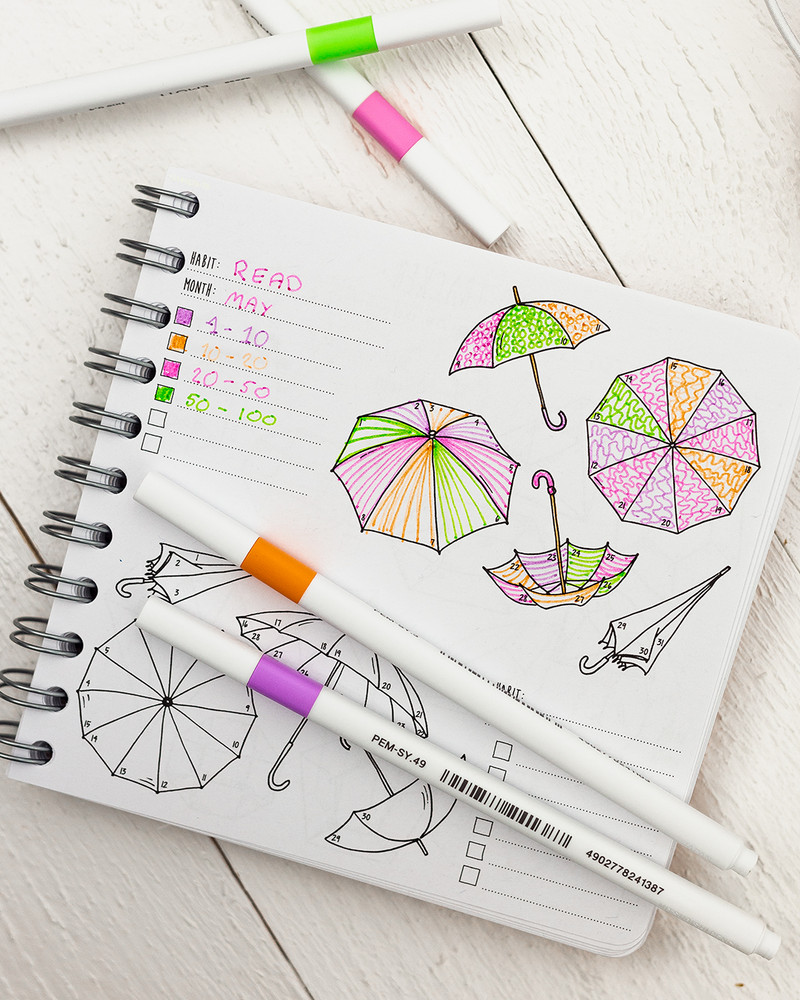 Don't you wish you could free up some more time in your day-to-day to sit down and read? Try tracking how many pages a day you manage to read, and see how that motivates you!
4. City Tracker
"What is the city but the people; true the people are the city." - Coriolanus III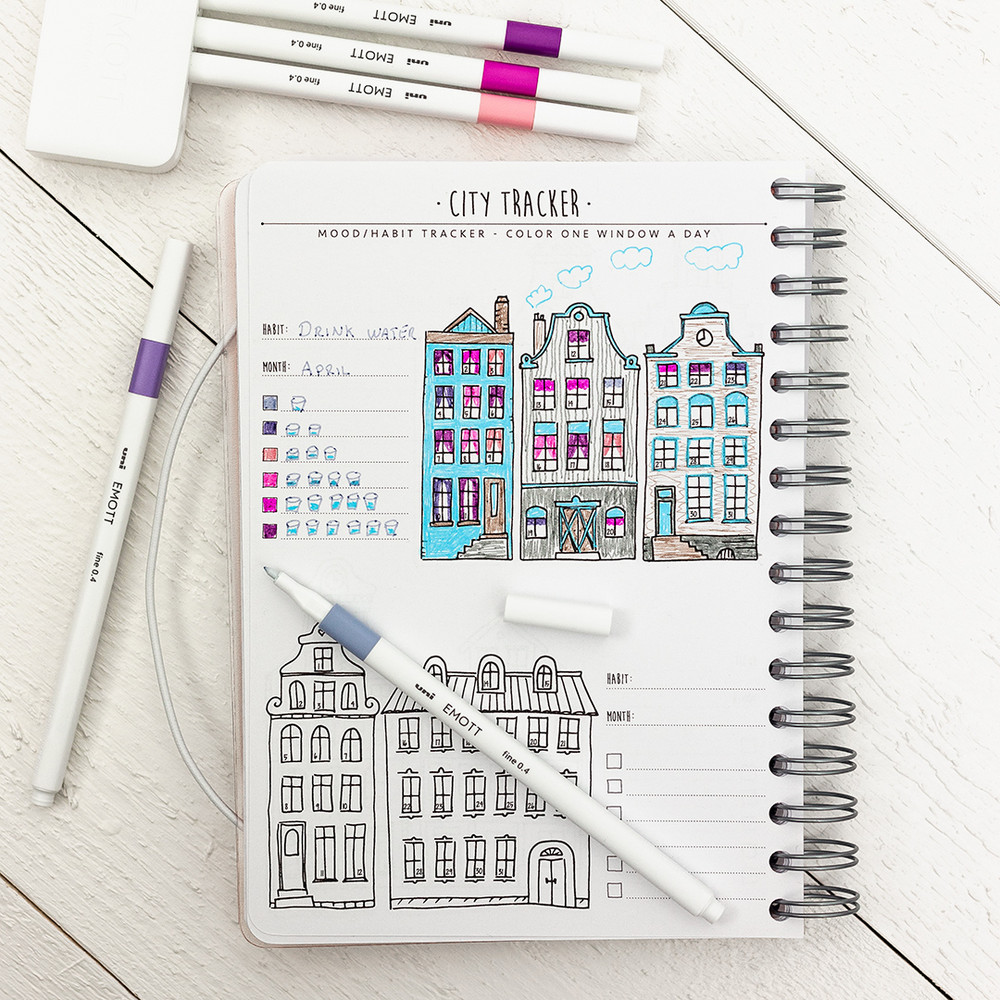 Ever seen Hitchcock's 1954 film Rear Window? It's all about witnessing the different lives in each window of a building… just like our moods and habits! They can vary every day. Colour one window a day, and watch the city shine through the night. Get your free copy of this cute tracker below!
FREE PRINTABLE HABIT & MOOD TRACKER - CITY
5. Tracking Tree
"The clearest way into the Universe is through a forest of wilderness." - John Muir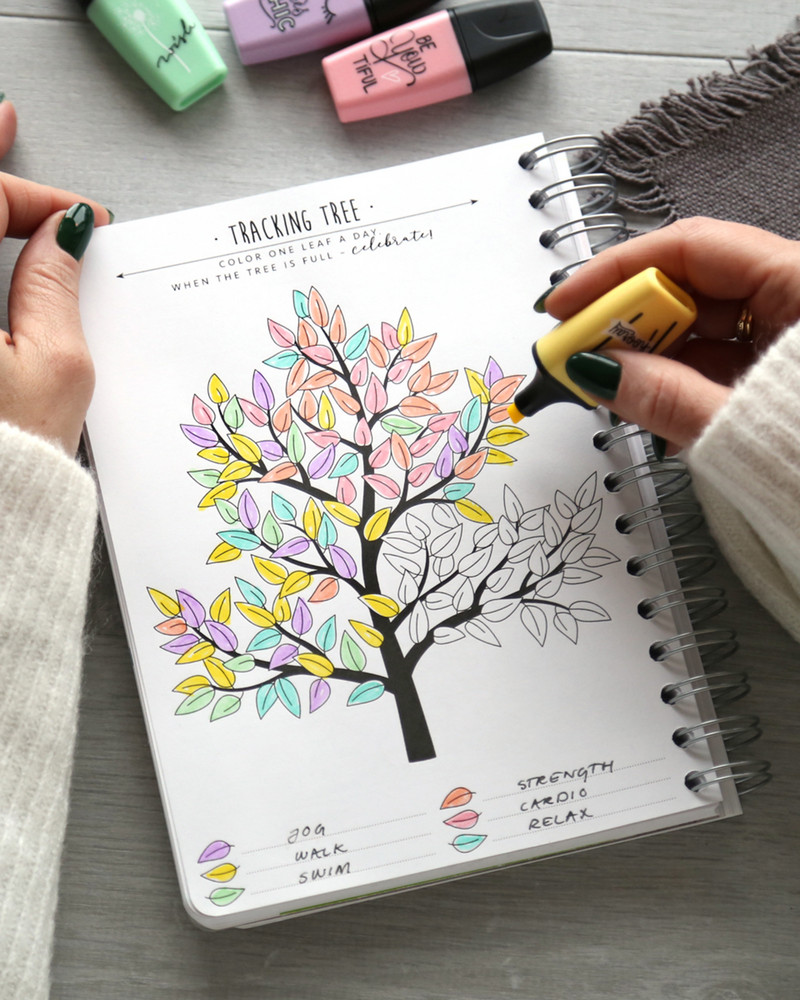 You've chosen a handful of ways you like to exercise like cardio workout, yoga, swimming and walking so assign each of them a colour and start your Tracking Tree. As the days and weeks go by, you'll notice which forms of exercise you prefer, and can see a beautiful pattern emerge.
6. Tracking Shelf
"Tea is the magic key to the vault where my brain is kept." - Frances Hardinge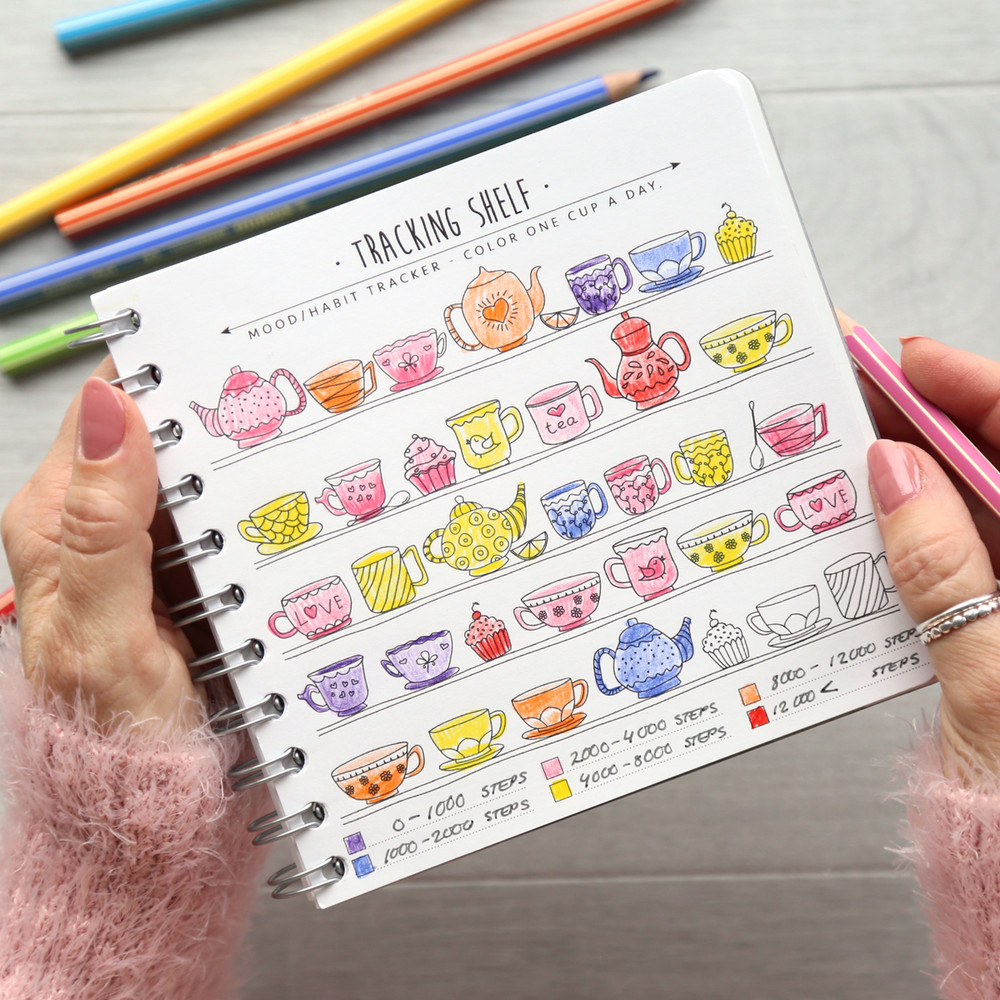 Watch these tea sets come to life when you fill them up with colour! Track your steps or even your moods. You can select three positive moods like excited/inspired, happy/positive, relaxed and three not-so-chirpy ones like meh/neutral, tired/stressed, sad/negative.
7. Tracking Ocean
"Dance with the waves, move with the sea, let the rhythm of the water set your soul free." - Christy Ann Martine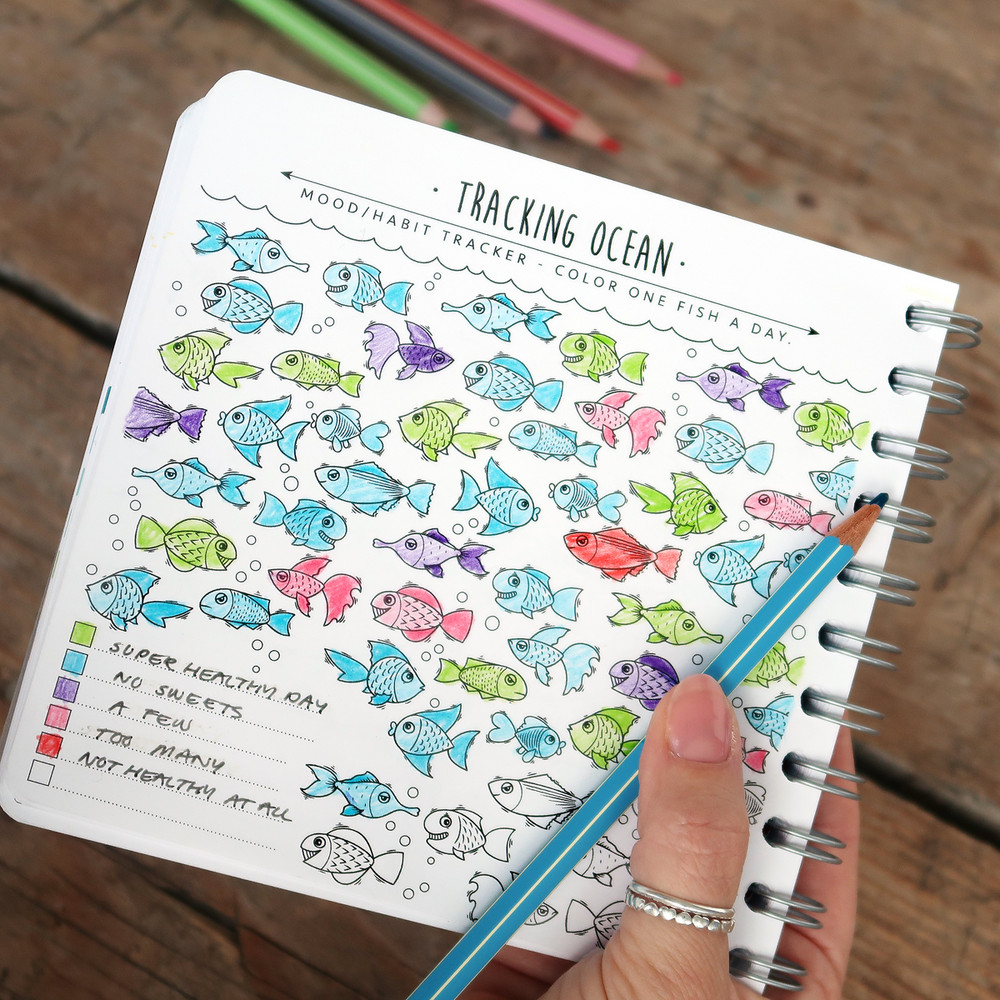 Look at these gorgeous busy fish! You can turn it into a tropical paradise by colouring each fish to represent each habit you want to track. You'll love the way it looks as it gets filled in.
8. Tracking Lights
"Happiness can be found even in the darkest of times, if one only remembers to turn on the light." - Albus Dumbledore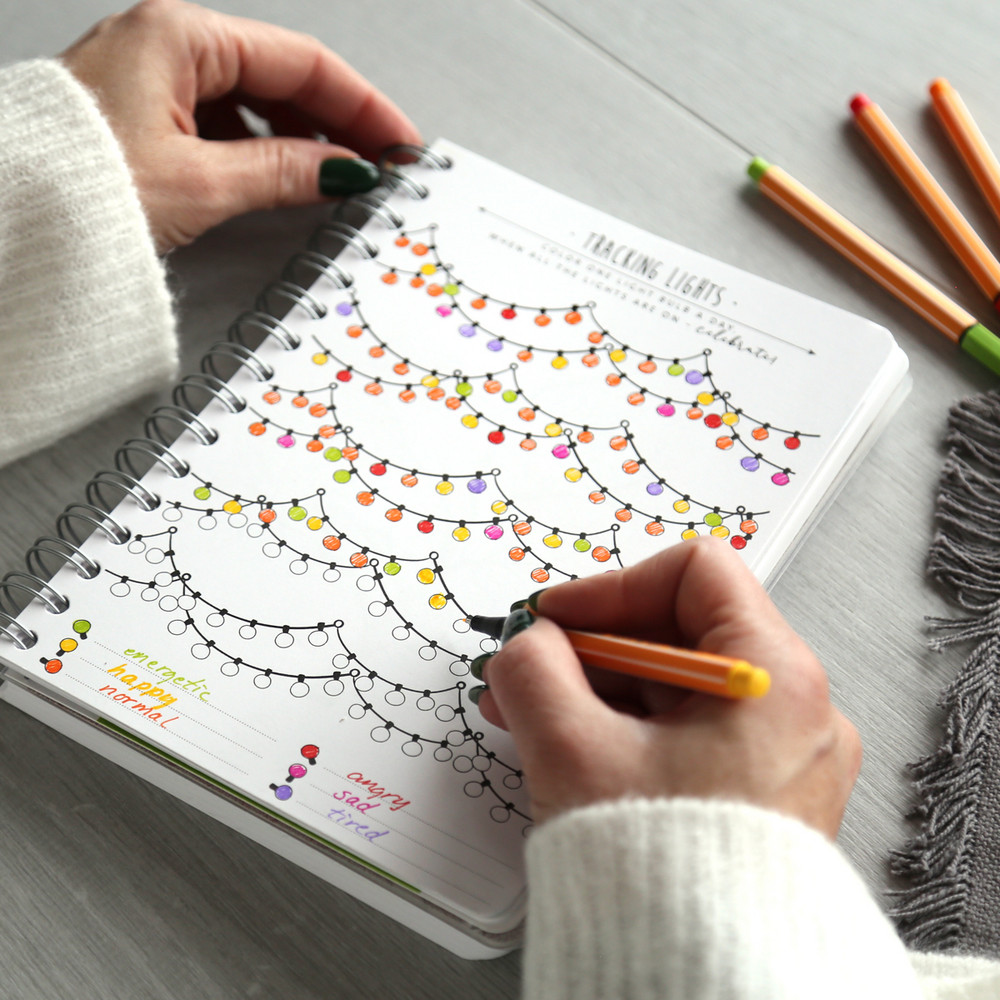 Stringing up your moods can be liberating when they look as playful as this. You can go that step further by numbering the lights each day and once you reach 30 days... string up the real lights and celebrate!
9. Books to Read Tracker
"That's the thing about books. They let you travel without moving your feet." - Jhumpa Lahiri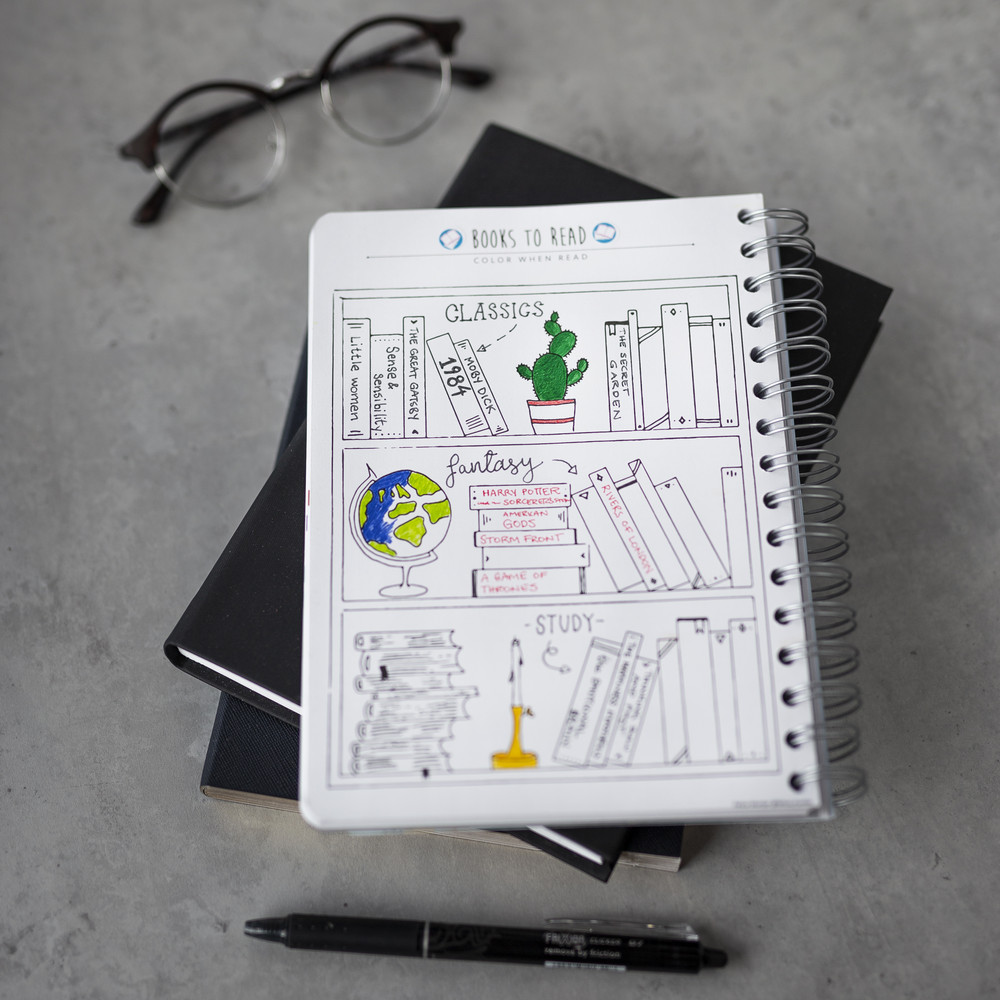 This can be the best way to jot down book titles and authors who you've heard to be great. Bring it with you to the local library and go exploring. Don't forget to colour the spine once you've read the book!
10. Stuff to Watch Tracker
"Cinema is the most beautiful fraud in the world." - Jean-Luc Godard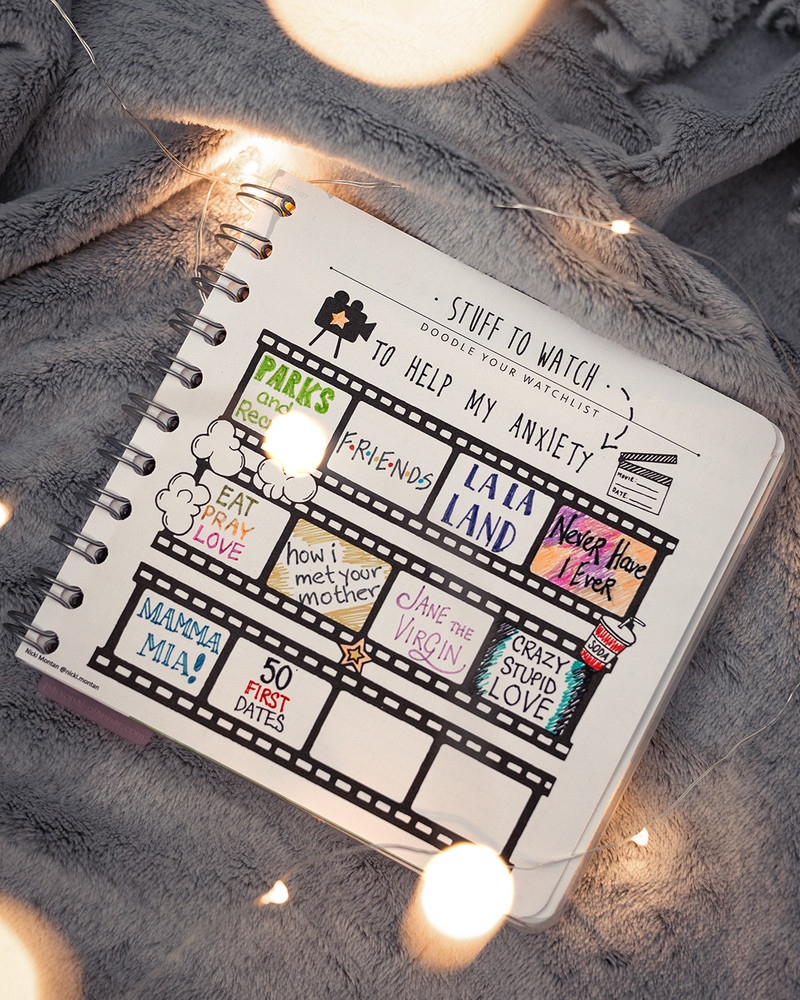 This tracker is great to have on a rainy weekend when you don't know which movie or series to choose. Just write in the title or sketch a scene. You can also keep it as a record of which great films you've watched and check it before the next dinner party.
11. Tracker Monthly
"December is the toughest month of the year. Others are July, January, September, April, November, May, March, June, October, August, February." - Mark Twain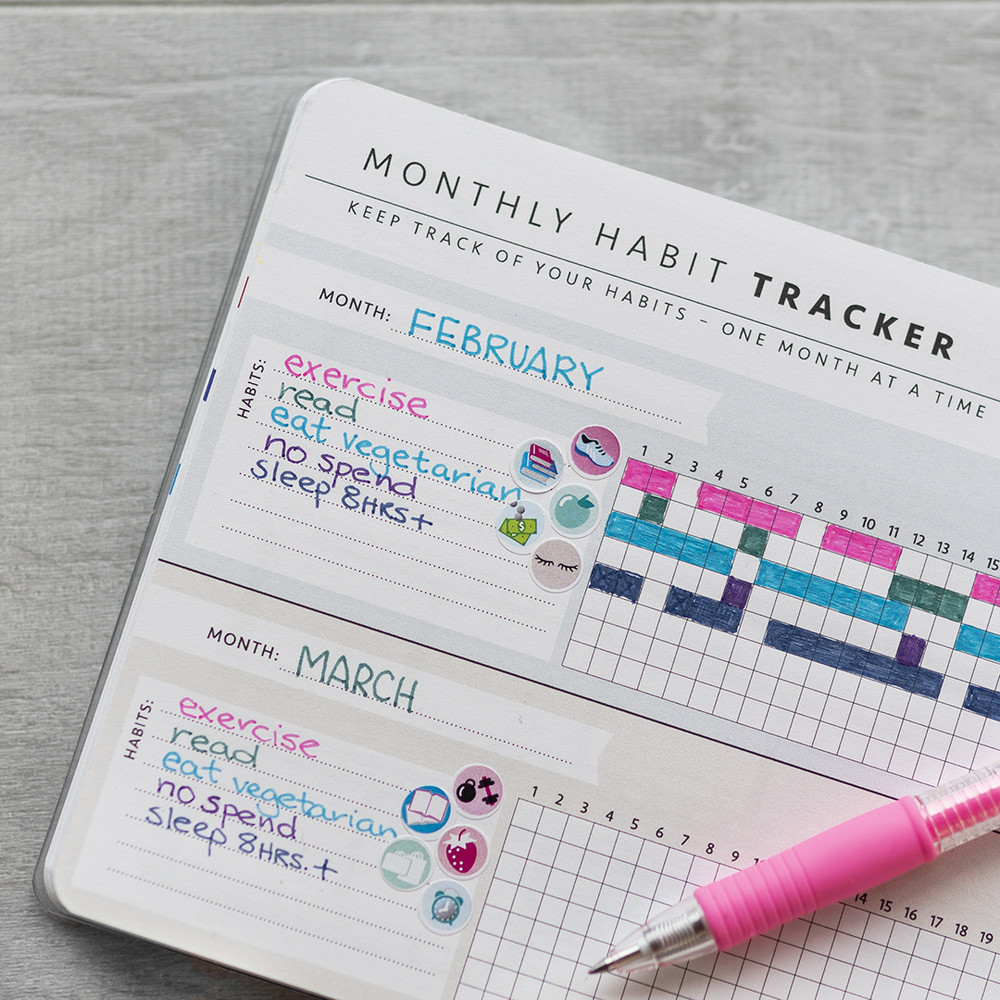 A new month is a new beginning with a fresh mindset and focus. Use this monthly tracker to notice how you progress in getting enough sleep or building up your workout routine. Keeping them both going together can show how one affects the other.
12. Tracker Yearly
"Write it on your heart that every day is the best day in the year." - Ralph Waldo Emerson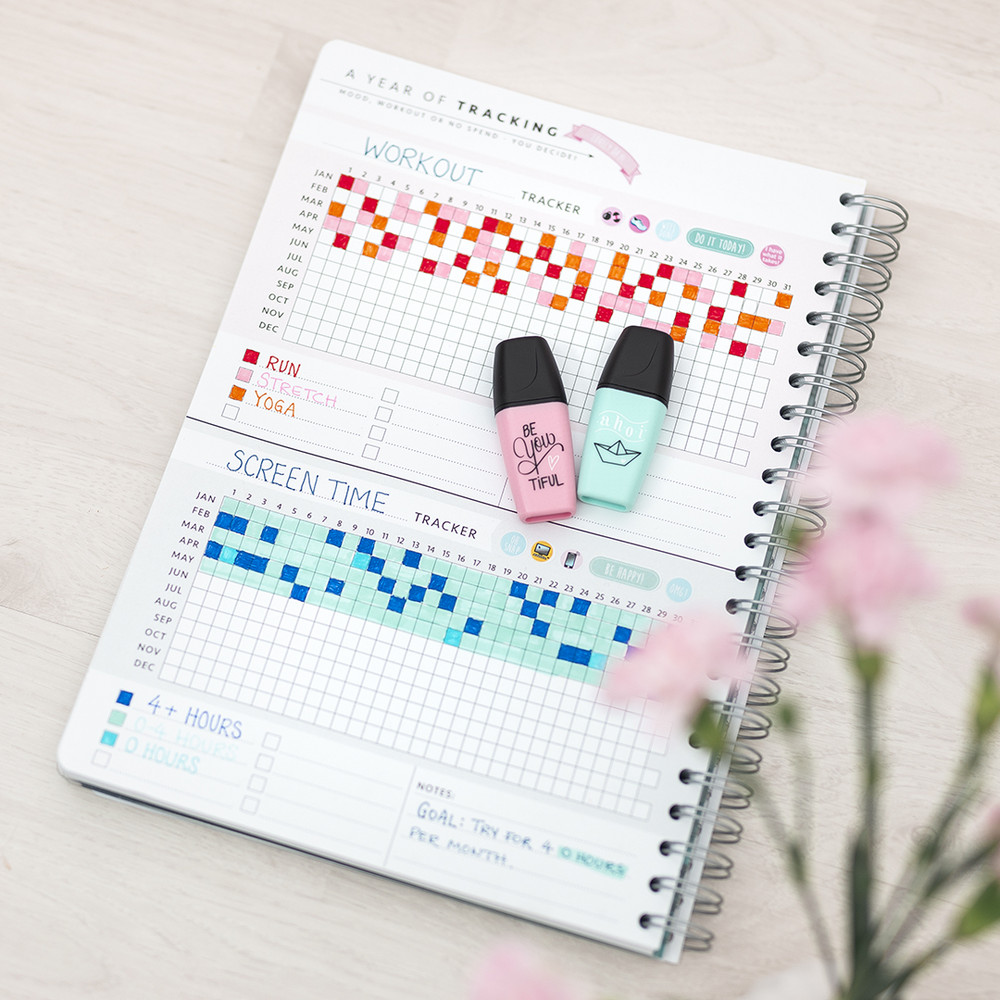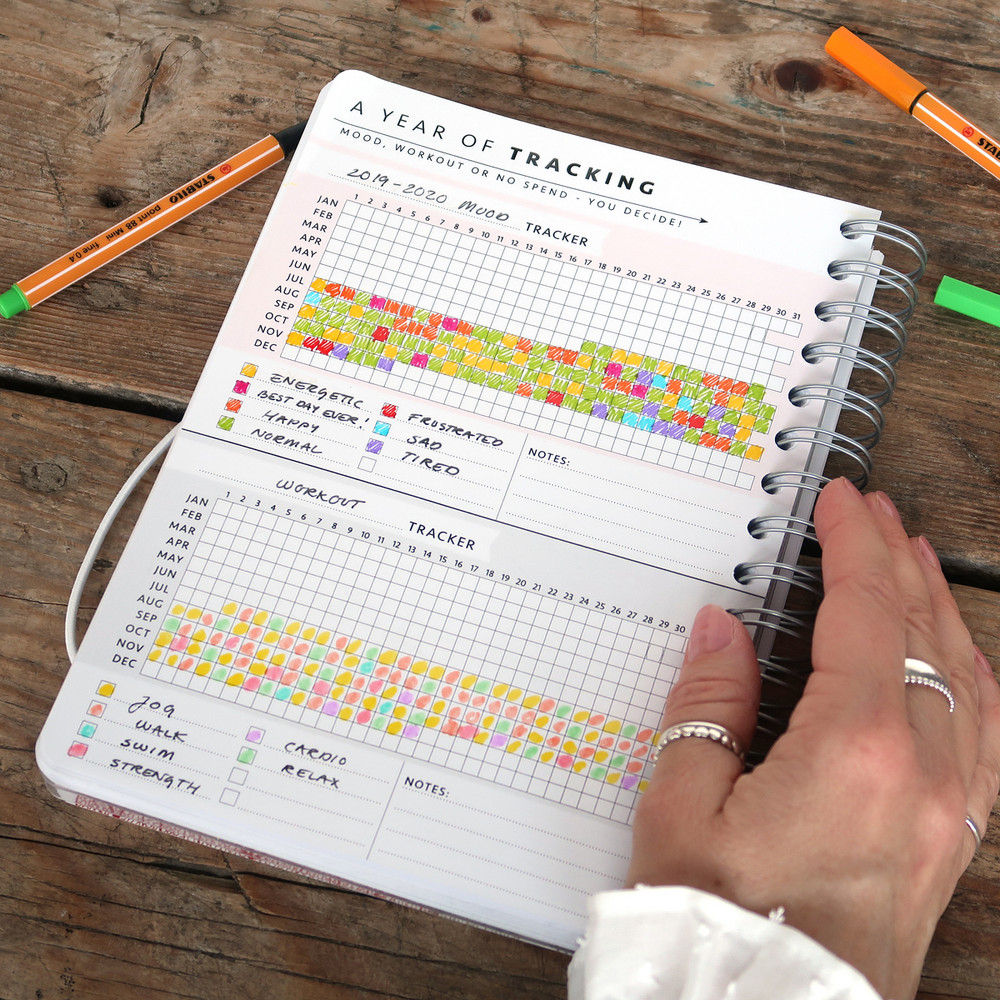 The Yearly Tracker ends up looking a little like the Tetris game, don't you think?
FREE PRINTABLE HABIT & MOOD TRACKER - TRACKER YEARLY
Every day counts in a fast world, and with the yearly tracker you can look back to see how it all went. Are you happier in the summer than the winter? Did working out regularly impact your moods?
Whether it's showing that you're frustrated before a big deadline, or sleeping more in winter months, these trackers will keep you conscious of your behaviour and help to minimise the bad habits and increase the good ones.
Which is your favourite design? Show us how you track your moods and habits on social media, tagging @personalplanner and #itsprettypersonal.
Create your Mixbook here
Desk Pad Planner 3 Ways + Free Printable
Have you discovered our newly released desk pad planners yet? Here's 3 nifty ways of using the Monthly design.
Goal Setting 2023: Free Template
Set one specific goal every month with our free printable, and reach your goals and dreams in 2023!
Free shipping!
Happy Customers
Safe payments