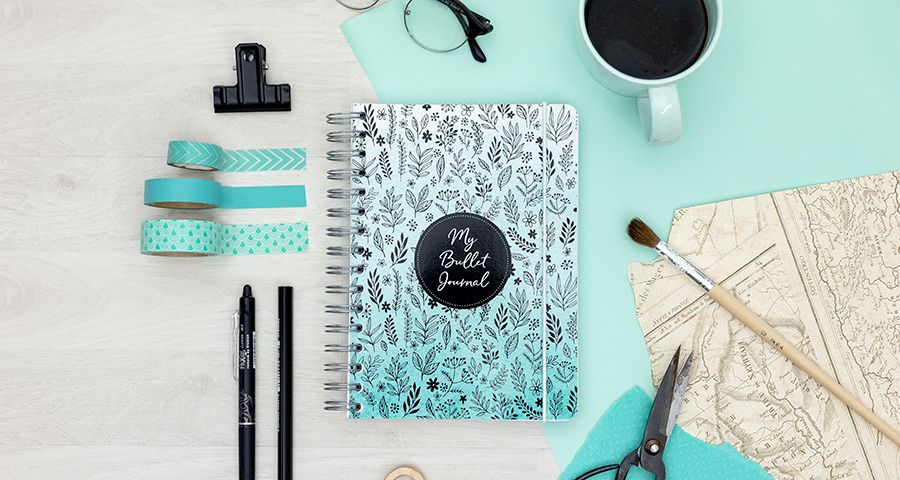 Bullet Journal
Are you completely new to bullet journaling or a skilled bujo artist already? Whatever your level, a Bullet Journal Planner might be just the thing for you!

As a newbie to the world of bullet journaling, you'll benefit from the pre-printed weekly structure that the Best-of-Both inlay provides on the left page. On the right, you'll be able to unleash your creativity, trying out all kids of bullet journal ideas: headers, titles, collections and doodles!

In the themed pages, in the back of your planner, we've crammed in all the collections and trackers imaginable to a bujo lover! Here you'll find playful tracking oceans and trees, movie trackers and bookshelves for reading lists, as well as more traditional habit trackers that'll give you a visual overview in pixels of your monthly and yearly habits.

Just add your name on the cover, select your starting month, and make this Bullet Journal Planner totally yours!
Curious to know more about the basics of bullet journaling?
Watch our Guide to Bullet Journaling on our blog, Tips & Tricks
- perfect for bujo beginners!
---
Bullet Journal
Planner Classic A5
Bullet Journal
Planner Classic A5
Starting month:
Inlay language:
Size Classic A5, 5.8x8 in.
160 pages
130 g eco-friendly FSC paper
Quote on owner's page
Left vertical weekly layout
Modules: Color-in
Year overview, 4 pages
List 1, 4 pages
Meal Planner, 2 pages
Tracker Playful 1, 2 pages
Tracker Playful 2, 2 pages
Tracker Books & Movies, 2 pages
Tracker Monthly, 6 pages
Tracker Yearly, 4 pages
Dotted, 22 pages
White elastic closure
Storage pocket
White ruler
Add some matching accessories!
How to Set Up a Bullet Journal in Your Mixbook™ - A Beginner's Visual Guide
Bullet journaling is the ever popular planning system, with unlimited possibilities for customization and creativity. Find out what pages you need for setting up your own bullet journal - both hand drawn as well as predesigned pages - in this simple beginner's guide to bullet journaling.
12 Mood Tracker and Habit Tracker Ideas - Free Printables!
What if you could track your habits and see how they impact your moods? Using a habit tracker in combination with a mood tracker can help you see patterns in your behavior and help you change things if needed! Here's 12 mood tracker and habit tracker ideas to get you started - plus free tracker printables too!
Inspo Guide to the Bujo Planner - 10 Ideas for Your Bullet Journal Spreads
In a visual guide to our Bullet Journal Planner, brilliant bujoist Julia Strycek shares 10 great ideas for your bullet journal spreads. Get ready to get inspired!
Some of our favorites!