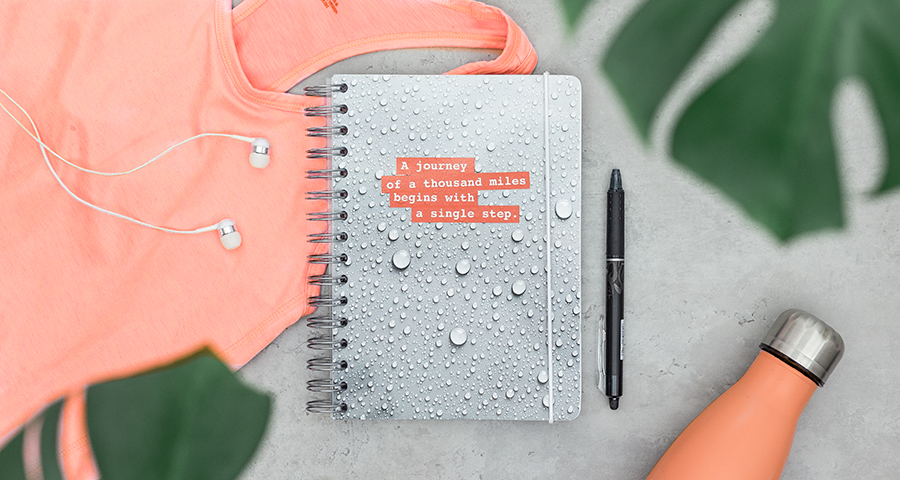 Workout
Enjoy a quick run on the track or prefer some solid weightlifting at the gym? Whether you're a complete beginner or a seasoned athlete, the Workout Planner is the perfect fit for you!

With the weekly view on the left and a workout log on the right, you'll get a great overview of your weekly fitness routine. The log will help you plan your workouts to include all the main muscle groups, adding both cardio and strength exercises. Filling in the simple log is sure to keep you motivated through the week!

In the back pages section you'll find a more detailed workout log, so you can keep track of all your sets and reps, and get a good overview of your personal development over time. As you track every workout session in detail, you'll soon start to see connections between diet, sleep and mood, and how these factors impact your training. A little nerdy - and very satisfying! The back pages also include our best-selling Make a List section, as well as a clever Meal Planner to ensure you're right on track with your nutrition too.

Add your name on the cover and select your starting month, and your Workout Planner is ready to go!
---
Workout
Planner Classic A5
Workout
Planner Classic A5
Starting month:
Inlay language:
Size Classic A5, 147x205 mm
160 pages
130 g eco-friendly FSC paper
Quote on owner's page
Left vertical weekly layout
Modules: Menu Plan, Weekly Pep, Unnamed
Year overview, 4 pages
Workout 2, 30 pages
Meal Planner, 4 pages
Tracker Yearly, 4 pages
Lists 2, 6 pages
White elastic closure
Storage pocket
White ruler
Add some matching accessories!